Congress stages walkout in Lok Sabha over electoral bonds
Congress stages walkout in Lok Sabha over electoral bonds
Written by
Siddhant Pandey
Nov 21, 2019, 05:52 pm
3 min read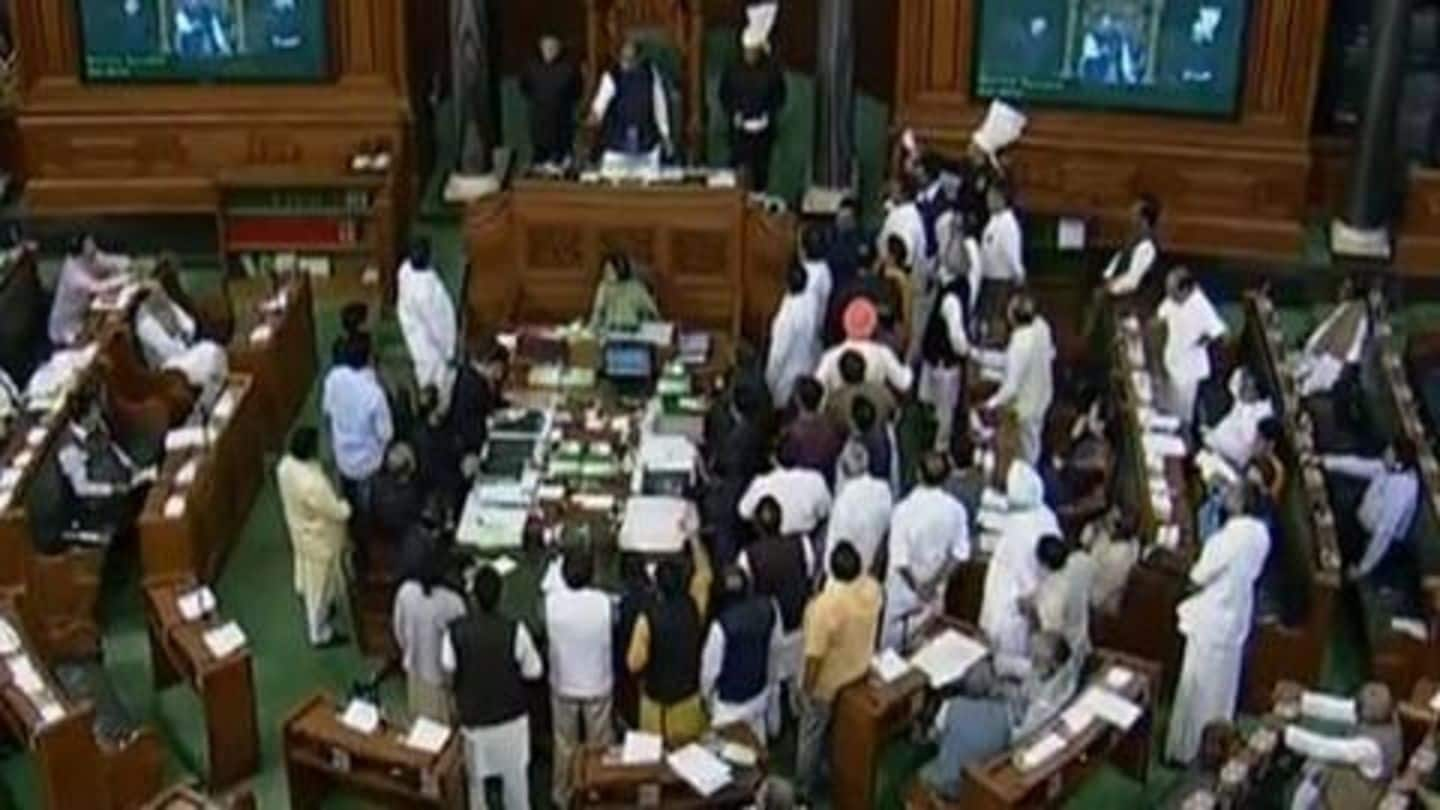 Members of Parliament (MPs) of the Congress party staged a walkout from the Lok Sabha on Thursday over the issue of electoral bonds. The party also protested the privatization of public sector units (PSUs). The Congress MPs' protest comes a day after the party alleged that electoral bonds have turned out to be a scheme for black money recycling and political bribery. Here's more.
Firstly, what are electoral bonds?
Electoral bonds are schemes for funding of political parties. As per the Finance Bill, 2017, these bonds are interest-free bearer instruments, such as promissory notes, which can be purchased from the State Bank of India. The scheme was notified on January 2, 2018, allowing individuals and domestic companies to present these bonds to political parties; they can be redeemed within 15 days.
What's the issue with electoral bonds?
However, concerns about transparency have been raised against electoral bonds. While the buyer of an electoral bond has to submit full KYC details, political parties are not required to reveal the identity of whom they are receiving said bonds from.
Congress gave an adjournment motion notice in Lok Sabha
Earlier in the day, the Congress party gave an adjournment motion notice in the Lower House over the "lack of transparency in the entire scheme of electoral bonds." Congress MP Manish Tewari raised the issue in the House. The party demanded that the government disclose all details about electoral bonds before the Parliament and further claimed that the scheme encourages money laundering.
Government used electoral bonds to cover-up corruption: Tewari
Tewari said, "I want to draw the attention of the House towards electoral bonds. The electoral bond scheme was limited to elections. RTI in 2018 revealed that government overruled Reserve Bank of India on electoral bonds. This is a cover-up of corruption by the government."
Tewari claimed electoral bonds made government corruption 'official'
In the Lok Sabha, Tewari said electoral bonds have made government corruption official, however, Speaker Om Birla advised him not to take any names. According to NDTV, when Tewari made a reference to the Prime Minister's office, the Speaker cut his microphone and asked another MP to address the issue. Congress interim President Sonia Gandhi then led a walkout.
Earlier, Congress MPs raised slogans in Well of the House
Earlier during proceedings, Congress MPs raised slogans in the Well of the House for 15 minutes before returning to their seats. Congress' leader in the House, Adhir Ranjan Chowdhury and the Speaker engaged in a debate, where Birla asked the former to maintain decorum.
Rajya Sabha adjourned after Congress MPs' protest
Separately, in the Rajya Sabha, Congress leaders filed a notice to discuss electoral bonds noting the Reserve Bank of India (RBI)'s reservations and the disinvestment of PSUs. However, Rajya Sabha Chairperson Venkaiah Naidu said the issue doesn't warrant suspension of other business and notices taken up on priority. When the Congress protested, Chairperson Naidu adjourned the Upper House till noon.