Beta kisika bhi ho: Modi reprimands BJP MLA over bat-incident
Beta kisika bhi ho: Modi reprimands BJP MLA over bat-incident
Jul 02, 2019, 01:43 pm
3 min read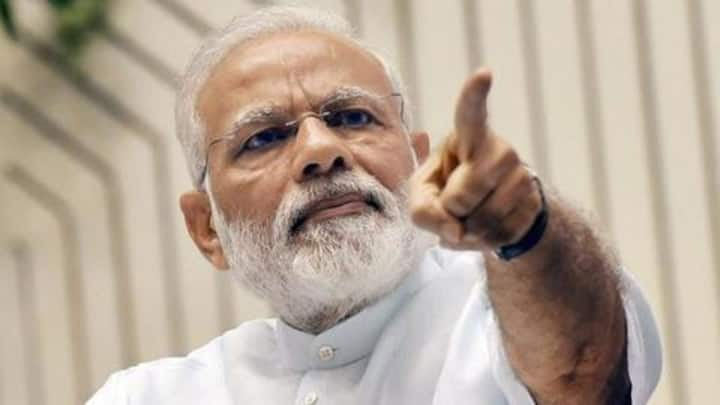 Misbehavior of any kind won't be tolerated and it really doesn't matter whose son you are - this is what Prime Minister Narendra Modi said on Tuesday at the parliamentary meet of BJP in New Delhi. He pulled up Kailash Vijayvargiya's son Akash, who was arrested for beating up an official with a bat last week. Here's what went down.
A brief recap of what Akash did
Akash, who is a first-time MLA representing Indore-3 Assembly segment, was caught on camera thrashing a civic official, identified as Dhirendra Singh Bais, with a bat. He got into an argument over a demolition drive. After the video sparked outrage, Akash was arrested but was released on bail on Sunday. As he stepped out of jail, his followers welcomed him with garlands.
You can watch the video here
#WATCH Madhya Pradesh: Akash Vijayvargiya, BJP MLA and son of senior BJP leader Kailash Vijayvargiya, thrashes a Municipal Corporation officer with a cricket bat, in Indore. The officers were in the area for an anti-encroachment drive. pic.twitter.com/AG4MfP6xu0

— ANI (@ANI) June 26, 2019
No one can show arrogance in public, said PM Modi
The shameful incident got BJP criticism from several quarters and angered PM Modi. Telling what happened behind closed doors, BJP leader Rajiv Pratap Rudy said, "The PM was very upset. He said nobody has any right to misbehave or take the party for a ride or show arrogance in public. He used a very strong statement and said that any such act is unacceptable."
Manmaani nai chalegi: PM Modi's stern message to BJP leaders
"Beta kisi ka bhi ho, manmaani nahi chalegi (whosoever's son he may be, bad behavior will not be tolerated). Your job as an MP is to help and serve people. It is the job of the Opposition to demonstrate," PM Modi reportedly said.
However, Akash's statement shows he doesn't regret his action
PM Modi is also learned to have said that those who welcomed Akash, should be removed from the party. While PM Modi didn't mince his words, Akash's statement after release showed he doesn't regret his behavior. Out on bail, he had said, "In the BJP, we have been taught, pehle aavedan, phir nivedan aur phir danadan (first request and then attack)."
Further, Vijayvargiya Sr. also thought it wasn't a "big issue"
In fact, Kailash Vijayavargiya also downplayed the incident. Vijayvargiya Sr., who is overseeing BJP's expansion in West Bengal, claimed his son "defended" a hapless family and not a builder. "I think there was mishandling from both sides. Both Akash ji and the municipal corporation commissioner are novice players. It was not a big issue," BJP's general secretary had said.
Vijayvargiya also berated Kamal Nath for treating opponents as enemies
"Under Kamal Nath ji, opponents are being treated as an enemy. Akash ji was arrested (but) that doesn't matter - it (such arrests) keeps happening in politics. But they purposely sent it to a court where bail was not possible," Vijayvargiya went on.