In his constituency Amethi, Rahul Gandhi stopped from inaugurating road
In his constituency Amethi, Rahul Gandhi stopped from inaugurating road
Apr 17, 2018, 03:28 pm
2 min read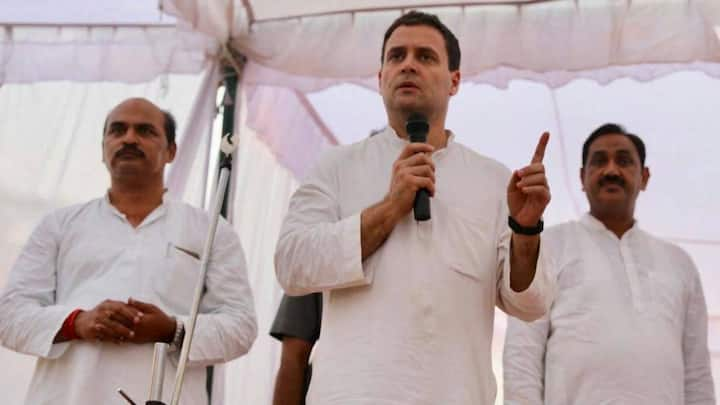 Congress Chief Rahul Gandhi, who is on a three-day visit to his parliamentary constituency Amethi, was denied permission to inaugurate a 5 km-long road allegedly due to complaints by BJP leaders. BJP District President Uma Shanker Pandey claimed the road was built under Pradhan Mantri Gramin Sadak Yojana, and not from Rahul Gandhi's MPLAD fund. Pandey alleged Rahul Gandhi tried to take undue credit.
Road's foundation laid by Rahul Gandhi
The foundation of link road connecting Thauri village to Kotwa village was led by Rahul Gandhi. Despite a plaque inscribed with his name being placed at the area, the inauguration was stalled. A senior government official said the function was postponed as the road was incomplete. Miffed over the cancellation of the event, many Congress leaders said they would go ahead with the inauguration anyway.
Meanwhile, Smriti Irani targets Rahul Gandhi
Smriti Irani said, "Many people from Delhi are coming these days to Amethi to take credit for good work done by us. But our commitment to Amethi is above politics. We'll always work for the development of Amethi whether Congress is in power or not."
Sonia Gandhi may join son in Amethi
Rahul Gandhi's three-day-long trip will come to an end on April 18. He interacted with villagers of Urer Mau on Monday. Congress district President B.K. Shukla said former AICC chief Sonia Gandhi may also visit if doctors allow her to travel. According to the itinerary, Sonia Gandhi is set to inaugurate IMA Bhawan, Passport Sewa Kendra and other projects funded through the MPLAD account.
Dear reader, know how well you know Rahul Gandhi