#UnitedIndiaRally: Sharad Yadav confuses Bofors and Rafale, leaves leaders embarrassed
#UnitedIndiaRally: Sharad Yadav confuses Bofors and Rafale, leaves leaders embarrassed
Jan 19, 2019, 06:50 pm
2 min read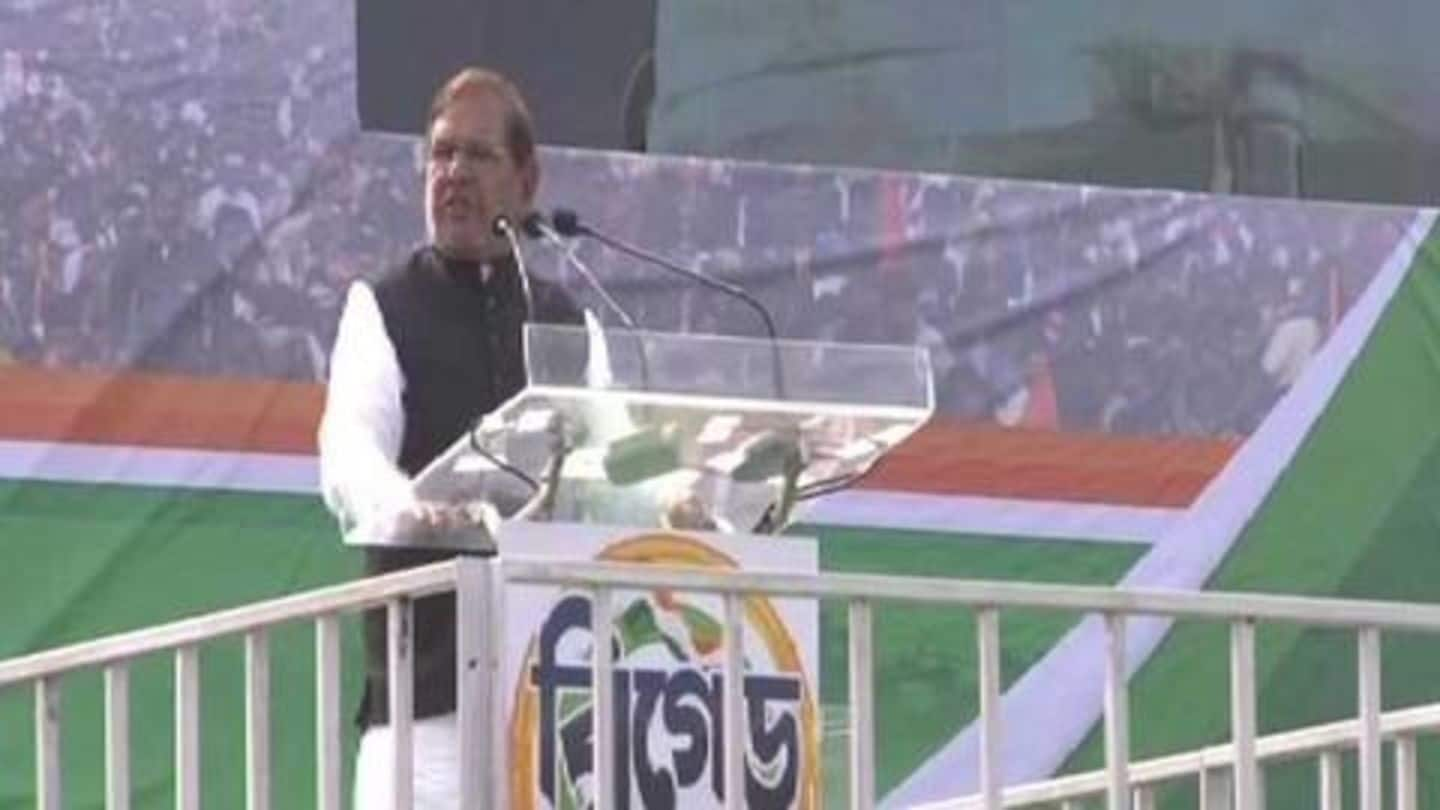 Sharad Yadav of the Loktantrik Janata Dal (LJD) made a huge mistake on the stage of mega opposition rally in Kolkata on Saturday, after which West Bengal Chief Minister Mamata Banerjee said it was a slip of tongue. Yadav kept on repeating Bofors was a scam when he meant to say Rafale. TMC leader Derek O'Brien had to prompt Yadav to correct his mistake.
Newspaper exposed 'Bofors scam', claims Yadav
Referring to a report in The Hindu about Rafale, Yadav said, "Only yesterday in a newspaper, the Bofors scam was exposed. A prominent journalist of that newspaper yesterday exposed the scam which has been published in today's newspaper." He added while soldiers were dying, the government did "corruption in Bofors". Yadav's words must have surely left leaders, including Congress' Mallikarjun Kharge and Abhishek Manu Singhvi, red-faced.
Rafale and Bofors are different, but maybe Yadav didn't know
The Bofors deal, which was struck between India and Sweden in 1980s, involved kickbacks to several top personalities. It cast a shadow on ex-PM Rajiv Gandhi's rule and he lost the general election in 1989. Meanwhile, the opposition has made unsubstantiated claims that Rafale deal, signed between India and France, is dipped in corruption and PM Modi changed the terms to help his 'friends'.
At rally, Shatrughan Sinha advises PM Modi to 'come clean'
Yadav wasn't the only one who spoke about Rafale. BJP MP Shatrughan Sinha, who much to his party's shock attended the rally where the NDA was chastised, advised PM Modi to come clean on Rafale. Sinha said until PM Modi answered the questions people will believe chowkidaar chor hai. He used a slogan coined by Congress to attack Modi.
Earlier, Nirmala Sitharaman said Rafale will bring back Modi
After allegations of corruption were leveled in Rafale deal, the Bofors scam gained limelight again. Just recently, defending her government's deal in Lok Sabha, Defense Minister Nirmala Sitharaman said, BJP did defense deal, it didn't deal in defense. In her over two-hours long speech, Sitharaman said, "Bofors brought Rajiv Gandhi government down but Rafale will bring PM Modi back."