Priyanka Gandhi alleges UP police manhandled her, cop denies
Priyanka Gandhi alleges UP police manhandled her, cop denies
Dec 29, 2019, 02:00 pm
3 min read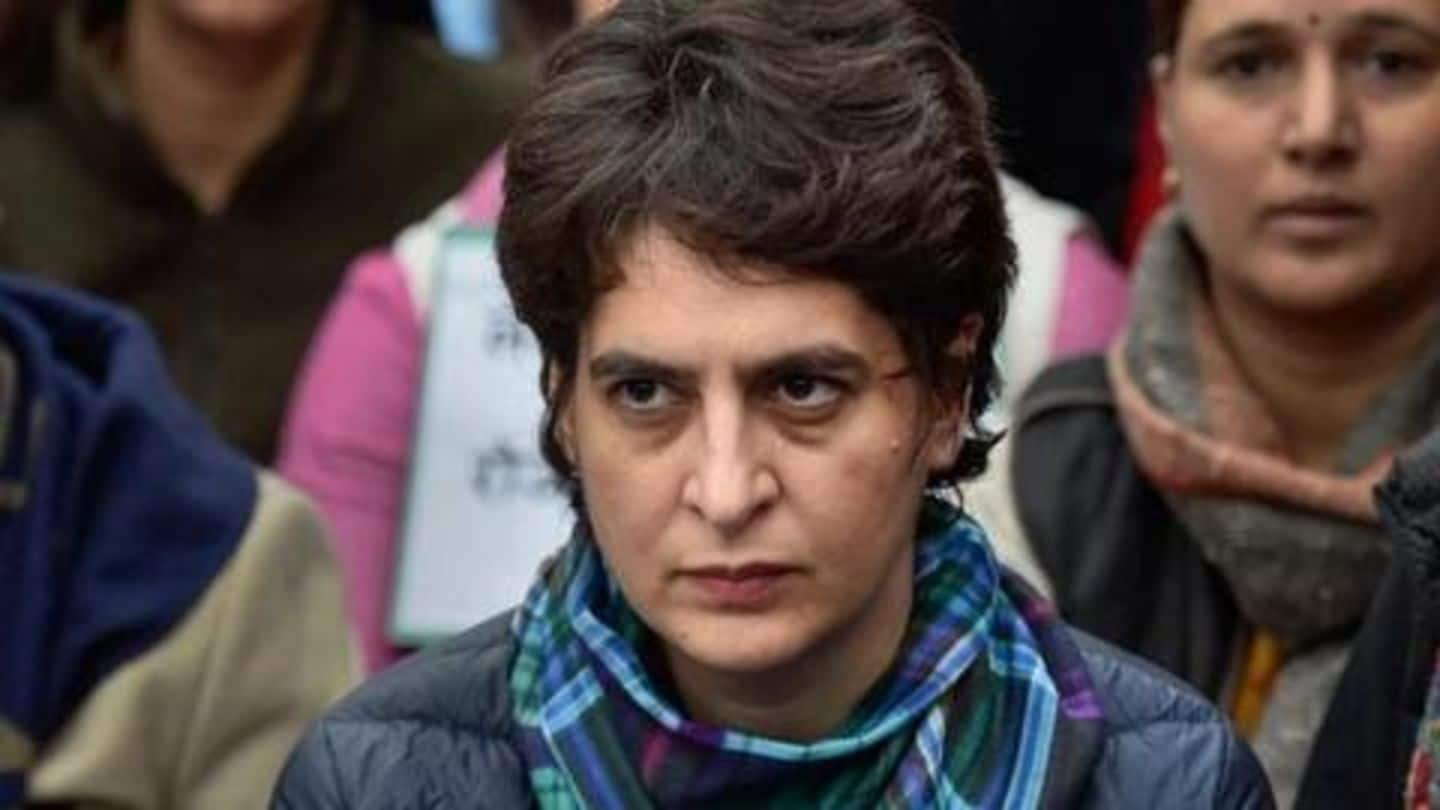 Priyanka Gandhi Vadra and Uttar Pradesh Police are locked in a bitter battle since yesterday after the Congress leader alleged she was manhandled by cops in Lucknow. She was on her way to meet a retired IPS officer when police "grabbed and pushed her". But a woman cop denied it saying she was merely doing her duty. Here are more details.
Her cavalcade was stopped, she hitched scooter ride, then walked
Priyanka wanted to visit 76-year-old SR Darapuri, who was arrested for participating in the anti-Citizenship Amendment Act protests. After her cavalcade was allegedly stopped, she took a ride on a party worker's scooter. But merely after two kilometers, cops stopped her at another intersection. Faced with several "restrictions", Priyanka then decided to cover the journey to Darapuri's house in Indiranagar on foot.
Here's a clip of the scooter ride
#WATCH Lucknow: Congress General Secretary for UP (East) Priyanka Gandhi Vadra travelled on a two-wheeler after she was stopped by police while she was on her way to meet family members of Former IPS officer SR Darapuri. pic.twitter.com/aKTo3hccfd

— ANI UP (@ANINewsUP) December 28, 2019
Later, Priyanka narrated her ordeal to media
"They grabbed me by the neck and manhandled me. They then surrounded me while I was going on a party worker's two-wheeler, after which I walked to reach there," Priyanka said and claimed CM Yogi Aditynath's government must have supported police's action against her.
After Priyanka's "run-in" with cops, Congress slammed UP government
Priyanka also said she is the in-charge of Congress for UP east and the government will not decide where she will visit. Naturally, Congress also stood by her with party leader Sushmita Dev saying that Priyanka was behaving in a responsible manner. "There is a goonda raj and there should be a President's Rule in the state," Dev said in a press conference.
Separately, Robert Vadra said he is proud of his wife
I am proud of you Priyanka for being compassionate for reaching out to people who need you.
What you did was correct there is no crime to be with people in need or in grief 2/2 pic.twitter.com/50GYKCx61M

— Robert Vadra (@irobertvadra) December 29, 2019
No shred of truth: Cop refuted Congress leader's claims
And now, the cop at the center of the controversy has spoken up. Archana Singh, Circle Officer, Modern Control Room Lucknow, who was deployed to the area said the allegations were false. "There is no shred of truth in the claims being made on social media that cops grabbed Priyanka Gandhi Vadra's neck, pushed her. I was just performing my duties," she said.
After Priyanka changed route, Archana sought information
In the letter addressed to her seniors, Archana wrote Priyanka was supposed to go from party's headquarters to 23/2 Kaul House Gokhale Marg. "When her car suddenly took a detour, I sought information about her destination due to security concerns. The party workers refused to give information. Later, Priyanka Gandhi got down from her car and started walking with her party workers," she explained.
Not Priyanka, I was heckled, claimed Archana
Further, Archana underlined that when VIPs change routes, it leads to security concerns. The cop said she was the one who was heckled. "She sat on a scooter and neither she nor the scooter driver was wearing the helmet. When she was told that it's not right to ride without a helmet she walked her way to the residence of SR Darapuri," she said.
Versions of both cops and Priyanka contradict one another
Kalanidhi Naithini, Lucknow SSP: Singh has also written that whatever rumours are doing rounds on social media of heckling and strangulating Priyanka Gandhi Vadra are wrong. https://t.co/5IsyHvTWdJ

— ANI UP (@ANINewsUP) December 28, 2019