Nitin Patel presents Gujarat Budget; Opposition walks out
Nitin Patel presents Gujarat Budget; Opposition walks out
Feb 20, 2018, 06:36 pm
2 min read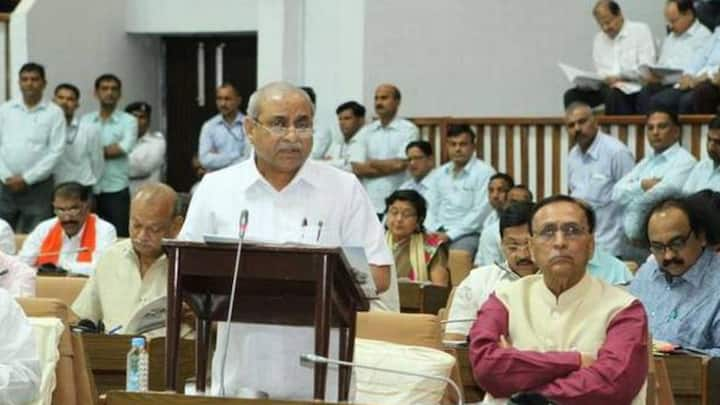 Gujarat deputy CM Nitin Patel presented his government's first budget today. Notably, BJP wrested power in Gujarat after a high-intensity fight with the Congress in December'17. Earlier, CM Vijay Rupani had said that the budget would focus on farmers and villages, after declaring that "There is no dearth of money." Meanwhile, Congress staged a walk-out during the presentation. Why so? Here's more about it.
How has the Gujarat economy performed?
Patel proudly announced that the fiscal deficit came down from 2.24% of GSDP (2015-16) to 1.42% of GSDP (2016-17). Further, after announcing a budget of Rs. 1.9Lcr, he claimed the state's revenue surplus increased from Rs. 1,704cr in 2015-16 to Rs. 5,947cr in 2016-17.
Patel announces huge sops for agriculture and irrigation
Further, keeping with the CM's promise, Patel allocated Rs. 6,755cr for agriculture and farmers' welfare. Of that, Rs. 1,921cr will be used to provide 1.22L new agriculture power connections. Additionally, to ensure that Gujarat's farmers make full use of Narmada's water, Rs. 14,895cr has been allocated for water resources. Notably, in September'17, PM Modi inaugurated the controversy-ridden Sardar Sarovar Dam on Narmada.
Interestingly, Patel addressed the growing discontent among youth
Moreover, the government also addressed the biggest thorn in its administration: high unemployment among Gujarat youth. This was also Congress's main attacking plank during the poll campaign. Patel announced Rs. 780cr to provide employment opportunities to youth. He claimed Gujarat government will make 30,000 new recruitments soon. Further, a new scheme, Mukhyamantri Apprenticeship Scheme was announced; along with training, youth will get Rs. 3,000/month.
Patel also didn't leave out PM Modi's pet projects
Patel also kept in mind projects that PM Modi cares about. He provided Rs. 899cr for the ambitious Statute of Unity's construction. Sardar Vallabhbhai Patel's 182m sculpture will be the world's tallest figurine. Further, government is serious about pursuing the sea-plane ride that PM Modi had marketed before the Gujarat elections. They have set aside Rs. 30cr for sea-plane services and developing new airports.
But, why did the opposition walk out?
Meanwhile, opposition staged a "peanut protest" during budget presentation. Patel was speaking about government efforts in procuring groundnut and cotton on MSP. During this assertion, Congress MLA Ribadiya Harshadkumar rushed towards the House's well and threw groundnuts while raising slogans. Subsequently, he was escorted out; in solidarity, Congress MLAs walked out. Incidentally, in Ribadiya's constituency, a fire damaged Rs. 20cr worth of groundnuts.