Acer launches the first-ever tablet to run on Chrome OS
Acer launches the first-ever tablet to run on Chrome OS
Written by
Bhavika Bhuwalka
Mar 27, 2018, 03:50 pm
2 min read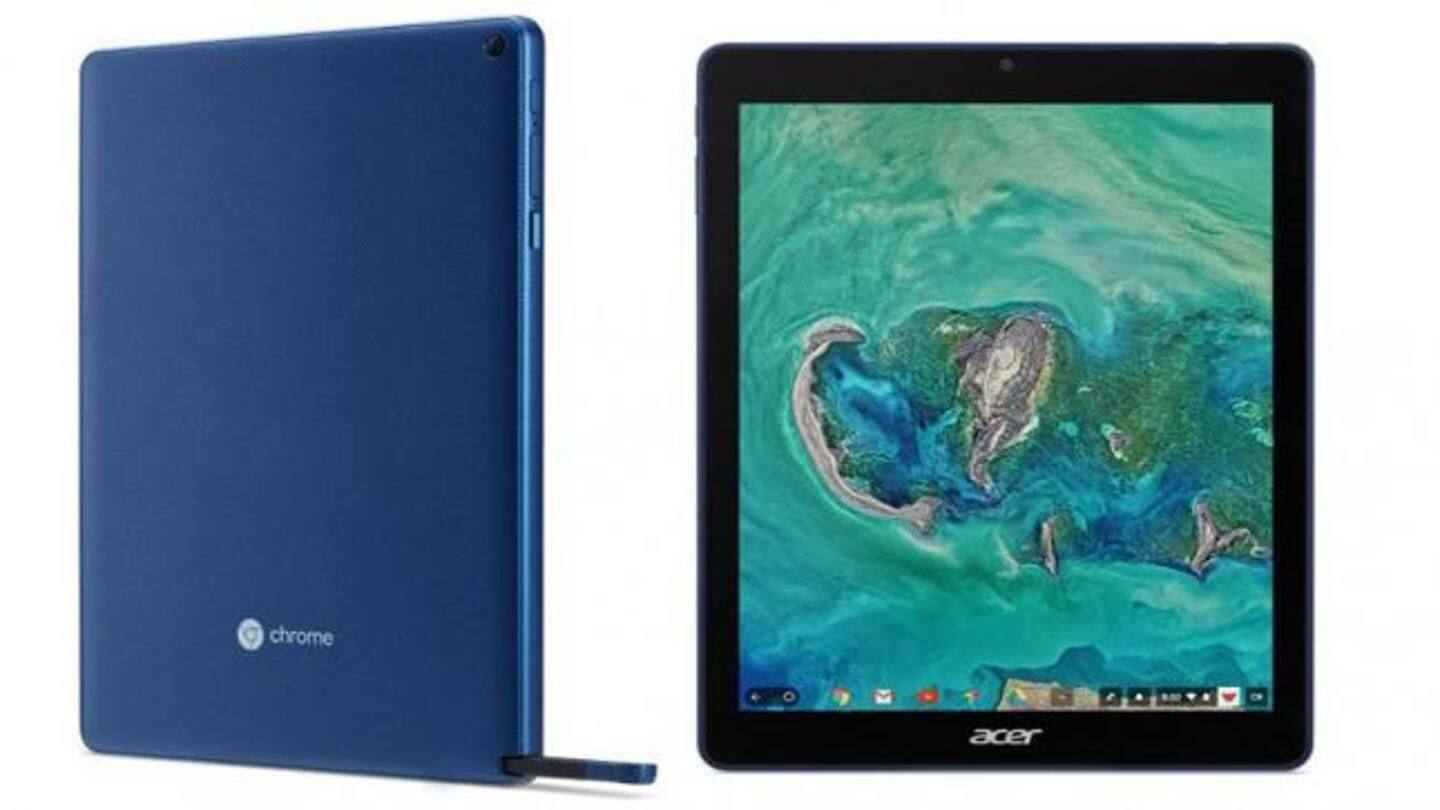 Acer has launched the first ever tablet that runs the Chrome OS. So far, Google's Chrome OS has run on laptops, desktops, and convertibles, but never on a purely keyboard-less device. The tablet, called the Acer Chromebook Tab 10, has inbuilt stylus support which doesn't require a battery or any kind of additional charging. The tablet is priced at approximately Rs. 21,300.
Tab 10 targets education community, to rival Apple's low-cost iPad
Acer's Chromebook Tab 10 will compete against Apple's upcoming low-cost iPad. Both the devices are targeted at students and educators. While the iPad, launching tomorrow, is expected to cost less than the Tab 10 at Rs. 16,800, it won't feature an inbuilt stylus. However, it might come with Apple Pencil support, which sells for Rs. 6,400 and has to be charged and stored separately.
Tab 10's USB-C port can charge other devices as well
The Chromebook Tab 10 features a 9.7-inch display, 4GB of RAM, 32GB of expandable storage, 2MP front camera, and 5MP rear camera. It is powered by a Chrome OS-oriented six-core OP1 processor and has an estimated battery life of nine hours which will last students throughout the day. Interestingly, its USB-C port can charge other devices in addition to the tablet.
The tablet to support Google Expeditions AR functionality
The tablet's primary camera will soon get the Google Expeditions AR functionality. "Coming soon, teachers can take students on Google Expeditions to the Great Barrier Reef, the Colosseum, and even to the International Space Station, all from the screens of their Chrome devices," Google said.
The Tab 10 fully supports the Google Play Store
The Tab 10 fully supports the Google Play Store, allowing users to run Android apps on the device. Further, "Students can use their stylus to jot down notes in Google Keep without the hassle of keeping track of (and losing) paper," Google added. The tablet will go on sale in North America in April, and then expand to Europe, the Middle East, and Africa.