Top 5 wireless chargers available in India
Top 5 wireless chargers available in India
Apr 09, 2018, 12:31 am
3 min read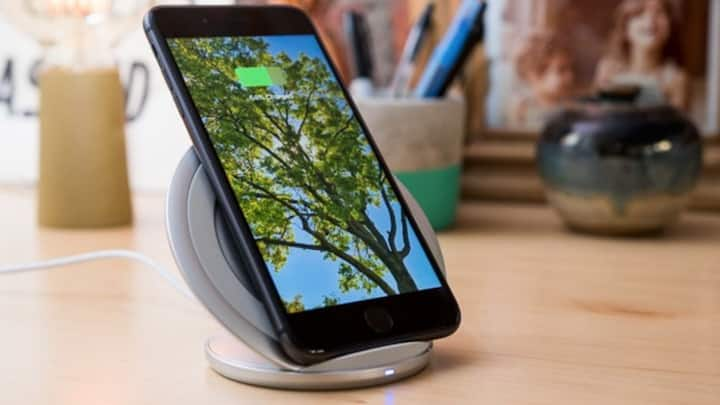 While almost every new flagship smartphone in the market comes with support for wireless charging, seldom do we look at this emerging technology that has helped many switch to a convenient wireless life. So, with an aim to help you pick the best wireless charging pad for your smartphones, here's our hand-picked list.
First off, what is Wireless Charging?
Wireless charging basically uses two resonant inductive couplings to transmit electric charge between two devices. The base station, which draws its own power, packs a transmitter coil while your phone's encloses a receiver coil. The base station continuously sends signals and when a receiver coil is close enough, a resonance change happens in the signal and modulations in its waveform result in inductive charging.
Samsung Fast Charge Wireless Charger
Samsung's wireless charger is Qi certified, includes fast charging and supports all Qi-enabled smartphones. This sleek-looking charging pad can be used as a phone stand as well as the charger for your phone. Moreover, it features a multi-colored LED light that indicates the phone charging status. It is priced at Rs. 3,299 on Flipkart and Samsung's online store. Supports: Samsung S8, S8+, S9, S9+
Taslar Ultra-thin Qi Wireless Charging Pad
At 7mm thickness and 10 cm length, Taslar is one of the thinnest Qi chargers. This Qi-enabled charger is compatible with all Qi supporting devices. The charger also has anti-slip coating on top and LED indicator for charging status. It is priced at Rs. 1,699. Supports: iPhone X, iPhone 8, Galaxy S9, S8 amongst others.
Anker PowerTouch 5W Wireless Qi Charger
American accessory maker Anker offers a simple yet functional charging pad. The charger supports all Qi-enabled devices and offers on/off switch for charging light indicator. In terms of safety, you have Anker's patented MultiProtect technology which provides temperature control, overcurrent and overvoltage protection. It is priced at Rs. 2,499. Supports: iPhone 8, iPhone 8 Plus, iPhone X, Samsung Galaxy S8 S8 Plus, amongst others.
Belkin Qi Wireless Charging Pad
The Belkin's wireless charger is Qi certified product meaning all your devices which support Qi charging are compatible with this pad. The charger features an anti-slip padding and can charge your phone even with the case on (max 5mm case). The pad is available on Flipkart for Rs. 2,987. Supports: Galaxy S6 Edge, S6 Edge+, Galaxy S7, Galaxy S7+, iPhone 8/8+, iPhone X, Nexus 7 amongst others.
Noise Slimmest 10W Qi Fast Wireless
Measuring just 5.5mm, this is one of the thinnest charging pads available. The pad, supporting all Qi-enabled devices, has a leather surface which reduces slippage. On the bottom, there is a Zinc plate that allows faster heat reduction while a rubber stopper around the rim offers prevents surface scratching. It ss priced at Rs. 2,299. Supports: iPhone X, iPhone 8, iPhone 8 Plus, Samsung Galaxy S8, amongst others.