#FastAndLight: Mozilla launches Firefox Lite browser in India
#FastAndLight: Mozilla launches Firefox Lite browser in India
Written by
Shubham Sharma
Mar 13, 2019, 06:26 pm
3 min read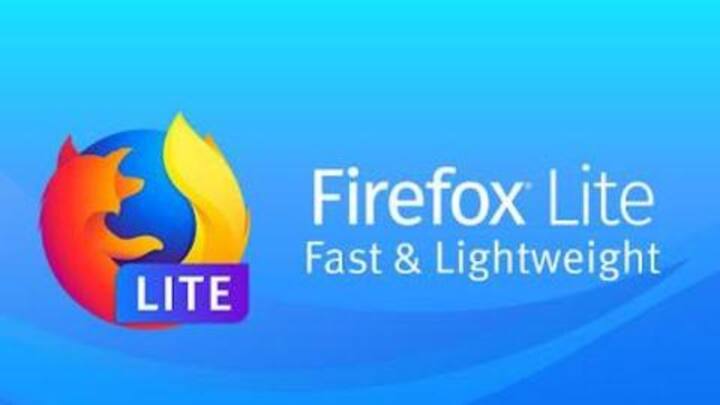 Mozilla has officially launched the lighter avatar of Firefox - Firefox Lite - for Android users in India. The browser comes with a number of handy features and weighs less than 4MB, making it an ideal tool for people using budget smartphones. It also packs inbuilt tracking protection to help people browse without leaving a trace of their web activity. Here's all about it.
Firefox Lite: Light and snappy for budget phones
While most browsers weigh around 30-40MB, Firefox Lite, at 3.6MB, is not even 10% of this. Mozilla claims it launches faster than most other internet browsers, including Chrome and Opera Mini. Notably, Firefox Lite has already saved over 8,000 hours of app launch time and 33,000 hours of page load time since it was made available to Indian users in August last year.
Along with speed, you get handy features
Firefox Lite keeps it light and breezy but it doesn't compromise on the element of user experience. The browser supports Hindi and offers one-touch changeable themes, incognito-like private browsing capabilities, and a dedicated night mode for browsing at night. Mozilla will also push an update adding a 'Life Feed' for accessing news, games, and deals from a single swipe on the home screen.
And, you can take screenshots on a single touch
Firefox Lite also offers a dedicated button to take the whole screenshot of web pages. This makes it easy for the user to share content or save it for viewing it later, offline.
Browse privately without being tracked
Mozilla is also focusing on privacy with a dedicated 'Turbo Mode' and default tracking protections in Firefox Lite. The 'Turbo Mode' has been designed to block third-party tracking ads, which eat more data and affect the browsing speed of the user. Meanwhile, the tracking protections, which are enabled by default, block common web trackers that allow websites/advertisers to browse web activity of users.
Firefox Lite is available on Play Store
You can download Firefox Lite on any phone running Android 5.0 Lollipop or newer, but it won't be available on iOS anytime soon. Speaking to NewsBytes, Joe Cheng, Mozilla's product for Asia, said Firefox Lite has been targeted at Android as a majority of people in India are using the Google-owned OS, and, as of now, there are no plans for an iOS launch.
Here's what Cheng said at the launch event
"Majority of India's internet users are mobile phone internet users who take advantage of entry-level alternatives to expensive landline connections that require desktop PCs and infrastructure," Cheng said. "This presents us with a huge opportunity to empower them with better than ever mobile browsing experiences."