5 new products Apple could announce on September 12
5 new products Apple could announce on September 12
Written by
Sarthak Kapoor
Sep 03, 2018, 03:37 pm
3 min read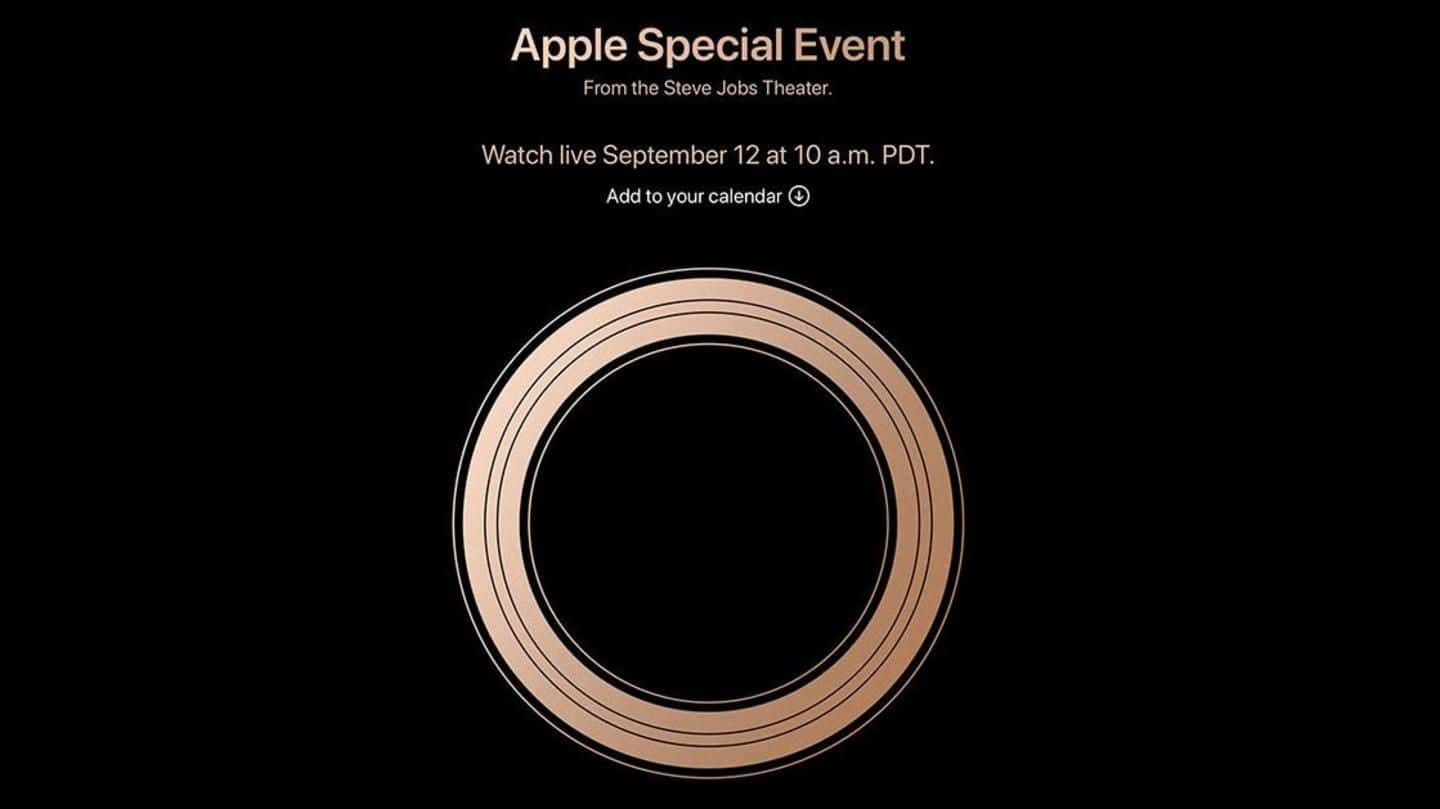 The most awaited tech event of the year is just around the corner. Yes, you heard it right. The Apple event is scheduled on September 12 at the Steve Jobs Theater in Cupertino, California. Apple has already sent invites for the event which reads "Gather Round", and it is expected that the company will reveal some slick products. Here's everything Apple might announce.
Product #1: Apple iPhone XS, successor to the iPhone X
Apple is set to launch 3 new iPhones: a 5.8-inch iPhone X (successor to iPhone X), a 6.1-inch iPhone 9 (successor to iPhone 8) and a 6.5-inch iPhone X Plus. Some reports also say that "Apple is planning dual-SIM card slots for two larger phones" i.e. the 6.5-inch OLED iPhone and 6.1-inch LCD iPhone. However, a lot of details remain unclear, at the moment.
Product #2: Watch Series 4, for the ultimate smartwatch experience
Apple Watch Series 4, the successor of Apple Watch Series 3, is expected to make its debut on September 12. The watch will be powered by WatchOS 5, unveiled earlier at Apple's WWDC, and will sport fitness improvements, podcast support, a watch-to-watch walkie-talkie mode, and audio capabilities from third-party apps. The watch is expected to have a larger display and smaller bezels.
Product #3: New iPad Pro might have a larger display
The new version of iPad Pro is rumored to be another big launch. Following the latest trend of large displays with small bezels, analysts believe that the new iPad Pro will come in an 11-inch screen size. Apple will demolish the TouchID on the front and replace it with the FaceID seen on the iPhone X. The device will reportedly support gestures, too.
Product #4: iOS 12, for an enhanced and refined experience
Apple is also expected to unveil iOS 12. iOS 12 will pack some impressive features like customizable Animoji called Memoji, ARKit 2.0 to make augmented reality more compatible with apps, grouped notifications, DND, and many other performance improvements. Support for Group FaceTime is expected to be added later. Reportedly, the revamped Siri will also be smarter, more knowledgeable, and will support third-party Shortcuts integration.
Product #5: The MacBook Air may finally get an upgrade
Apple may announce a new MacBook as an upgrade to the MacBook Air, which hasn't been updated since 2015. Since its launch, MacBook Air gained a lot of popularity because of its compact design and great features. 2018 may finally witness the outdated device receive innovative upgrades like the Retina Display, the new MacOS Mojave, and Intel's latest 8th generation processors.