UCL: Barcelona's miraculous comeback at Camp Nou
UCL: Barcelona's miraculous comeback at Camp Nou
Mar 09, 2017, 11:06 pm
2 min read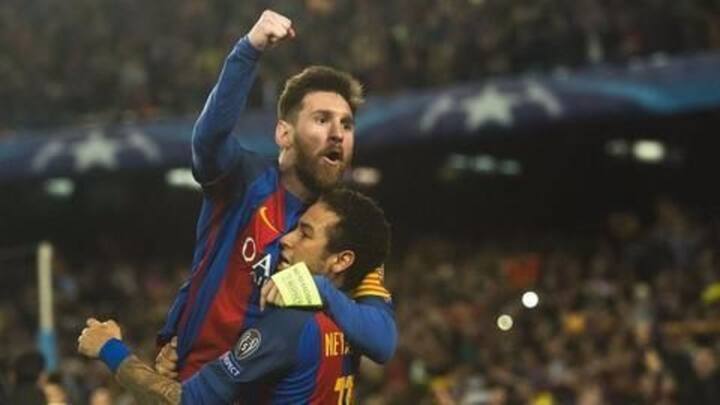 Barcelona scripted history in the second leg of their Champions League Round of 16. Having lost 4-0 in the first leg, Barca, in an impossible comeback, beat PSG 6-1 (6-5 on aggregate) to seal their quarter-finals spot. Barca goals include the opener from Suarez, PSG own goal, two penalties scored by Messi, Neymar, free-kick goal from Neymar, and the stoppage-time winner from Sergi Roberto.
Arsenal humiliated by Bayern at home
Arsenal exited Champions League humiliated as Bayern Munich did a repeat of the first leg performance routing the Gunners 1-5 at the Emirates. Bayern scored goals at will after Koscielny's red card that left Arsenal with 10 men on field. Theo Walcott scored the lone goal for Arsenal. Bayern's goals came from, Lewandowski's spot-kick, Arjen Robben, Douglas Costa, and Arturo Vidal's brace.
Second worst defeat in Champions League history
The 10-2 aggregate demolition of Arsenal by Bayern marks the second-biggest aggregate loss in Champions League history.
Real Madrid beat Napoli 3-1
Napoli began the second leg match at home against Real Madrid with a 3-1 deficit and finished with a 2-6 aggregate defeat. The Italian side took 1-0 lead at halftime but a header from Real Madrid's captain Sergio Ramos in the early second half equalled the score. Ramos quickly score his second in the 57' and the final goal came from Alvaro Morata.
3 goals in final seven minutes
Barcelona were 3-5 down on aggregate till 88th minute. The last three goals (two from Neymar) came in the final seven minutes (including the 5 minutes stoppage time).
Dortmund cruises into last eight
While Barcelona grabbed all the headlines, in the other game that simultaneously took place, Borussia Dortmund silently made their way to quarter-finals beating Benfica. The night belonged to Pierre-Emerick Aubameyang who scored a hat-trick for the Dortmund side contributing to the 4-0 thrashing (4-1 on aggregate) of the Portuguese side. Apart from Aubameyang, Christian Pulisic was on the score-sheet for Borussia Dortmund.