City boss Pep Guardiola stands up for his long-time rival
City boss Pep Guardiola stands up for his long-time rival
Sep 01, 2018, 05:18 pm
2 min read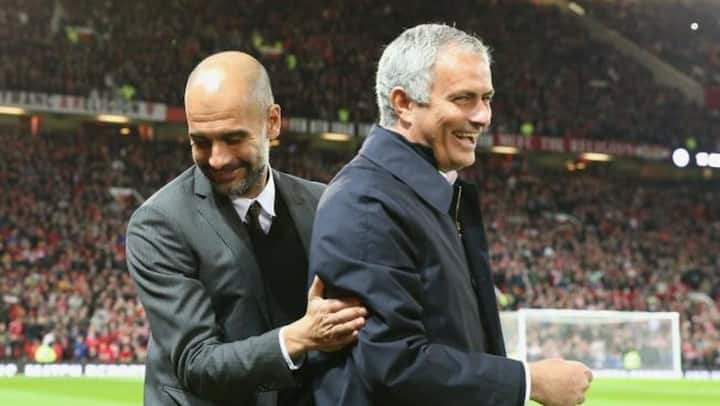 Manchester City manager Pep Guardiola has spoken out in favor of his rival Jose Mourinho after the United boss came under heavy criticism for losing the last two EPL outings. Jose Mourinho, meanwhile, has demanded respect stating that he has won three Premier League titles, more than all his managerial peers combined. Guardiola has stated that despite the losses, United remain a great team.
Only United players can judge Mourinho: Guardiola
Guardiola, in his press conference, said that he has huge respect for Mourinho and his illustrious career as a manager. The former Barcelona boss added that managers will be always judged by the results they get. Guardiola concluded that players are the best judge of their manager, since they are the ones who see the manager everyday and have more information about him.
Guardiola: It is just August, there is plenty of time
When Guardiola was asked about United's place in the league table, he said that it is just August and there is plenty of time left in the season. The City boss also added that there is an international break coming up and it is only after the break that the real season will begin. He added that United remain a top team.
The rivalry between Mourinho and Guardiola
Mourinho and Guardiola were pitched against each other when the Portuguese manager was brought in by Real Madrid. Guardiola was managing Barcelona, at that time, and made the side one of the best squads in football history. Notably, Pep's Barcelona had put 5 goals past Real Madrid in a league match. However, Mourinho ended Guardiola's domination of La Liga by winning the 2011-12 season.
Burnley's manager says he has immense respect for Mourinho
United have their fourth EPL match against Burnley, and before the fixture, Burnley's manager Sean Dyche said that the way Mourinho has performed, wherever he has gone, is something to learn from. Dyche also added, "My respect for people like Jose is because I am a young manager, learning the game, and these people have done enormous amounts in the game, for the game."
A glimpse at Jose Mourinho's illustrious career
Mourinho won three EPL titles with Chelsea (2004-05, 2005-06, 2014-15), along with winning the treble for Inter Milan (2009-10). He has also won the Champions League twice, with Inter and Porto (2003-04). Mourinho won La Liga with Real Madrid and Europa League with Manchester United.