How much money would winners of the World Cup get?
How much money would winners of the World Cup get?
May 18, 2019, 12:25 pm
2 min read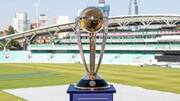 The World Cup is unquestionably the biggest event for any sport, and it is the same for cricket. The winners also receive a good amount of money. While the money might not be as much as the FIFA World Cup, it is surely huge compared to other sports. Here are the details about the prize money, World Cup winners would get this term.
Winners to receive $4 million, runners-up would receive half
This time, the winning nation would be getting a monetary award of $4 million. Meanwhile, the runners-up would be pocketing half of what that amount, $2 million. The total prize money of this edition's tournament has been set at $10 million. Notably, in the 2015 edition of the tournament, winners Australia received $3.75 million, whereas India had received $3.25 million in 2011.
2015 World Cup saw 25% increase in prize money
While the total prize money remains the same for the 2019 edition, the amount saw a 25% increase in the 2015 edition, which earlier was $8 million. The total prize for the winning team has seen a steep increase since the 2003 edition, where the champions had only received $2 million. In 2007, it was increased to $2.25 million.
Losing semi-finalists to get $800,000
As for the money which would be given to the losing semi-finalists, it would also see an increase from the last edition. In 2019, they would be getting $800,000, while in 2015 they had received $600,000. As for the winners of the match during the group stage, they would be getting $40,000 per match, while teams getting ousted in this stage would get $100,000.
First-ever World Cup with 10 teams
Unlike previous editions, the tournament this year would be held as per the Round-Robin format, where each participating team would play the other team once. The top four teams would move on to the semis. The tournament would get underway from May 30.
Sourav Ganguly, Sanjay Manjrekar, Harsha Bhogle among Indian commentators
List of commentators for ICC World Cup 2019: Graeme Smith, Nasser Hussain, Kumar Sangakkara, Wasim Akram, Brendon McCullum, Shaun Pollock, Mike Atherton, Sourav Ganguly, Michael Clarke, Ian Bishop, Simon Doull, Michael Holding, Melanie Jones, Isa Guha, Alison Mitchell, Sanjay Manjrekar and Harsha Bhogle.