Jurgen Klopp versus Pep Guardiola in numbers: Details here
Jurgen Klopp versus Pep Guardiola in numbers: Details here
Dec 07, 2019, 06:08 pm
2 min read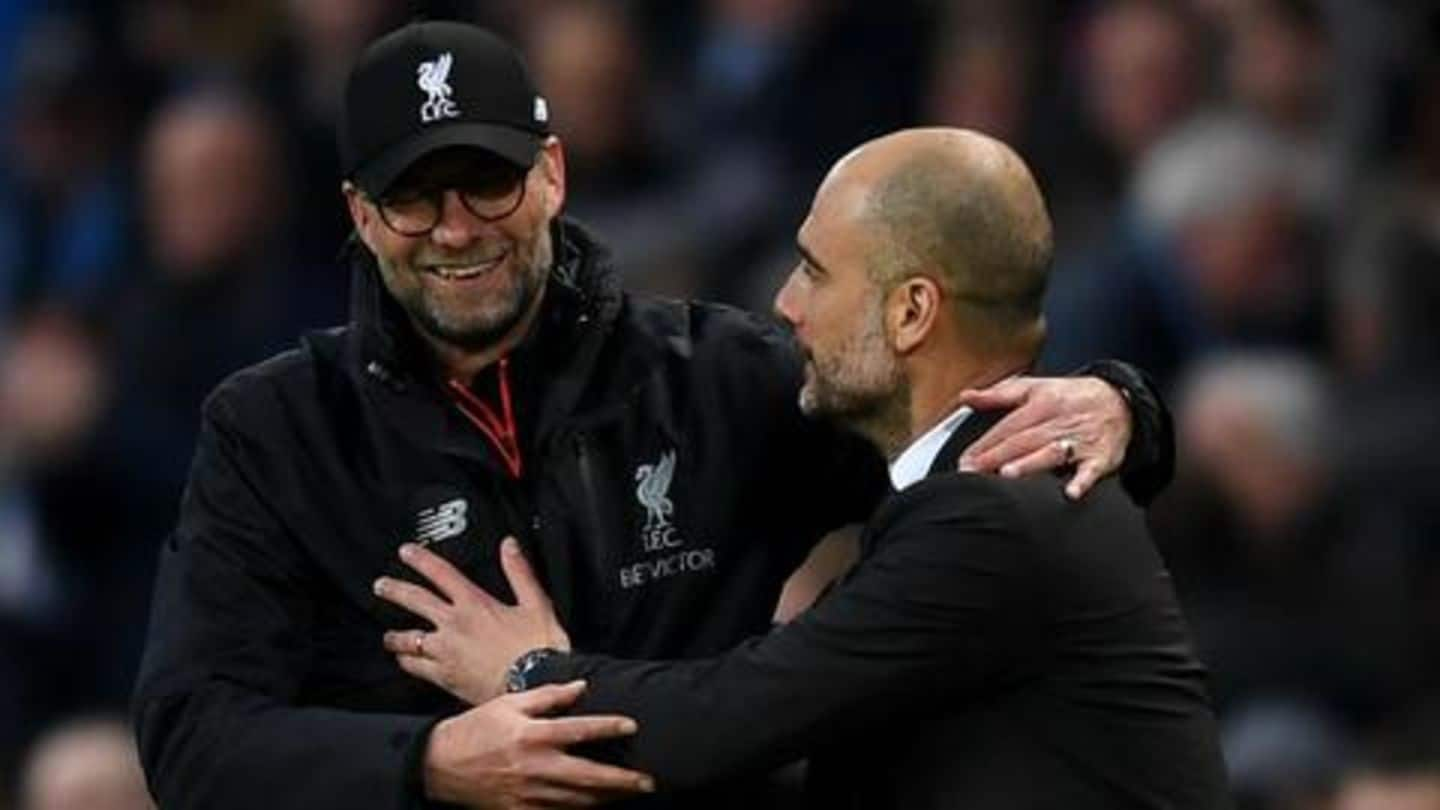 Last season, Manchester City and Liverpool fought till the last gameweek in the Premier League to vie for the title. City went on to pip Liverpool by a point to win the league for a second successive time under Pep Guardiola. This season, Jurgen Klopp's Liverpool have a 11-point gap over City. We look at Guardiola and Klopp's rivalry in numbers.
Guardiola and Klopp's stint with trophies at City and Liverpool
In 2018-19 season, City went on to seal the Community Shield, FA Cup, League Cup and the Premier League titles. Prior to that, Guardiola won two trophies in 2017-18. Klopp won the 2018-19 UEFA Champions League honors. The start of 2019-20 season saw Guardiola win the Shield once again. Meanwhile, Klopp won the UEFA Super Cup after his side overcame Chelsea in the final.
Guardiola leads Klopp when it comes to trophies
Guardiola has won a staggering 28 trophies in his managerial spells across Barcelona, Bayern Munich and City. Meanwhile, Klopp has won seven titles in his managerial spells across Mainz, Borussia Dortmund and Liverpool. Guardiola has never lost a final in any tournament, whereas, Klopp has twice been runners-up in the Champions League. Under him, Liverpool were the runners-up in EFL Cup and Europa League.
Guardiola has better win percentage as manager
When it comes to win percentage, Klopp had a 40.4% record at Mainz, 56.3% at Dortmund and 59.1% at Liverpool. That accounts for an overall 51.8 career win percentage. Guardiola had a 72.5% record at Spanish champions Barcelona. He enjoyed a 75.2% record at German giants Bayern and is currently having a 72.1 win percentage at City.
Klopp has a better head-to-head record against Pep
Klopp's rivalry with Pep started in the Bundesliga, when the German was managing Dortmund. He left Dortmund at the end of 2014-15. Pep joined Bayern in 2013 and faced Klopp for two seasons. Their rivalry grew in prominence in the EPL and is into its fourth season. Interestingly, Klopp has a better head-to-head record against Pep (W 9, D 2, L 7).