Luka Modric wins UEFA Men's Player of the Year award
Luka Modric wins UEFA Men's Player of the Year award
Aug 31, 2018, 12:47 pm
2 min read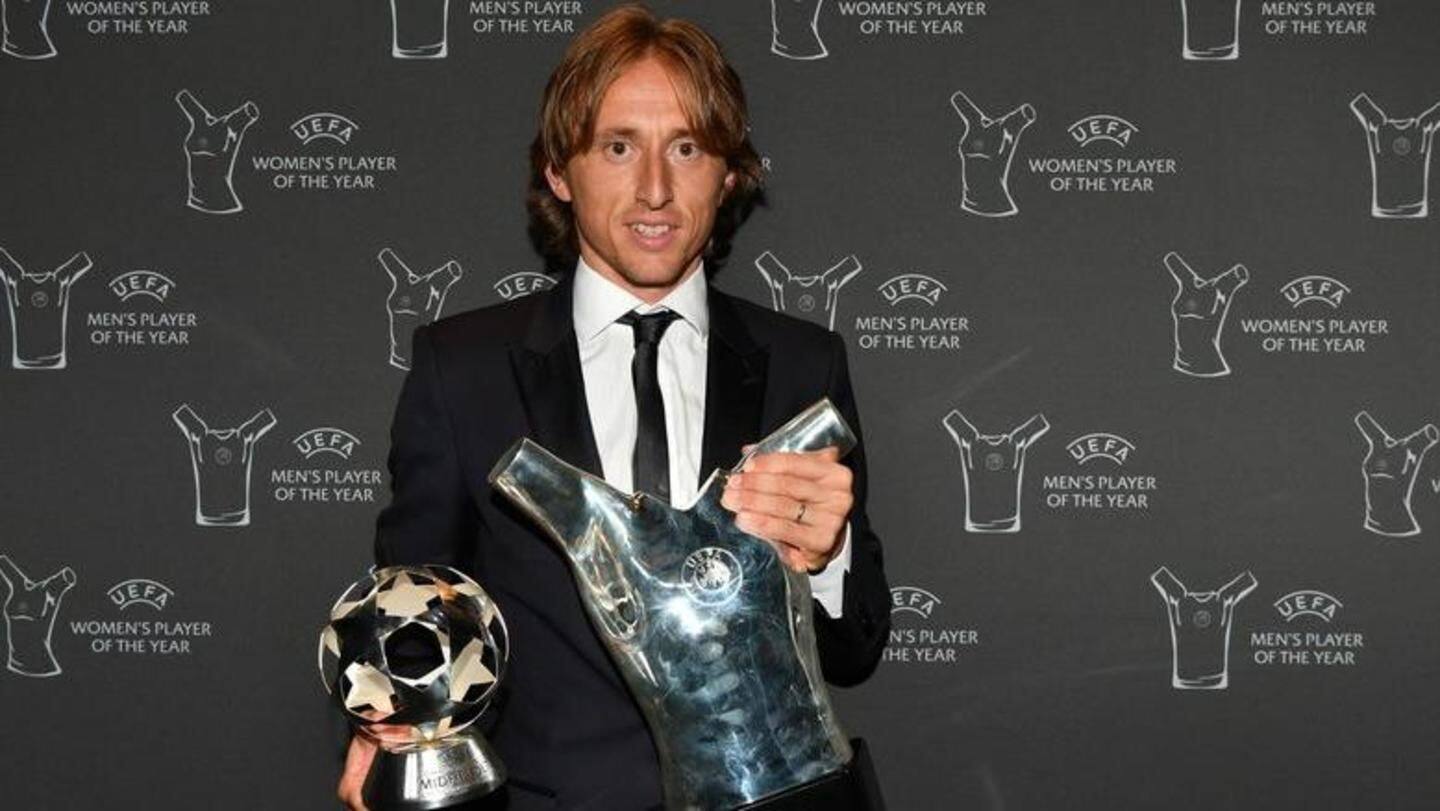 Croatian captain and Real Madrid mid-fielder, Luka Modric, has been declared the Player of the Year by UEFA. He beat Cristiano Ronaldo and Mohamed Salah to win this award. Notably, Modric was also adjudged the best player of the 2018 FIFA World Cup in Russia. He had a great run, last season, winning UCL with Real Madrid and guiding Croatia to World Cup finals.
Croatia's captain ends Messi-Ronaldo domination
Lionel Messi and Cristiano Ronaldo held this award between themselves from 2014 to 2017, Messi winning it once (2015) and Ronaldo thrice. Messi had also won this award in 2010-11. Andres Iniesta and Franck Ribery had won in 2012 and 2013 respectively. Now, it remains to be seen whether Modric is the one who ends Ronaldo and Messi's decade-long domination of the Ballon d'Or.
UEFA introduced new voting regulations in 2018
Unlike other years, where the journalists voted for the winners, 2018 saw UEFA adding 80 coaches to the voting list. The coaches are from clubs which participated in the UEFA Champions League or the Europa League. The total number of journalists, who voted, were 55.
Modric had a hard time growing up
The Real Madrid player was only six when his hometown of Modrici was dragged into a civil war. Modric's home was burned to the ground. In December 1991, the Serbian army stormed through his village, executing his grandfather among others. Football helped him forget his pain, with his supportive family sending him to a sporting academy from an early age. A true champion indeed!
The importance and impact of Modric on a football pitch
Since Andres Iniesta, no mid-fielder has been as effective on the football pitch as Modric. He has an impeccable vision and eye for unique passes that makes him invaluable to any team he plays for. Modric controls the rhythm of the match as a conductor plays the orchestra. Jose Mourinho has also pointed out that Modric is extremely clever and reads the game well.
Modric expressed his gratitude on Twitter
It was a clean sweep for Los Blancos
Real Madrid players won all the UEFA positional awards. Keylor Navas was adjudged the 'Best Goalkeeper', Sergio Ramos the 'Best Defender', Modric the 'Best Mid-fielder' and Cristiano Ronaldo the 'Best Forward'.