Messi visits the toilet 20 times before a match: Maradona
Messi visits the toilet 20 times before a match: Maradona
Oct 14, 2018, 01:11 pm
2 min read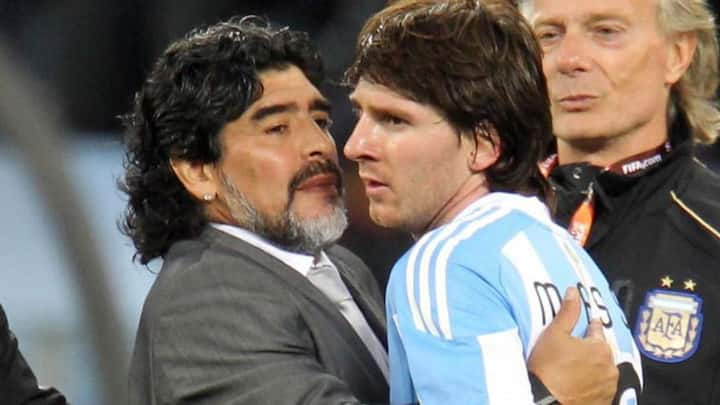 Diego Maradona, the legend who led Argentina to a World Cup victory in 1986, has put forward his views regarding Leo Messi's performance as the captain of the team. He feels Messi should not have been given the captain's armband. He added Messi is on the PlayStation before a match and visits the toilet 20 times before it starts, highlighting how anxious he gets.
Messi should not have become Argentina's captain
Maradona clearly stated that a man like Messi, who is so reserved, cannot inspire his side to victory. As per the legend, this is because he does not have ingrained leadership skills. Maradona highlighted several examples to show why he thinks Messi cannot shoulder the responsibility of being the captain. Messi, himself, has not shown any indication of returning to the national side yet.
Messi's future with the national squad is still uncertain
Messi has kept himself out of the selection process for the national team, and the number 10 jersey of the Argentina squad is not being used in anticipation of his return. Lionel Scaloni, Argentina's interim coach, is using other options while Argentina's GOAT remains unavailable at the moment. Maradona believes Messi's leadership needs to be taken away for him to perform.
Maradona says people should stop making Messi a God
The legend further commented that Messi is merely another player for Argentina and not the God everyone has made him out to be. However, the Argentine team did reach the Copa America final twice and the FIFA World Cup final on the shoulders of Messi. Just for not winning three matches, Messi has been tagged with the burden of under-performing for his national team.