Here's the list of weird things done by top footballers
Here's the list of weird things done by top footballers
Jun 25, 2019, 04:26 pm
3 min read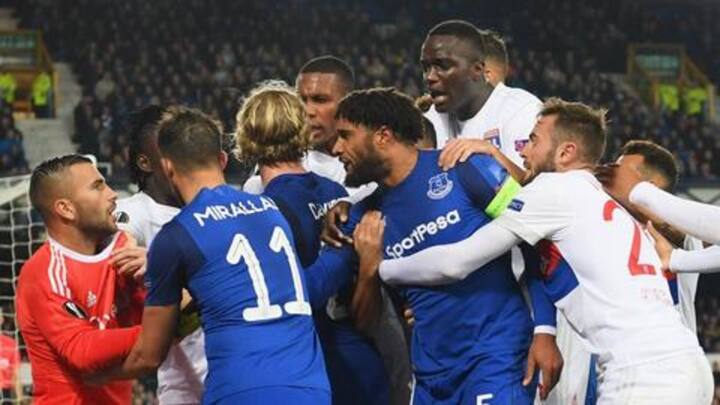 The game of football has seen a number of top players being produced over the years. From Pele, Diego Maradona, Ronaldo, Lionel Messi to Cristiano Ronaldo, the list gets never-ending. However, it's not necessarily that all the top footballers are the sober ones. Thus, we take a look at some of the weird moments or instances by top footballers in history.
Spaniard exaggerates injury to allow opponent being red carded
It was an incident in 2010 during the Champions League semis between Barcelona and Inter Milan. After a mild touch from Inter defender Thiago Motta, Sergio Busquets collapsed to the ground. The referee red carded Motta, who was surprised that he barely touched Busquets, as the latter was seen hiding his face. He faced heavy criticism from the Italian media following the incident.
Frenchman's long list of unusual incidents
Former France and Manchester United defender Patrice Evra too is no stranger to foul deeds. Moreover, he has a long list of some of his dubious acts. As France's captain in 2010, he fought with one of the coaches. In 2012, he wiped his backside off France's jersey. In 2017, he kicked a fan ahead of an Europa League game. Not fair, Patrice.
John Terry makes the list with some bullish acts
Legendary English and Chelsea defender John Terry has a list long of bullish acts. However, the notable ones are like taunting American tourists post 9/11, followed by urinating in the beer glass of a night club. He also went on to allegedly have affair with his team-mate's girlfriend, besides racially abusing Anton Ferdinand. Needless to say, he was one of the most disliked footballers.
One of the most ill tempered footballers
Joey Barton is no stranger to his hellish acts on the football pitch. His was famous for losing his temper and committing hilarious fouls. The most famous incident was back in 2011-12 EPL, while playing for Queens Park Rangers, he hit Carlos Tevez and was red carded. Following the card, he struck another player of Manchester City. What should he be referred to as?
The most unsafe player in the world?
As good as Luis Suarez is with his gameplay, he is equally unsafe for the opponent players. It's not that he has bad conduct, but has a unique habit of diving. Other than that, what makes him very unsafe is that he has the tendency of biting players, as he did it notably on two occasions (2013 EPL and 2014 World Cup).