No Manchester United players in best XI Mourinho has coached
No Manchester United players in best XI Mourinho has coached
Mar 29, 2020, 06:17 pm
2 min read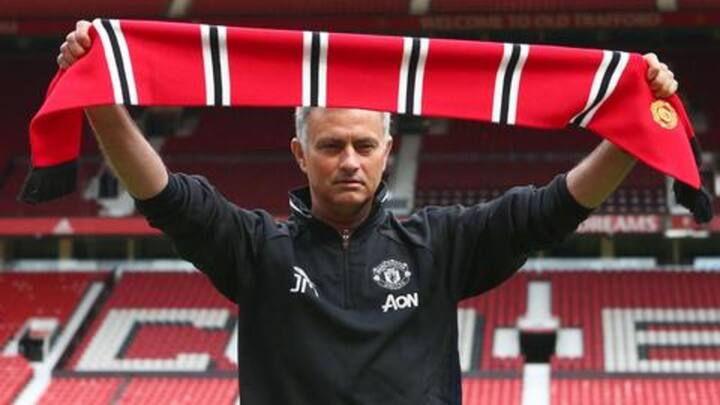 Tottenham Hotspur manager Jose Mourinho has snubbed players of his former club Manchester United in the all-time XI he has coached. The Portuguese managed notable clubs such as Porto, Chelsea (twice), Inter Milan, Real Madrid and United earlier. Jose, who managed Cristiano Ronaldo at Real, has named the latter in his list. Ronaldo was a former United player. Here's more.
How Mourinho fared at Manchester United?
Jose went on to manage United for two and a half seasons. He was successful in his first season and clinched three trophies including the Europa League. In his second season, he helped Man United finish second in the Premier League, besides being the runners-up in the FA Cup. In his third season, the performances dipped considerably. Moreover, the relationship with players dropped significantly.
Mourinho snubs United players in his all-time list
Surprisingly, the Spurs boss didn't name a single United player he managed during his spell. He worked with some star players such as Zlatan Ibrahimovic, David de Gea and Paul Pogba. Looking at his all-time list of the players he managed, eight Chelsea players figure in the list from his two different spells at the club. Mourinho was highly successful at Chelsea.
Eight Chelsea players figure in Mourinho's list
Mourinho won a a staggering eight trophies at Chelsea during his two sets of spells. There were three Premier League titles in his bag. The likes of Petr Cech, John Terry, Ricardo Carvalho, William Gallas, Claude Makelele, Frank Lampard, Eden Hazard and Didier Drogba feature in the list. They were important players in Mourinho's career.
A look at Mourinho's all-time XI
Besides the eight players from Chelsea, two made the cut from Real Madrid. Ronaldo and Mesut Ozil were the significant ones. Former Inter legend Javier Zanetti made the cut as well. However, besides United, there were no players from Porto in his list. Mourinho's all-time XI: Cech; Zanetti, Terry, Carvalho, Gallas; Makelele, Lampard, Ozil, Hazard; Ronaldo, Drogba.