EPL: Mikel Arteta and Callum Hudson-Odoi test positive for coronavirus
EPL: Mikel Arteta and Callum Hudson-Odoi test positive for coronavirus
Mar 13, 2020, 02:15 pm
2 min read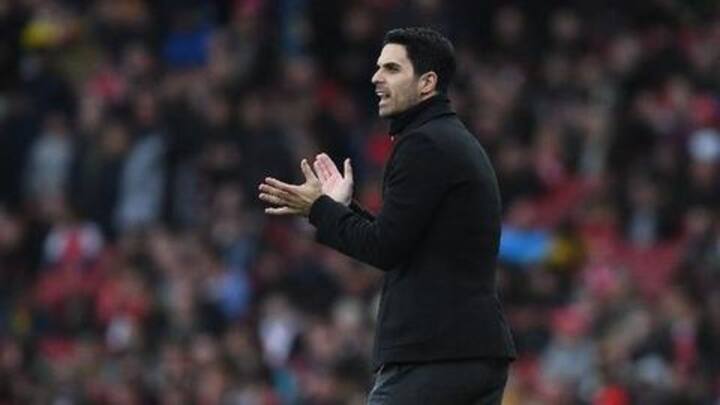 Chelsea's Callum Hudson-Odoi became the first Premier League player to test positive for coronavirus. Besides the England international, Arsenal manager Mikel Arteta is self-isolating after testing positive for the virus. With Serie A and La Liga getting suspended for now, the Premier League faces a spell of uncertainty as well. Here are all the key updates.
Premier League to hold discussions regarding future fixtures
As per reports, the Premier League will hold "an emergency club meeting" on Friday to discuss future fixtures. Meanwhile, according to BBC Sport, one possible outcome is that the Premier league is suspended for two weekends until the scheduled international break later this month. However, the abandonment of the season is unlikely at this stage.
Key details about Chelsea's Hudson-Odoi
Chelsea stated that Hudson-Odoi "displayed symptoms similar to a mild cold on Monday morning" and stayed away from the the training ground. The club added that the player is "doing well and looking forward to returning to the training ground as soon as it is possible". Meanwhile, Chelsea's full squad has gone into isolation and the club cancelled Friday's scheduled news conference.
This is really disappointing, says Arsenal boss Arteta
Arsenal have closed their training ground and club staff who had recent contact with manager Arteta will also self-isolate. "This is really disappointing," said the 37-year-old Arteta. "I took the test after feeling poorly. I will be at work as soon as I'm allowed." Arsenal also said they expect a "significant number of people" will self-isolate, including the "full first-team squad".
What's happening elsewhere in the Premier League?
Arsenal's EPL encounter against Manchester City earlier this week was postponed as a precautionary measure. Manchester City's left-back Benjamim Mendy has self-isolated himself after a member of his family was admitted to a hospital displaying symptoms of the virus. Three Leicester City players have also self-isolated themselves after showing coronavirus symptoms. On Thursday, Premier League announced this weekend's games "will go ahead as scheduled".
Arsenal's match against Brighton called off
Arsenal were due to face Brighton in the Premier League at Amex Stadium on Saturday. But Brighton released a statement, announcing that the game had been called off. Meanwhile, whether Chelsea's match will go on this weekend is yet to be confirmed.