Nadal can equal Djokovic and Federer's special record: Details here
Nadal can equal Djokovic and Federer's special record: Details here
Nov 02, 2019, 06:13 pm
2 min read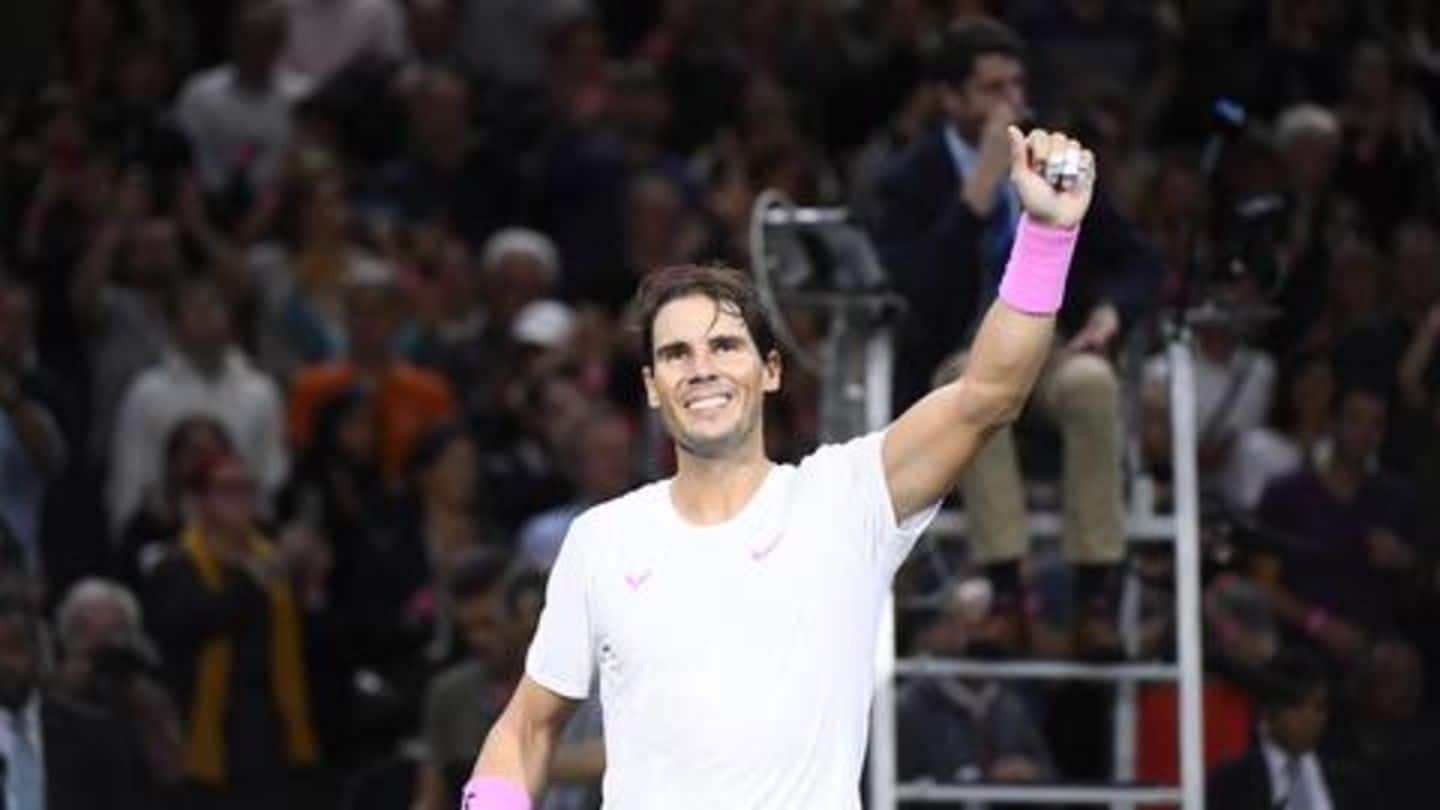 19-time Grand Slam champion Rafael Nadal is vying for a maiden Paris Masters trophy in an illustrious career. The Spaniard has already reached the semis after beating Jo-Wilfred Tsonga 7-6, 6-1 in the quarters. Next in his way is Denis Shapovalov in the semis. If Nadal goes all the way to clinch the title, he can script a special record.
Nadal can equal Federer and Djokovic as world number one
The Spaniard can go on to equal the number of times legends Roger Federer and Novak Djokovic have finished the year ranked No.1 in the world. The ATP year-end world number one ranking is determined by which ever player is top following the final tournament of the calendar year, which is the Paris Masters. Nadal has a real chance of clinching the feat.
Djoker tops the ATP Rankings, Nadal is second
At the moment, Serbia's Djokovic is atop the ATP Rankings. He has a total of 9,545 points. US Open 2019 winner Nadal is second on the list (9,225). Meanwhile, Federer, who decided to skip the Paris Masters in order to rest, is third (6,950 points).
How can Nadal topple Djokovic as world number one?
If a player reaches the final of the Paris Masters, then he will get a minimum of 600 points. Notably, winning the tournament will see the player receive 1,000 points. So if Nadal goes on to beat Djokovic in the final, he will get the additional 400 points. This will be enough to see him finish the year ranked No.1 in the world.
Nadal can script this special record
If Nadal manages to win the Paris Masters, then he would move into joint-second place in the all-time rankings. Currently, former American tennis ace Pete Sampras leads the show. The legend accomplished the feat six times during the course of his career. Meanwhile, the likes of Jimmy Conors, Federer and Djokovic are all tied on five. Nadal can equal these three greats.
Djokovic, Nadal on course to meet in Paris
In the ongoing Paris Masters, Djokovic, who is the number one seed, advanced to the semi-finals after beating Greece's Stefanos Tsitsipas 6-1, 6-2 in under an hour. Next up for the 32-year-old champion is Bulgaria's Grigor Dimitrov. The manner in which Djokovic is playing, he could book a berth in the finale. Nadal will also aim to reach the final and give his best.