A look at the career statistics of Federer vs Nadal
A look at the career statistics of Federer vs Nadal
Sep 11, 2019, 07:39 pm
2 min read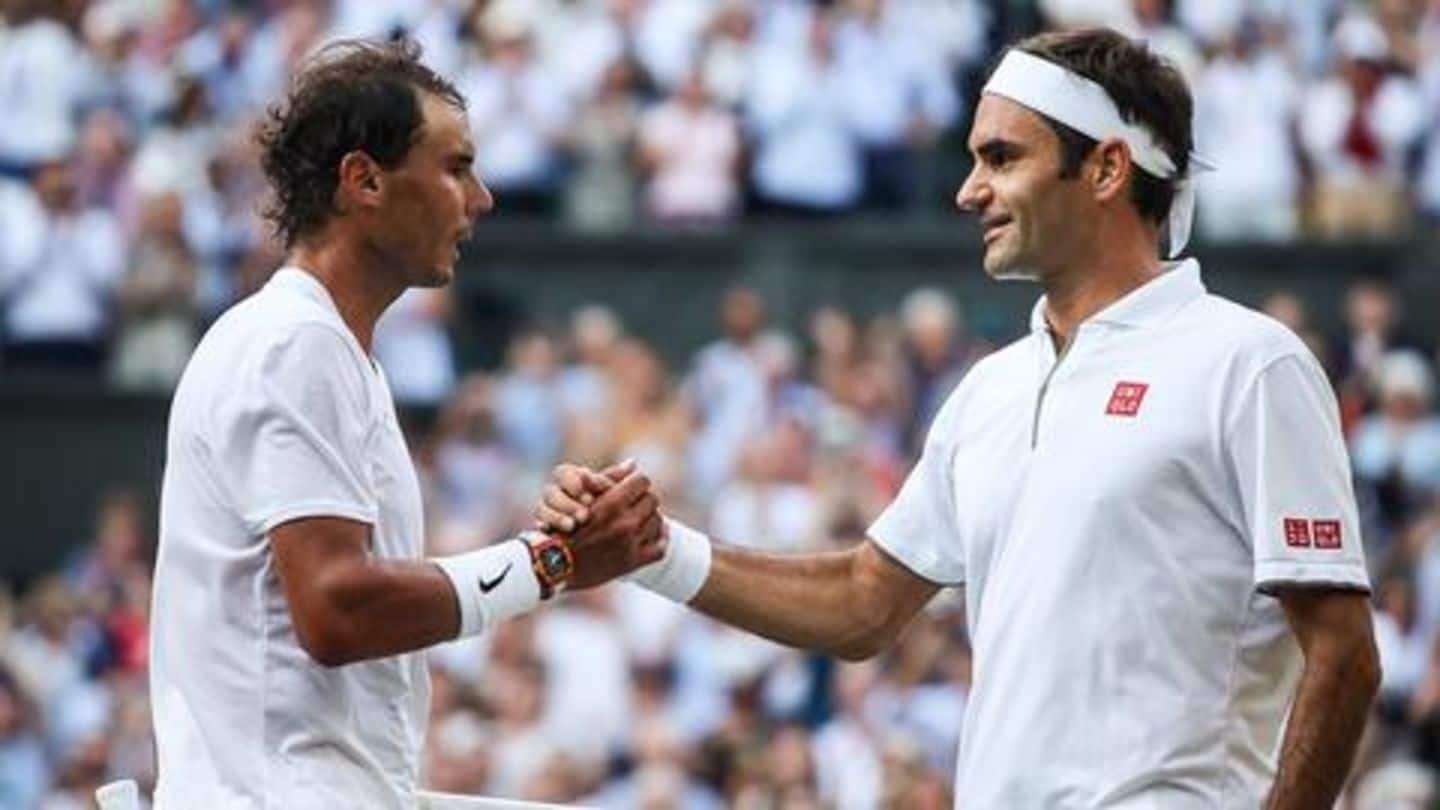 Roger Federer and Rafael Nadal are two of the greatest tennis players of all time. They share 39 singles Grand Slam titles between them in what has been a solid career for both respectively. Recently, Nadal won the US Open title to close down on Federer's 20 Slam honors. Both have amazing career statistics and numbers. Here we look at the same.
Nadal leads Federer in Slam meetings and career head-to-head tally
Federer leads the show with 20 career Slams. Meanwhile, Nadal has 19 Slam titles. Spaniard Rafa leads Federer 24-16 in career head-to-head tally across all competitions. In tournament final duels, Nadal leads the mark with a 14-10 tally. In Grand Slams, Nadal also has the upper hand with a 10-4 head-to-head record. In Slam finals, Nadal leads by a 6-3 margin.
Federer leads the show in career titles won
As far as career titles are concerned, Federer has won a staggering 102 trophies, whereas, Nadal has pocketed 84. Federer has 1,227 career wins and 267 losses. Nadal has 966 career wins and 196 losses. In terms of career prize money, Federer has earned $126,840,700. On the other hand, Nadal has managed to earn $115,178,858.
Other crucial career statistics of both these stalwarts
Federer has won six year-ending ATP Finals titles, whereas, Nadal is yet to open his account. Federer trails Nadal in terms of career ATP Masters 1000 titles (28-35). Swiss ace Federer has been in 31 Slam finals. He has been a runner-up on 11 occasions. Nadal has been in 27 Slam finals. He has been a runner-up on eight occasions.
Multiple Slam victories and win-loss record
Federer has managed to win multiple Slams in a year on six occasions (2004, 2005, 2006, 2007, 2009 and 2017). Nadal has won multiple Slams in a season on five occasions (2008, 2010, 2013, 2017 and 2019). Federer has a 357-58 win-loss record at Grand Slams, whereas, Nadal has a 271-38 win-loss record.