Five gimmicks which WWE copied from other companies
Five gimmicks which WWE copied from other companies
Jan 09, 2019, 07:53 pm
3 min read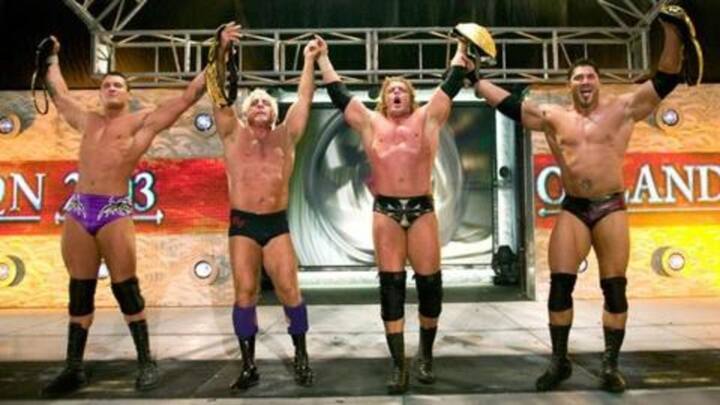 WWE has, over the years, brought into its arsenal many stories, angles, match variations which were its brainchild, and revolutionized the business like never before. However, that doesn't mean McMahon and company did not lift material from others. There are numerous examples of gimmicks and match types that WWE stole from promotions like WCW, ECW, TNA, and others. Here are five such instances.
Jinder Mahal was pushed when Impact started pushing Mahabali Shera
It came as a shock to WWE fans when Jinder Mahal, a lowly mid-carder, was made the 50th WWE Champion. This was actually done to copy Impact's success in India which it had done by giving Mahabali Shera a huge push. And, WWE wanted to capture that big market as well. Unfortunately, things did not go that well for WWE.
Wyatt Compound was directly lifted from Impact's Hardy Compound
The Wyatt family were given a gimmick of a supernaturally inclined cult who had a place known as the Wyatt Compound where they would take their victims. The concept was directly taken from the Hardy Compound, an Impact original, where Matt Hardy's 'Broken' character evolved and captured the audience's imagination. WWE's version of the same was one of 2016's worst gimmicks.
CM Punk's anti-authoritative storyline was taken from Ring of Honor
This gets amusing, as Punk did a version of himself from ROH on WWE and shot to iconic status. When he was leaving ROH for WWE, he criticized the former company, and even signed his WWE contract on the ROH Championship belt. He repeated himself in 2011, with the Pipebomb promo, heavily criticizing WWE, and left the company only to return a week later.
Evolution was lifted from The Four Horsemen
This, unlike some of the others, was a major success, as WWE did copy the most iconic stable of all time, The Four Horsemen, and created a version for themselves, called Evolution. It involved a group of supremely talented performers, who were equally egotistical, wearing flashy clothes, and berating others while they won titles one after the other. Evolution has now become iconic itself.
The tag-team Demolition was inspired by The Road Warriors
The Road Warriors are widely regarded as the best tag-team in the history of pro-wrestling, and were hugely successful wherever they went. WWE took this success to make their own version, called Demolition. While Ax and Smash were at first berated for overtly copying The Road Warriors, fans soon realized they were a great pair themselves, and soon huge success followed.