Women's T20 World Cup: Shafali's journey from Haryana to MCG
Women's T20 World Cup: Shafali's journey from Haryana to MCG
Feb 25, 2020, 02:20 pm
3 min read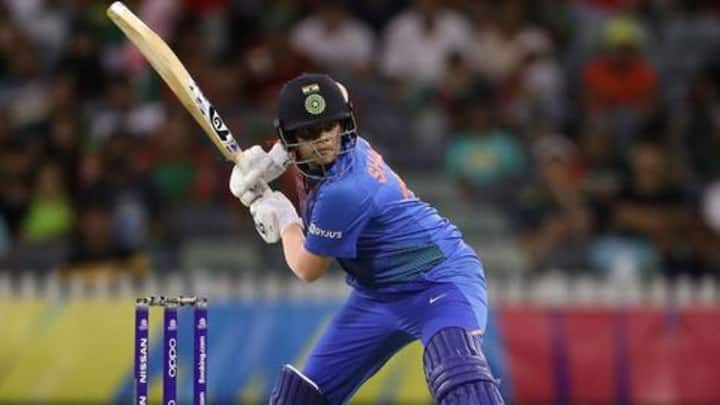 India stepped closer to a qualification in the ICC Women's T20 World Cup 2020 semi-final with a 18-run victory over Bangladesh at the WACA. Shafali Verma was once again all guns blazing as she got India off to a flier, having scored a 17-ball 39 which included four sixes and two fours. Here's how the young batting prodigy earned the coveted blue jersey.
Shafali overcame the obstacles at a tender age
Shafali's inspiring journey began in Haryana where she grew up pursuing her passion of playing cricket. At the age of 10, she got enrolled in the Shree Ram Narain Cricket Academy, but was not allowed to feature in the male-only tournaments. Shafali then decided to chop her hair and disguised herself as her brother in order to chase her dream.
Shafali soon became the toast of the town
Shafali's determination finally reaped dividends when she started featuring in the age-group teams for Haryana. "It was her idea. She said, 'What if I crop my hair? I don't think anyone would notice I'm a girl'," her father Sanjeev told Reuters. "Nobody noticed her among the boys and she got important match experience. It was an important decision we made." he added.
Sanjeev endured the intricacies to support Shafali's game
An ardent cricket follower, Shafali's father Sanjeev Verma runs a small jewellery shop. However, the social stigmas in Haryana didn't stop him to let Shafali continue with the game. "My father wanted to be a cricketer, but nobody supported him. When I decided to play, he ensured that there were no obstacles. I trained under him initially, and slowly things got better," Shafali said.
Shafali rose to prominence in 2018
In 2018, Shafali's exploits catapulted her to the Haryana Under-16 team. However, the 16-year-old shot to fame a year later when she scored 128 off 56 balls against Nagaland in the Women's senior national T20 championships (third-highest score in Women's T20). Later that year, she represented Velocity in the Women's T20 Challenge in Jaipur and made a mark.
Shafali broke Sachin's record in 2019
In September 2019, Shafali made her international debut in a T20I against South Africa wherein she departed for a duck. Besides, she played a terrific 46-run knock in the following T20I. In November, she became the youngest Indian to score an international half-century in the first T20I against West Indies. The-then 15-year-old surpassed Sachin Tendulkar's record, who was 16 when he reached the landmark.
Shafali has bolstered India's batting at the top
After faring well in the T20 Challenger Trophy earlier this year, Shafali was named in India's 15-member squad for the all-important T20 World Cup. She has so far justified her selection with scores of 29 (15) and 39 (17) against Australia and Bangladesh respectively. Having scored 68 runs in two matches, Shafali is India's highest run-scorer of the tournament so far.
A perfect replacement for retired Mithali Raj?
"She is a really good prospect who is so fearless. She needs that guidance because she is still very young. Besides, she is a wicketkeeper-bat, so it's again a question of how they can utilize the talents of a young girl," Mithali lauded Shafali.
Shafali was handed Grade C contract alongside 10 other players