Top European football managers call for away goals change
Top European football managers call for away goals change
Sep 05, 2018, 03:27 pm
2 min read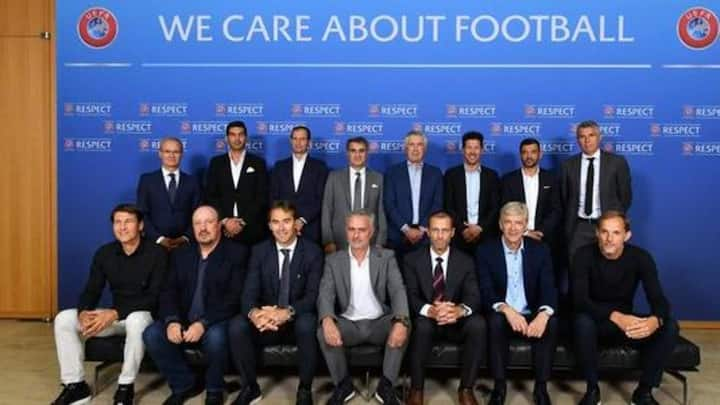 Several managers, from top European clubs, have come together to ask the UEFA to do away with the away goals rule. Notably, continental competitions such as the Champions League and the Europa League are governed by this rule, during the knock-out stages, if the aggregate score is tied. The UEFA has stated that it will look into the matter.
Managers discuss the away goals rule
The away goals rule was introduced in 1965 and used in the now-discontinued European Cup Winners' Cup. It was an alternative to using a coin or travelling to another place to play the match on a neutral ground. The managers present in the forum felt that there is a need to strike this rule as scoring away, these days, isn't difficult.
What has the UEFA stated?
Europe's head governing body is open to the idea of reviewing the away goals rule as suggested by managers. UEFA deputy general secretary Giorgio Marchetti confirmed the same post the meet. Marchetti went on to add that the coaches feel the rule is also counter-productive. It encourages away teams to attack more and the hosts are left defending in order to avoid conceding.
Coaches get together to promote football
Elite Coaches Forum: All you need to know
The Elite Coaches Forum is held in Nyon, every year, with top coaches exchanging opinions and ideas on football. The rationale is to hold discussions and debates with UEFA and help promote football for the betterment of everyone. Tactical and technical aspects of European club football competitions are also discussed. The 2018-19 Champions League and Europa League competitions will start this month.
The managers and their other recommendations
Managers to attend the Forum this year were- Jose Mourinho (Manchester United), Unai Emery (Arsenal), Arsene Wenger, Massimiliano Allegri (Juventus), Julen Lopetegui (Real Madrid), Carlo Ancelotti (Napoli) and Thomas Tuchel (PSG). The coaches also batted for an unified transfer window closure across all top nations. They want the window to shut down everywhere before the season starts.