Rafael Nadal provides injury update following US Open quarters win
Rafael Nadal provides injury update following US Open quarters win
Sep 05, 2019, 06:59 pm
3 min read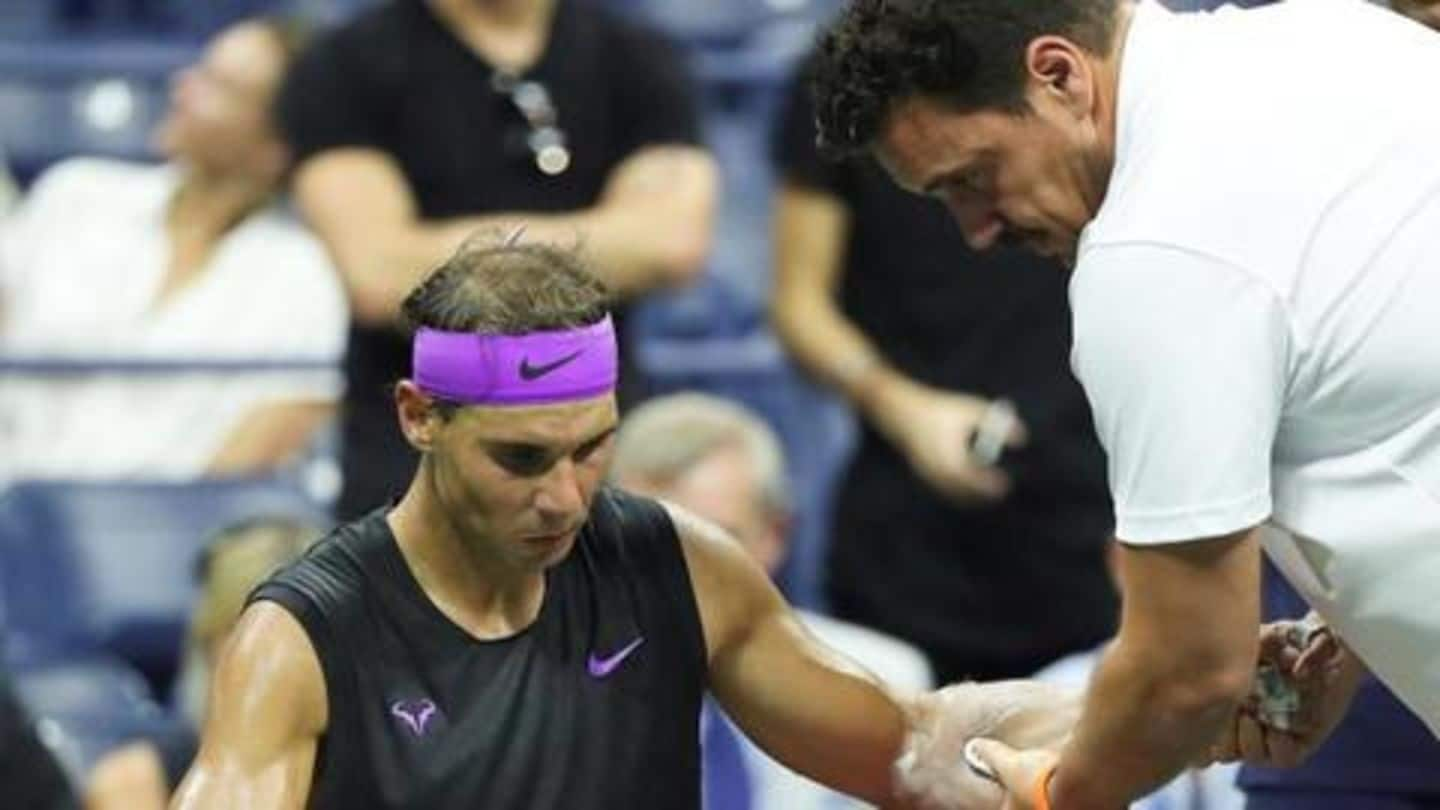 Former US Open champion Rafael Nadal has cruised to yet another semis of the tournament, after triumphing Diego Schwartzman in the quarters on Wednesday. While he did win in straight sets, the Spaniard also gave a scare to his fans after he was treated on-court, and sought a medical time-out. He gave an update about his fitness following the match. Here's more.
Nadal experiences discomfort in arm during quarter-final tie
It happened during the quarters when Nadal experienced some discomfort in his left arm, his primary arm. As the trainer came onto the court, he was seen rubbing Nadal's arm. Nonetheless, as he continued, a few games later, he was again seen stretching, this time his other arm. However, it hardly made any difference as Nadal comfortably won the match.
Nadal brushes aside injury rumor, says he is fine physically
Speaking on his fitness, Nadal brushed aside any possibility of injury, as he said that he was physically fine. However, he said that he was feeling the discomfort owing to the tremendous amount of humidity. "Sometimes under these conditions, it's tough, but honestly, I'm happy I had some critical moments at the end of the second and beginning of the third," said Nadal.
"When he is under confidence, he's very difficult to stop"
Although Nadal did triumph Schwartzman in straight sets, the match went over three hours, and was an intense affair. Meanwhile, Nadal claimed that he had to be careful with every point he won, despite some mistakes, as once Schwartzman gained confidence, it generally becomes difficult to stop him. "Here I am in the semi-finals, it's super important for me. It means everything," concluded Nadal.
How did the match pan out?
Nadal started off on a sound note as both the players were at it head-to-head initially, while Nadal claimed the opening set 6-4. The second set saw more intensity from Schwartzman, as Nadal had to wait until the sixth game for the break, as he won the second set 7-5. The final set saw relentless approach from Nadal, who won it convincingly 6-2.
Nadal takes on Matteo Berrettini in the semis
Following his impressive show in the quarters, Nadal is all set to take on Italy's Matteo Berrettini in the semis on Friday. Although Nadal has deemed himself physically fit, it remains to be seen if there is a fresh fitness concern during the semis. As of now, Nadal looks favorite to reach the final. He would aim to win his fourth US Open title.