Is Virat Kohli incomplete as captain without MS Dhoni?
Is Virat Kohli incomplete as captain without MS Dhoni?
Mar 12, 2019, 08:31 pm
3 min read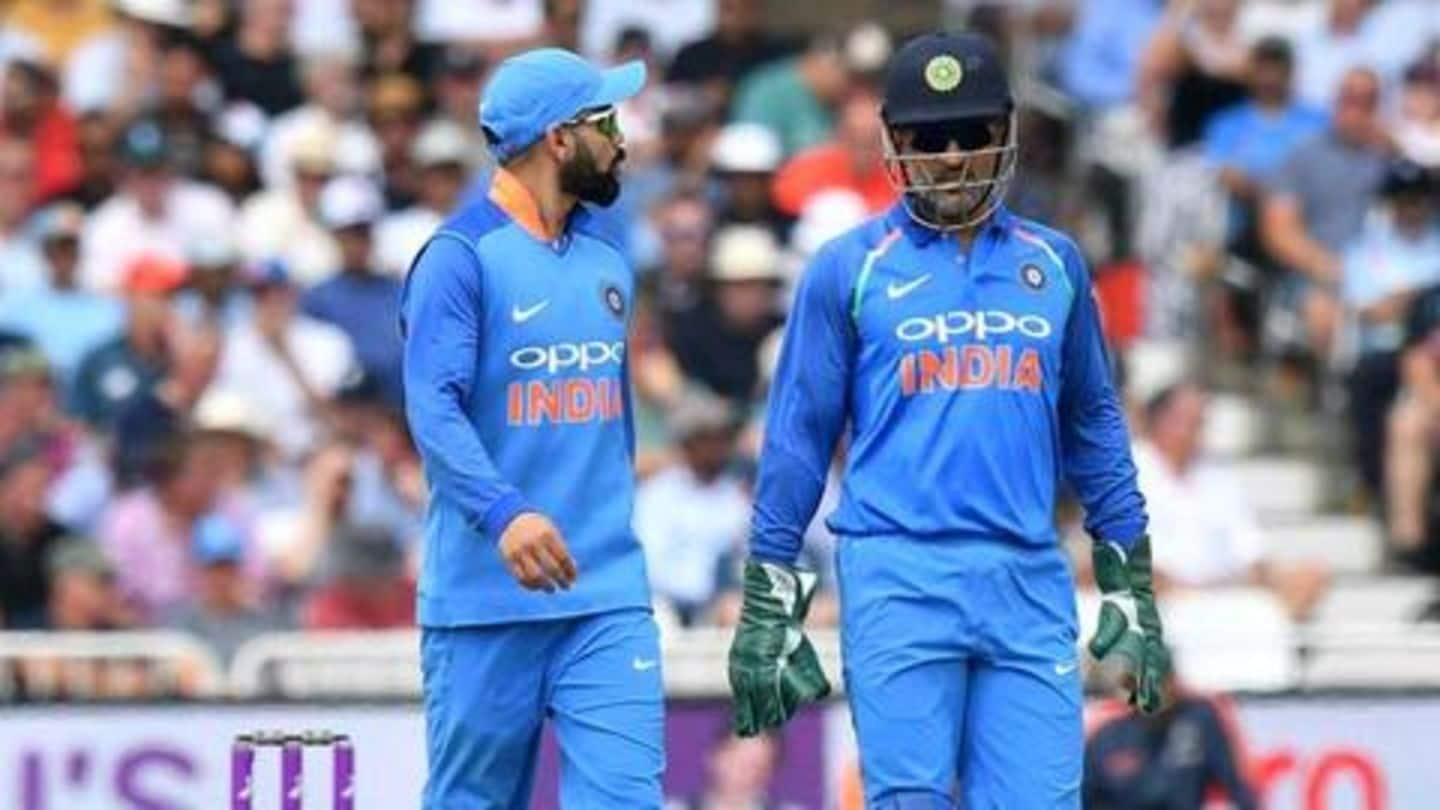 Current Indian skipper Virat Kohli is undoubtedly the best batsman in the world. However, the same cannot be said when it comes to his leadership skills. Although he has enjoyed success in Tests so far, he has struggled to make an impact, as a captain, in white-ball cricket. In the same light, ex-Indian cricketer Bishan Singh Bedi feels Kohli is incomplete without MS Dhoni.
Kohli's captaincy below par without Dhoni in limited-overs
India have now lost two ODIs in a row to Australia in the ongoing series. Further, what looks worrisome is that India failed to defend a total of 358 and lost the last ODI by four wickets. Notably, Dhoni didn't play the last ODI and it seemed Kohli was struggling to make decisions on field. His captaincy was below par in fourth ODI.
Bedi to Kohli: 'Keep a calm mind'
Kohli is the leader, but Dhoni is the passive captain
Although Kohli might have taken over the realms from Dhoni in ODIs, the latter still seems to play the role of passive captain on the field. Kohli is still young and has a lot to learn, especially when it comes to taking decisions under pressure. Dhoni, who is India's most successful ODI captain, has been a guiding force in Kohli's captaincy tenure.
Kohli needs Dhoni by his side
On Dhoni's role in Kohli's team, Bishan Singh Bedi said, "Dhoni is not getting any younger, he is no spring chicken either, but the team needs him. He has a calming influence on the side. The captain needs him by his side."
Bedi feels that Dhoni is the half captain
Apart from Kohli's struggle as captain without Dhoni, Bedi also questioned the BCCI's decision to rest Dhoni in the final two ODIs against Australia. He opined that it does not make sense resting Dhoni as the team needs him, as his void was felt in every department during the fourth ODI at Mohali. He also feels that Dhoni is still the half captain.
Dhoni still in charge during death overs
While Kohli is the actual captain of the side, he generally fields at the boundary at the death. In this period, many pundits feel that Dhoni takes charge. Speaking on Dhoni's tips during a match, Kuldeep Yadav said, "(The tips) Sometimes work, sometimes don't, but the loyalty remains. He knows everything. Sometimes, you might not know small things about the batsmen, but he does."
Kohli is lucky to have a mentor like Dhoni
While it is still early to judge Kohli's ODI captaincy, he is undoubtedly lucky to have a mentor like Dhoni. He will mature in the role as time progresses, and it is highly unfair to compare him with Dhoni, as the latter is probably the best ODI captain the world cricket has seen. Nonetheless, Kohli is and would remain the King of ODI cricket.