WWE: Instances when superstars got hit with their own finishers
WWE: Instances when superstars got hit with their own finishers
Sep 23, 2019, 01:11 pm
3 min read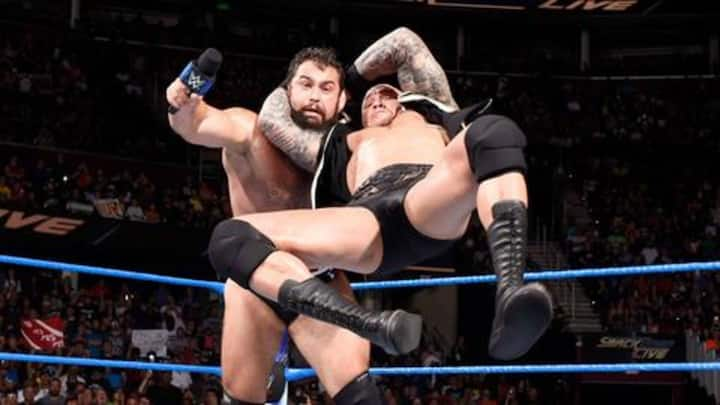 WWE produces the best form of pro-wrestling, while it is the superstars who do all the hard work, courtesy their in-ring wrestling skills. One of the notable elements of their skills is their finishing move, which is loved by the fans. However, there have been a number of instances when superstars have got hit by their own finishers, as we take a look.
Shawn Michaels humiliates Bret Hart in Montreal
The Montreal Screwjob remains one of the most controversial segments in WWE to date. Prior to Vince McMahon screwing Bret Hart over, the latter suffered a humiliation while facing Shawn Michaels during the match. Right before the match came to an end, Michaels had applied Bret's signature Sharp Shooter on him. Notably, Bret did not tap out as Vince called for the bell.
The Rock gets to the bottom of the rock
The Rock is one of the crowd favorite superstars to date. However, his finishing maneuver was an over-rated one. Nonetheless, WWE hyped it as deadly, as Rock won multiple championships with it. However, at Vengeance 2001, he got screwed over when during a World Championship match against Chris Jericho, a distraction allowed the latter to hit him with the same.
John Cena gets his attitude adjusted
Just like The Rock, John Cena is also an immensely popular superstar in WWE, while his finishing maneuver, too, is over-rated. Meanwhile, at Royal Rumble 2014, while Cena was in an intense World Championship match against Randy Orton, the latter had used almost every move in his bag. Eventually, he went on to use the Attitude Adjustment over Cena, but to no avail.
Orton gets a taste of his own medicine outta nowhere
Speaking of Orton, his finishing maneuver is considered one of the most dangerous in WWE. It is owing to this move he has won 13 World Championships. Interestingly, he has fallen victim to his own vicious move when at Extreme Rules 2015, he was facing Seth Rollins for the title. Towards the end, Rollins shocked Orton with the RKO, thanks to a distraction.
Stone Cold Steve Austin is stunned
While a number of people over the years have been on the receiving end of the Stunner by Stone Cold Steve Austin, The Rock is above all, especially for selling the move. However, on this occasion in 2003, right around WrestleMania 19, Rock himself delivered a stunner on Austin, leaving the crowd shell-shocked. To make things personal, he even mocked his beer celebration.