Dubai: 17, including 12 Indians, die in tragic bus accident
Dubai: 17, including 12 Indians, die in tragic bus accident
Jun 07, 2019, 04:27 pm
3 min read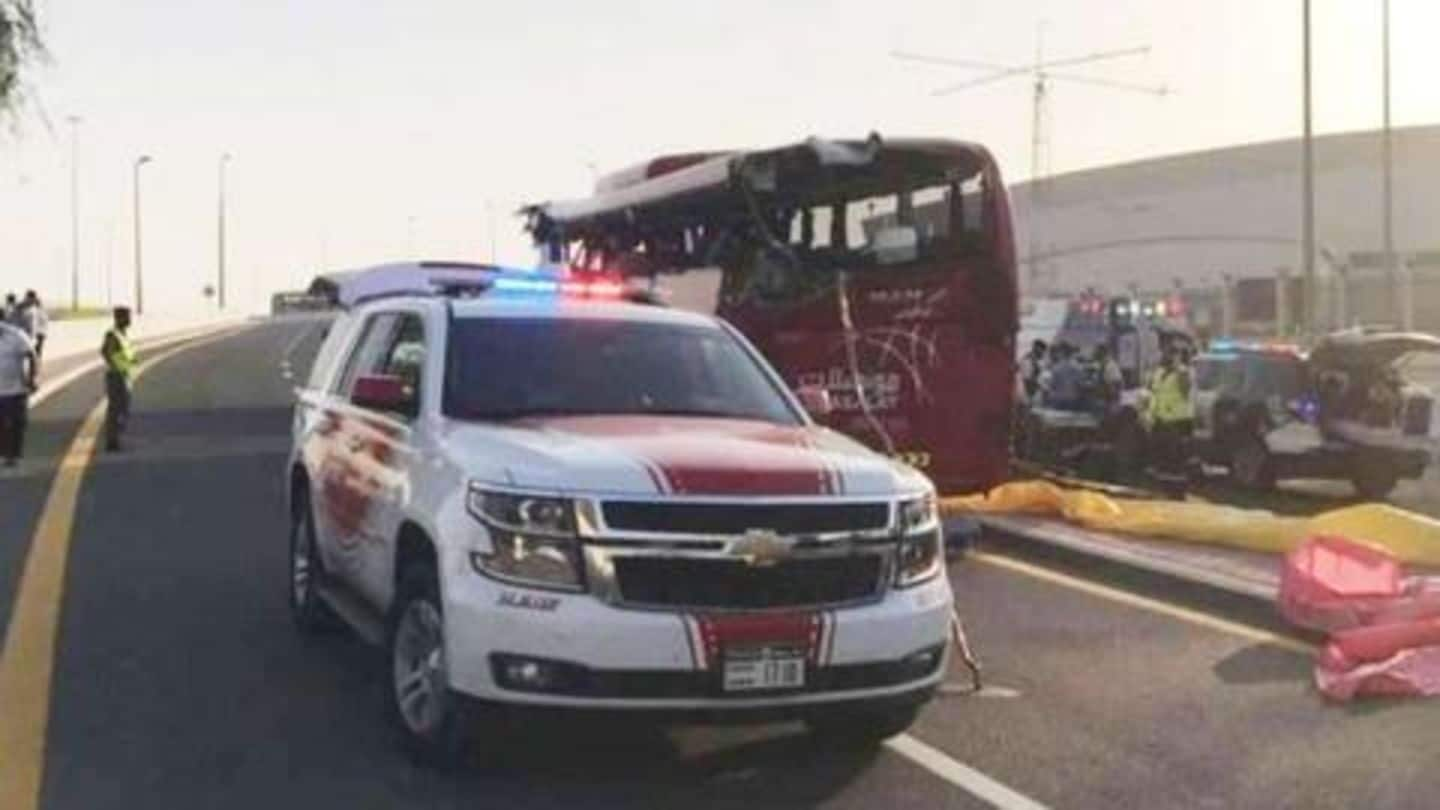 In a sorrowful incident, 12 Indians lost their lives in Dubai after the bus they were traveling in crashed. A total of 17 people died in the accident, authorities confirmed. The bus, carrying 31 people, was traveling from Oman to Dubai when it "overrun a traffic signal" near Rashidiya exit. Foreign Minister S Jaishankar has promised all assistance to bereaved families. Here's more.
Reportedly, the fatal bus entered a wrong lane
Dubai police said the bus crashed into a sign on Sheikh Mohammed bin Zayed Road. Reportedly, the road on which the bus entered wasn't designated for heavy vehicles. Though police didn't reveal more details about the accident, they warned that "sometimes minor negligence can be fatal". "The General Directorate of Dubai Police extends its sincere condolences to the families of the deceased," the police's tweet read.
Consulate released names of those who lost their lives
India's consulate in Dubai released names of those who died. They have been identified as Vikram Jawahar Thakur, Vimal Kumar Karthikeyan, Kiran Johny, Firoz Khan Aziz Pathan, Reshma Firoz Khan, Ummer Chonokatavath Mammad Puthen, Nabil Ummer Chonokatavath, Vasudev Vishandas, Rajan Puthiyapurayil Gopalan, Jamaludeen Muhamedunni, Prabula Madhavan Deepa Kumar, and Roshni Moolchandani. Officials are working to bring back the bodies to India.
One of the deceased went to Oman to visit friend
The horrific turn of events left the families and friends in deep shock. A friend of Jamaludeen Muhamedunni, who died in the accident, said he went to Oman to visit his friend. His wife and daughters live in Kerala. "We saw him last week before the holidays began. He wished Eid Mubarak to everyone and left," his colleague told Khaleej Times.
Wife of another deceased went into shock
Ummer Chonokatavath, who lost his life, went to Omar to visit his daughter in Muscat. "They were on their way back from Muscat after celebrating Eid with them. My uncle has had a business here for many years," his nephew Nabil Ummer said. Meanwhile, Manisha, wife of deceased Vikram Jawahar Thakur, went into a state of shock after learning of the accident.
Jaishankar expressed condolences to families
Deeply grieved by the unfortunate bus accident in Dubai that has claimed 12 Indian lives. My sincere condolences to the families.
Our Consulate @cgidubai is extending all help. https://t.co/wh2PV8sdMj

— Dr. S. Jaishankar (@DrSJaishankar) June 7, 2019
Subsequently, bus transport company announced suspension of services
After the accident, the Omani bus transport company Mwasalat said they would stop E05 services between Muscat and Dubai. The buses ran daily in coordination with Roads and Transport Authority (RTA) in Dubai, the company underlined. "Mwasalat family expresses its deepest condolences to the families of the deceased and wishes a speedy recovery to the injured," their statement read.