World's longest non-stop flight to take off today: Details here
World's longest non-stop flight to take off today: Details here
Written by
Shiladitya Ray
Oct 11, 2018, 02:33 pm
3 min read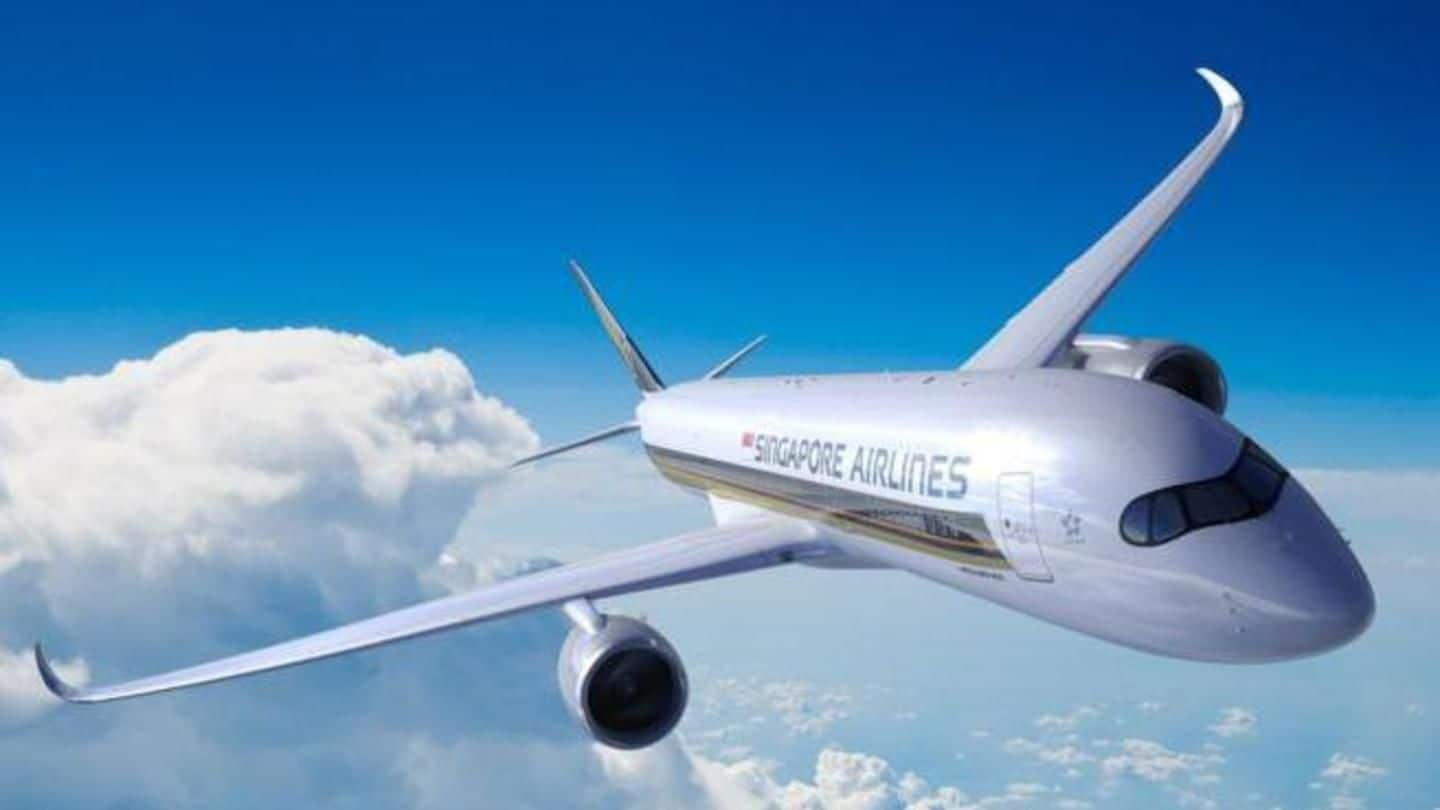 The world's longest flight from Singapore to New York is all set to take off on Thursday, marking the re-launch of Singapore Airlines' marathon flight service five years after they discontinued it. With Qantas and Qatar Airways already running long-distance marathon flights, the battle for the world's longest flight seems to be heating up. Here are the details.
The flight will cover 15,341km in just under 19 hours
The flight from Singapore's Changi Airport to New Jersey's Newark International Airport will cover a distance of about 15,341km using the North Pacific route in just under 19 hours. For comparison, Qantas' current longest flight is a 17-hour non-stop flight from Perth to London, while Qatar Airways' longest is a 17.5-hour non-stop flight from Auckland and Doha.
Singapore airlines will use a custom Airbus A350-900 ULR aircraft
The flight will use Airbus' A350-900 ULR (ultra-long-range) aircraft that has been configured to seat a total of 161 passengers - 67 business passengers and 94 premium economy passengers. Business passengers are entitled two meals, choice in time of service, refreshments between meals, and a bed. Premium economy passengers get three meals at fixed times and refreshments in between. Notably, there's no economy class.
"The thinking behind that is that they are selling a premium product...This is a route between two massive financial hubs, and so they will fill this plane up with business people, or well-heeled travellers," said Geoffrey Thomas, the editor-in-chief of airlines rating site Airlineratings.com.
The new Airbus aircraft enables efficient ultra-long-distance flights
It should be noted here that the increasing use of the new Airbus A350-900s for long-haul flight could usher in an era of non-stop ultra-long-distance flights. The new Airbus planes are designed to replace the older Boeing 777s used for long-haul flights, and are more efficient insofar that they consume somewhere between 20%-30% less fuel than the older Boeings.
Airlines stand to gain a lot from non-stop ultra-long-distance flights
The technological ability apart, airlines also stand to gain much from non-stop, ultra-long distance flights. Statistics already show that when a new non-stop route is introduced, traffic on that route increases three-fold. Given this reality, and the fact that airlines will mostly offer these non-stop, ultra-long-distance to business passengers and individuals with purchasing power, they stand to make significant monetary gains.
Non-stop, ultra-long-distance routes are money making routes
"Qantas' flight from Perth to London is seeing a load factor in economy of 92% - and in premium it's 94%. So from an airline perspective, these routes are money-making. We really are entering a new era of travel," explained Thomas.