Former US President, George HW Bush dies at 94
Former US President, George HW Bush dies at 94
Dec 01, 2018, 11:21 am
2 min read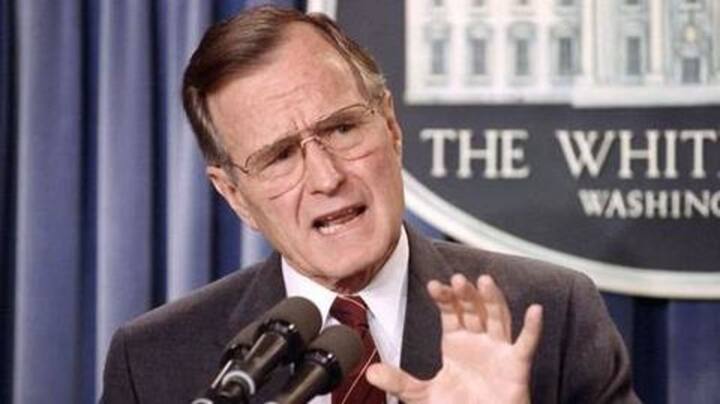 George HW Bush, the 41st President of United States, died on Friday. He was 94 years old. The last World War II veteran to hold the powerful position, Bush was instrumental in guiding the States out of the four-decade-long cold war. He served as Vice President for eight years and was the commander in chief from 1989 to 1993.
He died months after his wife passed away
The family said Bush died on Friday evening, post 10 PM. He died less than eight months after his wife Barbara's demise. The couple had been married for 73 years. After her death, Bush was admitted to hospital due to blood infection and was keeping ill for the last few months. He had vascular parkinsonism and was using a wheelchair for the last six years.
The war hero who didn't like being called one
Born on June 12, 1924, to a wealthy banker, Bush flew 58 combat missions in the Pacific war. Interestingly, Bush, a Yale University graduate, didn't talk about himself or his experience of the war much. In 2003, he said, "People say, 'war hero.' How come a guy who gets his airplane shot down is a hero and a guy who's good enough that he doesn't get shot down is not?"
Political Career: Bill Clinton succeeded Bush in 1993
The Republican politician's son, George W Bush, also served as the President of United States. Notably, Senior Bush became the first sitting Vice President to have been elected to the top post, since 1836. Despite holding many high-profile posts, he served just one term. He lost to Democrat Bill Clinton in 1993. However, after his exit, he formed a close bond with Clinton.
We will remember 41's love and compassion: George W Bush
George W Bush released a statement on behalf of his family. The statement read, "Jeb, Neil, Marvin, Doro, and I are saddened to announce that after 94 remarkable years, our dear Dad has died. George HW Bush was a man of the highest character and the best dad a son or daughter could ask for." He added they will always remember 41's compassion and love. The family said they will announce the funeral arrangement 'when it's practical'.
America has lost a patriot: Obama releases statement
America has lost a patriot and humble servant in George Herbert Walker Bush. While our hearts are heavy today, they are also filled with gratitude. Our thoughts are with the entire Bush family tonight – and all who were inspired by George and Barbara's example. pic.twitter.com/g9OUPu2pjY

— Barack Obama (@BarackObama) December 1, 2018