Former US First Lady Barbara Bush dies at 92
Former US First Lady Barbara Bush dies at 92
Apr 18, 2018, 09:32 am
3 min read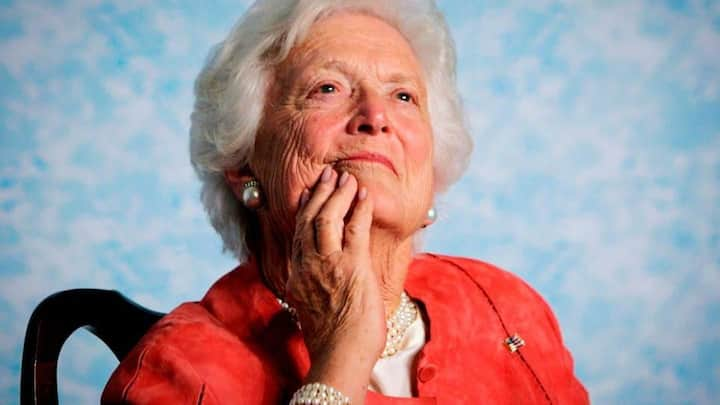 Former US First Lady Barbara Bush died today at the age of 92. Her health had been deteriorating since sometime, but she had denied further medical-treatment. Barbara had founded the Barbara Bush Foundation for Family Literacy to help underprivileged parents and children learn to read. She was the wife and mother of two former presidents, George HW Bush (1989-1993) and George W Bush (2001-2009).
A statement from Barbara's son
"My dear mother has passed on. Laura, Barbara, Jenna, and I are sad, but our souls are settled because we know hers was. Barbara Bush was a fabulous First Lady and a woman unlike any other who brought levity, love, and literacy to millions."
Barbara dropped out of Smith College to marry George
She was born Barbara Pierce on June 8, 1925, to Marvin Pierce, publisher of McCall's magazine. Barbara met George at a 1941 Christmas party, then dropped out of the prestigious Smith College to marry him at 19. After leaving the White House, she authored her memoirs and 'Millie's Book,' a humorous take on the family's English springer spaniel's life in the White House.
Despite popularity, Barbara preferred to remain in the background
Barbara, an active civil rights advocate, was known for her straightforwardness. Though she didn't discuss her views publicly, she was known to differ from her husband's conservative stand. Her opinion ratings often beat George's, but she denied ever wanting to be president. She moved with her husband over 24 times, crossing half the globe as he switched professions, before landing at the White House.
Barbara, who was suffering from congestive heart failure, battled depression
Barbara had been in hospital recently for congestive heart failure and chronic obstructive pulmonary disease. Earlier, she had fought with Graves' disease, a thyroid condition, and had a heart valve replacement surgery in 2009. In her memoir, she also disclosed about her battle with depression in the mid-1970s, saying she would intentionally crash her car sometimes.
Barbara and George fathered six children
'The Silver Fox,' as she was referred to by her family, had six children with George, but daughter Robin died of leukemia at age 3. Soon after, Barbara's hair began to turn prematurely white. Of the other children of the longest-married presidential couple, Marvin and Neil became businessmen, Dorothy stayed out of the spotlight, and Jeb sought to run for president, but failed.
'George held her hand all day, is broken-hearted'
Current and former presidents pay tribute to Barbara
President Donald Trump said Barbara would be remembered for her devotion to the country and her family, "both of which she served unfailingly well." The Obamas described her as "an example of the humility and decency that reflects the very best of the American spirit." Former president Bill Clinton said she was "feisty in support of her family and friends, country and her causes."