Central Paris rocked by massive blast; gas leak suspected
Central Paris rocked by massive blast; gas leak suspected
Jan 12, 2019, 04:35 pm
2 min read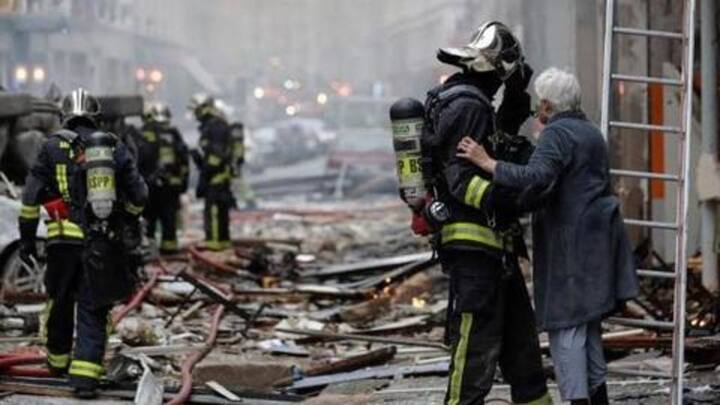 On Saturday morning, a massive explosion rocked the center of Paris, leaving behind multiple injuries, and wrecked cars. The blast took place at the Hubert bakery on Rue de Trévise in the 9th Arrondissement, and emergency services are currently tending to the fire and treating those who have been injured. A gas leak is suspected to have caused the blast. Here's more.
No casualties have been reported so far
The incident took place at 9am local time, and photos and videos of the blast showed several historical buildings damaged, their windows blown out, and debris on the street. Reportedly, at least 20 people, including firefighters were injured in the blast, with nine among them suffering critical injuries. No deaths have been reported as of now.
The French Interior Minister has assured that everything's under control
Meanwhile, the French Interior Minister, Christophe Castaner, has told the press that the "situation is under control". However, he also said that the catastrophe had taken a "heavy toll". He added that some 200 firefighters were engaged in dousing the flames and addressing collateral damage from the blast. An investigation has been opened to ascertain the cause of the blast.
Meanwhile, yellow vest protests are expected later in the day
Incidentally, the blast took place at a time when heavy security was being deployed in Paris in anticipation of yellow vest protesters taking to the streets later in the day. Given the intensity of the protests, which have been going on for months now, around 80,000 police personal are slated to be deployed in Paris to prevent violence from breaking out.
What is the yellow vest movement?
The 'yellow vest movement', as it is called based on the fluorescent vests the protesters wear, initially started out as a protest against rising fuel prices by motorists. However, since then it has intensified, demands have grown, and the protests have challenged President Macron's regime itself.