Myanmar: Two journalists, who covered Rohingya violence, jailed for 7-years
Myanmar: Two journalists, who covered Rohingya violence, jailed for 7-years
Sep 03, 2018, 01:07 pm
2 min read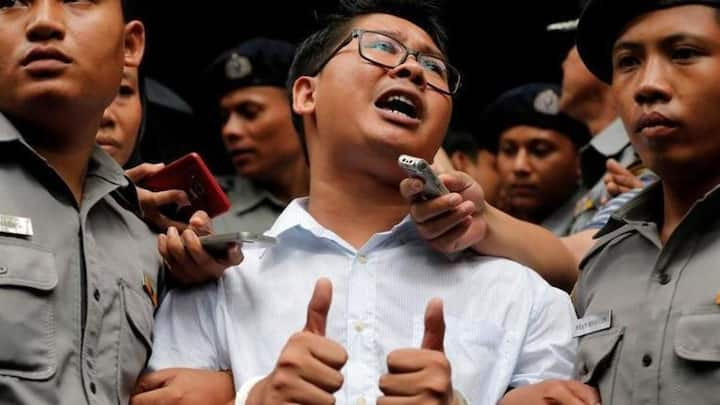 On Monday, a Myanmar court sentenced two Reuters journalists to seven years of prison for illegal possession of state secrets. Their trial lasted for 8 months. Notably, the journalists, Wa Lone, 32, and Kyaw Soe Oo, 28, both Myanmar nationals reported extensively on Rohingya violence and the 'cleansing' carried out by the army. Their sentencing has sparked global outrage and raised concerns about press freedom.
Journalists were invited to dinner by police, later arrested
The case dates back to December last year. The journalists were invited for a dinner by police in Yangon and as they were leaving the eatery, they were arrested for possessing classified material. Notably, the duo was investigating the massacre of 10 Rohingya men and boys in Western Rakhine State. From that area, 700,000 minority Rohingya Muslims had fled after a brutal crackdown by the army.
Judge says journalists wanted to damage nation's security
They were charged under the colonial-era Official Secrets Act, the judge ordered seven years in prison with hard labor, minus time served. Giving the verdict, judge Ye Lwin said the reporters didn't behave as ordinary journalists but wished to 'damage the security of the country'. Earlier, a police captain told he was tasked with entrapping the journalists. He was given one year jail time.
This verdict is hard on the journalists' young families
Obviously, the verdict left families of both the journalists heartbroken. "When we came here this morning we were hoping they would be released because they didn't do anything wrong," said Thura Aung, Wa Lone's brother. Three weeks ago, Wa Lone's wife delivered a daughter. Kyaw Soe Oo has a three-year-old daughter, and his wife attended most of the hearings.
Jailed journalists have support of many
On the steps of the court, Kyaw Soe Oo said, "The government can detain us in the prison but... don't close the ears and eyes of the people", while Wa Lone gave a defiant thumbs-up. Reuters Editor-in-Chief said the verdict must be corrected as a 'matter of urgency'. Journalists from across the globe are standing in solidarity against the order.