Pakistan: Former President Asif Zardari arrested in money laundering case
Pakistan: Former President Asif Zardari arrested in money laundering case
Jun 10, 2019, 09:10 pm
3 min read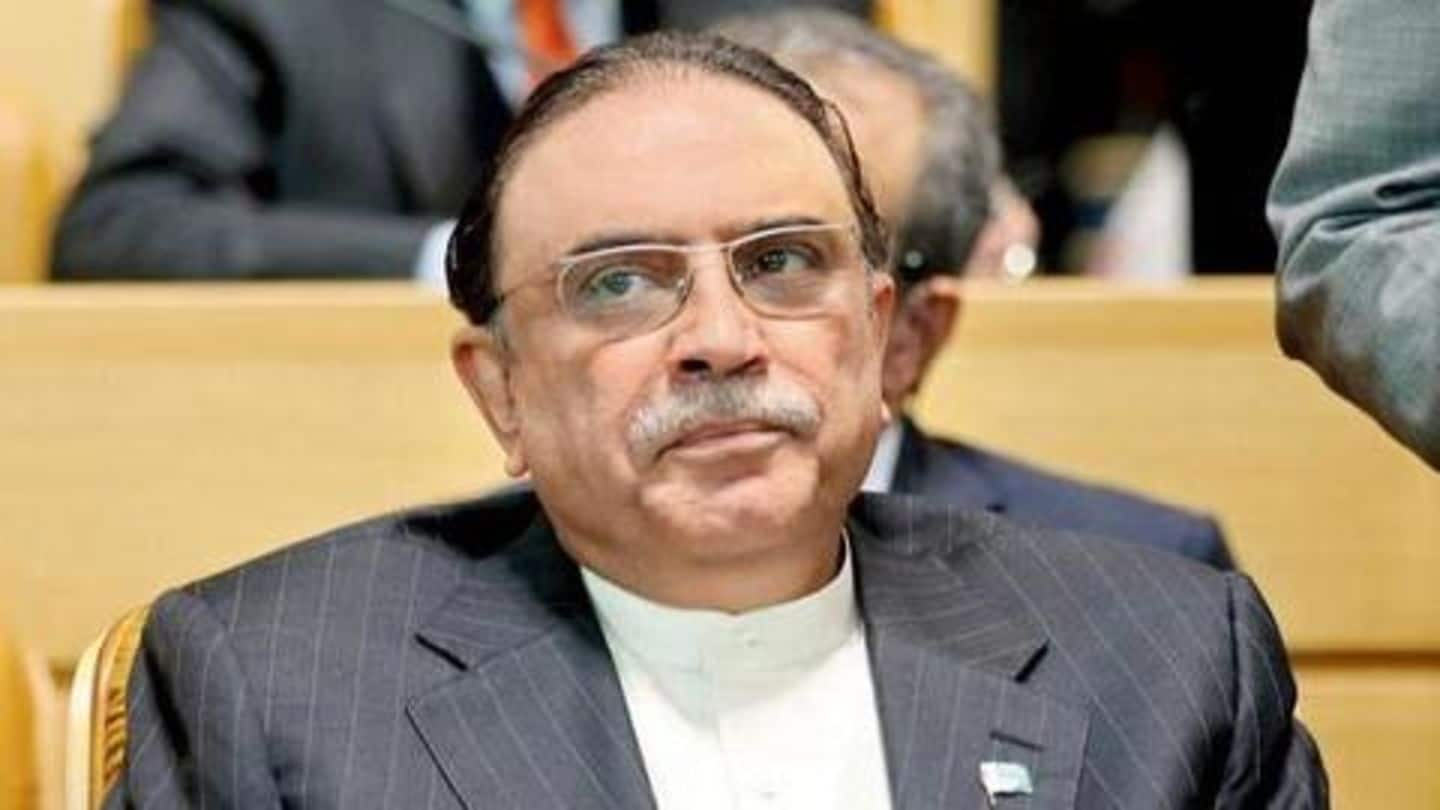 Asif Ali Zardari, the former President of Pakistan and co-chairman of Pakistan People's Party (PPP) co-chairman, was on Monday arrested by National Accountability Bureau (NAB) in connection to a money laundering case. The 63-year-old politician was arrested from his residence after Islamabad High Court rejected his and his sister Faryal Talpur's anticipatory bail. Zardari and Talpur can now approach the Supreme Court. Here's more.
The case pertains to alleged illegal transactions
Zardari faced probe in connection to suspicious transactions worth Rs. 4.4 billion, which were carried out through false bank accounts. The prosecution claimed the account registered under the name of M/s A One International was fake and the aforementioned sum was deposited in the account. They claimed Zardari received some Rs. 30 million on two different occasions.
The case had been ignored until SC came into picture
The case related to fake bank accounts got attention after an intelligence agency picked up a money changer in another case. In December 2015, the Federal Investigation Agency (FIA) started a discreet investigation into fake accounts which was dropped some months later. In January 2018, FIA initiated a formal inquiry but couldn't proceed as some high-profile names were involved, prompting SC to step in.
Investigating team identified 11,500 bank accounts, questioned 767 people
At the beginning of the probe, the joint investigation team (JIT) identified 11,500 bank accounts and 924 account holders. Over the course of the investigation, 767 people were grilled. Apart from Zardari and his sister, other suspects in the case are Omni Group's Anwar Majeed and his son Abdul Ghani Majeed, former Pakistan Stock Exchange chairperson Hussain Lawai, Summit Bank Senior Vice-President Taha Raza.
Zardari siblings were arrested amid high security
Zardari's plea was rejected by a bench including Justices Amir Farooq and Moshin Akhtar. NAB formed two teams to arrest the Zardari siblings. While one team was sent to the Parliament house, another was dispatched to Zardari house. Before they were arrested, security was beefed up on the roads leading to their residence. Apparently, Zardari's legal team stopped NAB officials and asked for documents.
PPP supporters have warned of protests
Zardari's arrest can have great political implications in the country. PPP workers in Punjab had already said they would protest if their leader gets arrested. PPP leader Faisal Mir said, "If Prime Minister Imran Khan managed to get Zardari arrested through the NAB, he would be laying the foundation for the removal of his government." Meanwhile, Zardari's legal team is planning its next step.