PM Modi meets Nepal PM SB Deuba, discusses 'boundary issues'
PM Modi meets Nepal PM SB Deuba, discusses 'boundary issues'
Apr 02, 2022, 07:04 pm
2 min read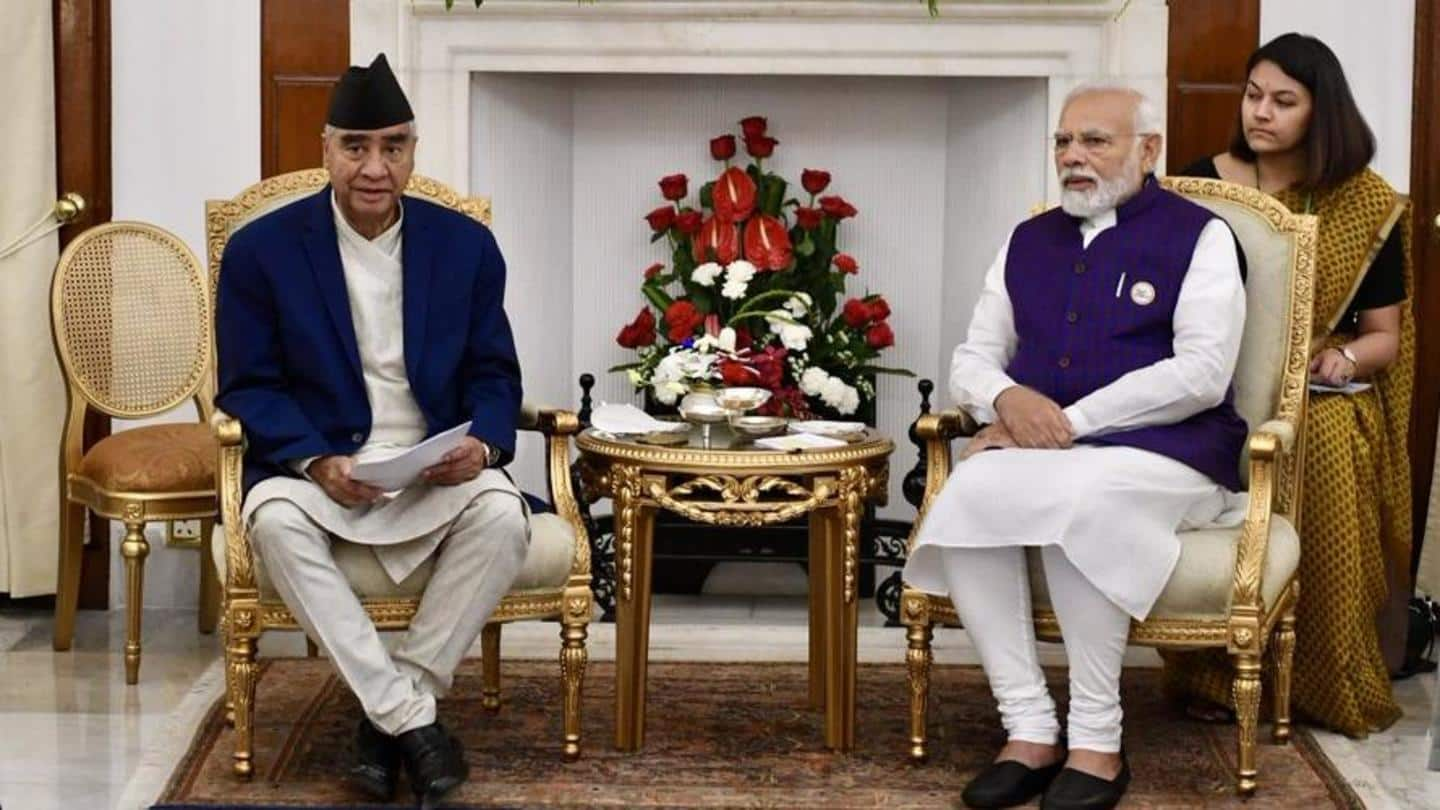 Nepalese Prime Minister Sher Bahadur Deuba, who is on a three-day visit to India, discussed "boundary issues" with Prime Minister Narendra Modi on Saturday. During a joint press meeting, Deuba urged Modi to settle all disputes through "bilateral mechanisms." On his part, PM Modi said that "open borders" between India and Nepal should not be exploited by "undesirable elements."
Why does this story matter?
This is Deuba's first bilateral visit abroad after taking office as Prime Minister (PM) in July 2021. He is in India from April 1-3.
Since May 2020, when KP Sharma Oli became the PM of Nepal, bilateral relations between India and Nepal have been strained after Nepal released a political map showing three Indian regions as part of its territory.
Statements by the Prime Ministers of India and Nepal
"We discussed the boundary issues. And I urged Modiji to resolve through (the) establishment (of) bilateral mechanism," PM Deuba said after the meeting. Expressing confidence about achieving India-Nepal's "ambitious targets", PM Modi said, "We discussed that the open borders between India and Nepal are not misused by undesirable elements. We laid emphasis on deepening cooperation between our defense and security."
India-Nepal rail service inaugurated
After the meeting, Deuba and Modi jointly launched the India-Nepal rail service via video-conferencing. The 35-kilometer long railway line connects Jayanagar in Bihar to Kurtha in Janakpur, Nepal. It was completed last year at the cost of Rs 619 crore. The section is part of the 68.7 km Jaynagar-Bijalpura-Bardidas train link, which was built with NPR 8.77 billion in government grant funding from India.
Initiatives undertaken by India and Nepal
Modi also stated that the two leaders have agreed to strengthen relations in the power industry and have finalized a joint vision statement on power cooperation and partnership that will serve as a roadmap for the future. The duo also inaugurated the Rupay card in Nepali, which will usher in a new era of financial connectivity while prioritizing trade and cross-border connectivity.
Other projects which were discussed included a Nepal police academy, integrated checkpoints, and the Ramayana circuit. In addition to official engagements, the Nepalese Prime Minister will also visit Varanasi. PM Deuba was set to visit India earlier in the year for a summit in Gujarat. However, it had to be canceled due to fears about the third wave of the COVID-19 pandemic.