2019 election will be fought between BJP, Opposition alliance: RaGa
2019 election will be fought between BJP, Opposition alliance: RaGa
Aug 25, 2018, 01:34 pm
2 min read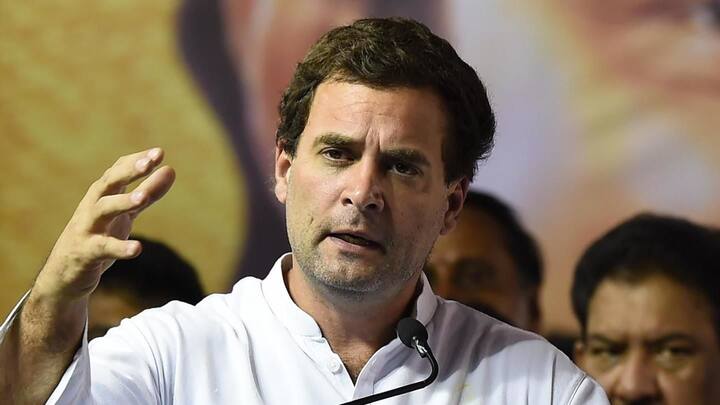 The next general election will be fought between BJP and Opposition alliance as for the first time there has been a "systematic attack" on Indian institutions, Congress President Rahul Gandhi said. In an interaction with National Indian Students and Alumni Union (UK) at London School of Economics yesterday, Gandhi said that the first priority of the Congress is to defeat the BJP. Here's more.
We're defending the onslaught on Indian Constitution, says Gandhi
"The next election is pretty straightforward. On one side there is BJP and on the other side, there's every opposition party. The reason is, for the first time, Indian institutions are under attack," Gandhi said. "What we're defending is the onslaught on Indian Constitution. I and entire opposition have agreed, that our first priority is to stop the poison being spread," he said.
Essence of our ideology is non-violence, says Gandhi
Gandhi said, "The essence of our ideology is non-violence. As a victim of violence, I condemn any form of violence on anyone. I'm crystal clear about that. I have been through a certain degree of violence. Those experiences have made me compassionate to people".
Standing up for the oppressed is Congress's idea, says Gandhi
Standing up for oppressed is the idea of Congress and every Indian has this embedded in them. But, Congress is unable to connect to people with this idea, Gandhi said. Gandhi said that from the Indian perspective, development has taken place through the sacrifice of Indians. Their benefit, too, must go to all Indians. No community should feel like they don't have a voice.
There's a full blown job crisis in India: Rahul Gandhi
"There is a full blown job crisis in India and the Indian government is in denial. Where China creates 50,000 jobs a day, only 450 jobs are created in a day. This is a catastrophe," Gandhi said.