Russia-Ukraine war: Here's what you should know today
Russia-Ukraine war: Here's what you should know today
Mar 15, 2022, 08:34 pm
4 min read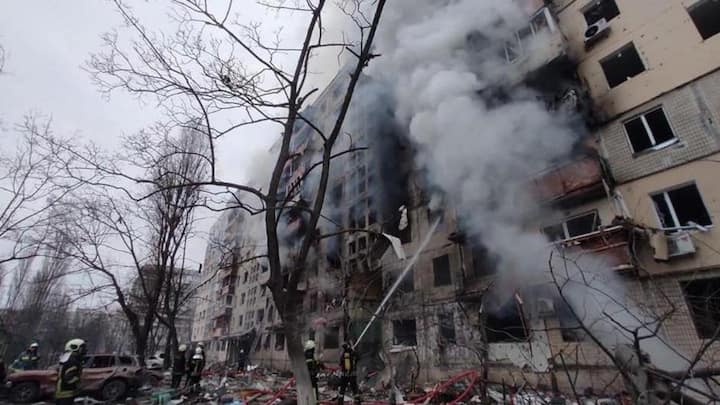 The war between Russia and Ukraine entered the 20th day on Tuesday as Russia intensified its offensive across Ukraine, with heavy shelling reported in several cities. The Russian forces have advanced closer to the capital city of Kyiv in recent days. Several rounds of peace talks between the two sides failed to achieve any significant progress. Here are the latest updates.
Ukraine must accept fact that it won't join NATO: Zelensky
Ukrainian President Volodymyr Zelensky said on Tuesday that Ukraine must accept the fact that it won't join NATO--the military alliance led by the United States. "Ukraine understands it does not have an open door to NATO membership and therefore proposes a way to protect itself independently provided it has security guarantees," he reportedly said in a video address.
The Russian military continues to attack several cities in Ukraine, deepening the humanitarian crisis. Shortly before the sun came out on Tuesday, Kyiv was shaken by huge explosions and Russia took its lead on several fronts. Four people were killed in airstrikes on Ukraine's capital Kyiv on Tuesday morning, news agency Reuters reported. Several residential buildings were hit, according to reports.
The fourth round of peace talks between the two countries resumed on Tuesday through video conferencing. However, just like the previous rounds, no breakthroughs have been reported so far. "Talks have resumed. There is a tough discussion between the parties," Ukraine's Presidential advisor Mykhailo Podolyak said. Meanwhile, Russian Foreign Minister Sergey Lavrov reportedly said that the talks are aimed at ensuring Ukraine's neutral status.
Russia seeks China's assistance
According to US officials, China has decided to provide Russia with economic and financial assistance during the war and is considering sending military supplies such as armed drones. In a seven-hour meeting in Rome with his Chinese counterpart, Yang Jiechi, US National Security Adviser Jake Sullivan laid out his case against Russia, pointing out that the Russian military was clearly showing signs of frailty.
Russian editor shows 'no war' placard on live TV
Marina Ovsyannikova, an editor at Russian Channel One television, barged into the channel's principal news program shouting "Stop the war" and carrying a placard that read, "No War" in English and "Don't believe the propaganda, they are lying to you here" in Russian. She was later arrested. As per the state-owned Tass news agency, the channel is conducting an internal investigation into the incident.
International Court of Justice's verdict on Wednesday
The International Court of Justice (ICJ) at Hague will give its verdict on March 16 over Ukraine's charge that Russia falsely justified its invasion by accusations of genocide. Ukraine has asked the court to order an immediate halt to Russia's military operations against itas well as assurances that no action will be taken that will aggravate the conflict.
India "exploring all options" to buy oil from Russia
Despite US sanctions on Russia, New Delhi is considering purchasing discounted oil from Moscow, a move that will put to the test how much the US-Western alliance is prepared to accept India-Russia ties. Union Minister Hardeep Singh Puri stated in Rajya Sabha that the government would "explore all options." He added that he had conversations with Russian officials "at the appropriate level."
One child becoming a refugee every minute: UN
According to the UN, one child is becoming a refugee every minute. Since the invasion, 2.8 million people have fled their homes with 636 officially dead. The actual figure could be much higher. As per Doctors Without Borders, some residents are dying due to a lack of medication, and the city has been without drinking water or medicine for over a week.
What exactly are Putin's demands?
To end the war, Putin wants Ukraine to accept Crimea as part of Russia and to recognize the independence of separatist-controlled east Ukraine. In addition, he demands that Ukraine amend its constitution to ensure that it will not join NATO or the EU. At the same time, he wants NATO to reverse its eastward expansion as promised after the fall of the USSR.