Russia-Ukraine war: Several killed in Russian shelling in Kharkiv
Russia-Ukraine war: Several killed in Russian shelling in Kharkiv
Written by
Abhishek Sharma
Apr 04, 2022, 10:40 am
3 min read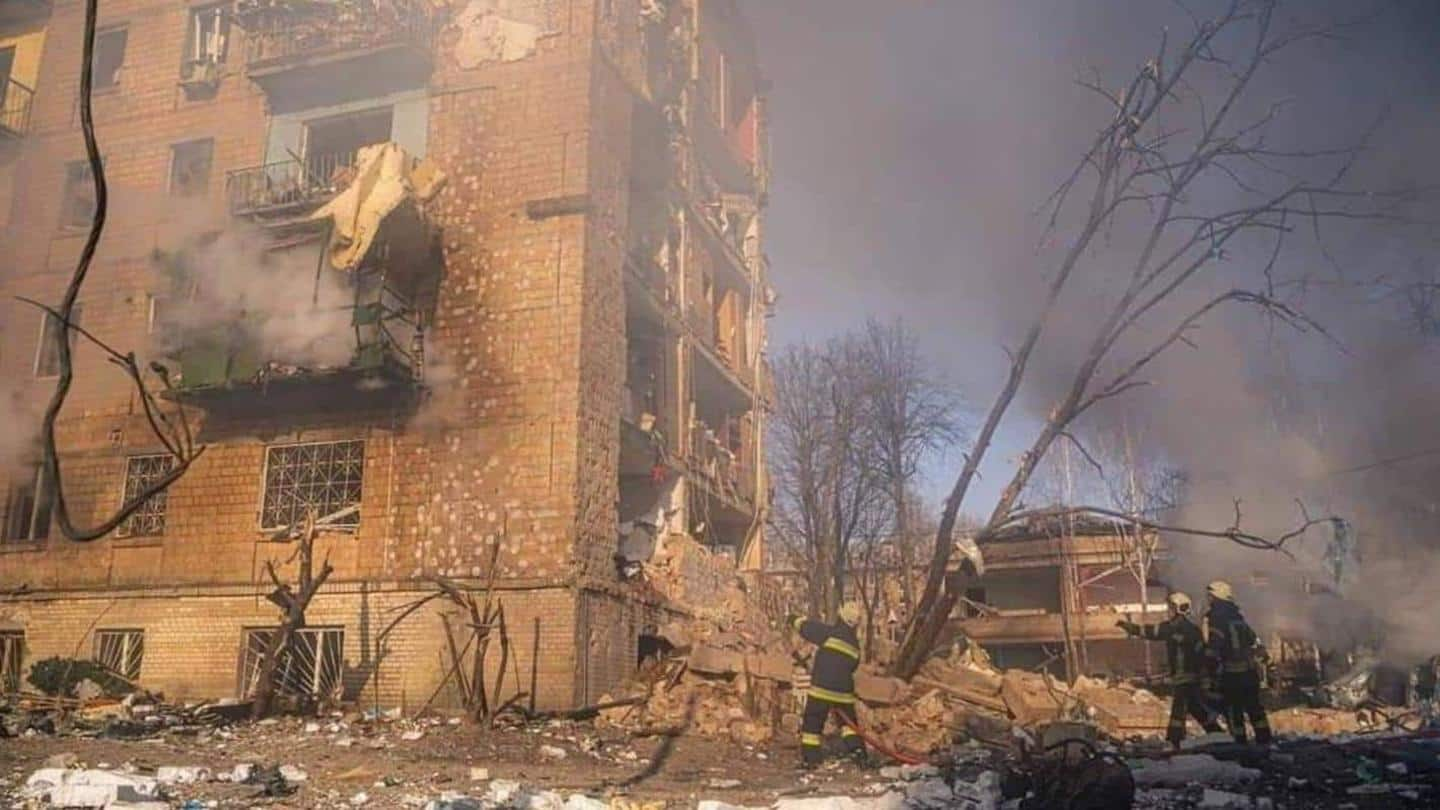 At least seven people were killed and 34 wounded, including three children, in Russian shelling in Ukraine's Kharkiv, the city's prosecutor's office informed. The shelling occurred on Sunday evening, and also damaged 10 houses and a trolleybus, the office said in a Telegram post. This comes as the war between Russia and Ukraine has entered its 40th day on Monday.
UN chief urges independent probe in Bucha
'Deeply shocked' by images of corpses of civilians in the town of Bucha, located outside Ukraine's capital Kyiv, United Nations Secretary-General Antonio Guterres has called for an independent probe. According to Ukraine's prosecutor-general, bodies of 410 civilians have been recovered from areas in the wider Kyiv region from which Russian forces pulled back. Notably, Russia has denied that its forces killed civilians in Bucha.
War crimes by Russian forces in Bucha
After finding hundreds of dead bodies of civilians scattered on the streets, Ukrainian authorities were investigating possible war crimes by Russian troops. Some of the civilians were bound and shot at close range and their corpses were strewn around towns near Kyiv.
UN confirms over 1,400 civilian deaths in Ukraine
In its latest update, the UN human rights office says it has verified 1,417 civilian deaths in Ukraine, including 121 children. The actual toll is 'considerably higher', it added, as numbers from regions like Mariupol and Irpin are yet to be corroborated. It further informed that 2,038 others have been wounded. The casualties were mostly caused by shelling and airstrikes, the agency said.
Committed to peace talks with Russia: Ukraine
Meanwhile, Ukrainian President Volodymyr Zelenskyy has said that he remains committed to peace talks with Russia. In an interview with the CBS network, Zelenskyy said, "It's difficult to say how, after all what has been done, we can have any kind of negotiations with Russia. That's on the personal level. But as a President, I have to do it. Any war has to end."
Zelenskyy's video message at Grammys
Zelenskyy also appeared in a video aired at the Grammy Awards in the US and urged people to support Ukrainians "in any way you can." "What is more opposite to music? The silence of ruined cities and killed people," Zelenskyy said in the video. "Fill the silence with your music. Fill it today, to tell our story," he said.
Ukraine retakes control of towns in Chernihiv region
Following Russia's pledge of withdrawing forces from Chernihiv, the Ukrainian military has said that it has retaken some towns in the region. According to news agency RBK Ukraina, the road between Chernihiv and Kyiv is to reopen to some traffic later on Monday. Chernihiv is located around 130 kilometers north of Kyiv and had been cut off from food and other supplies for weeks.