Helped by a cow, Scottish man proposes to girlfriend!
Helped by a cow, Scottish man proposes to girlfriend!
Written by
Pallabi C Samal
Aug 31, 2018, 02:49 pm
2 min read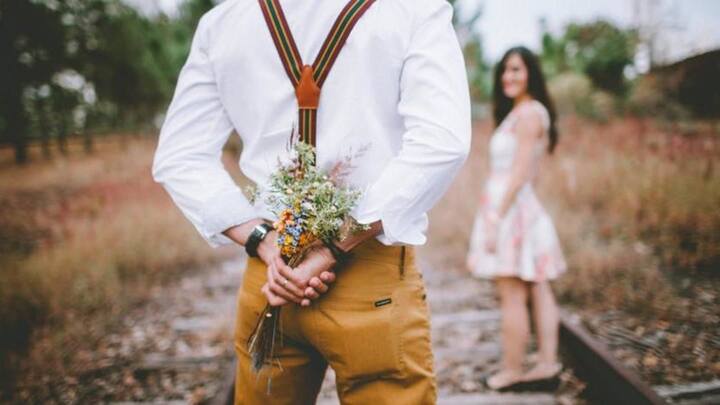 Marriage proposals are always adorable, but when they are weird, the cuteness quotient multiplies manifold. One such proposal by a Scotland-based dairy farmer is doing the rounds on social media, and for the right reasons. He chose not to speak, but write the four lovely words on the side of a cow, who happens to be his girlfriend's favorite. Let's find out more.
Internet gave him unique idea to propose girlfriend of 3-years
30-year-old Chris Gospel and his girlfriend, a microbiologist in veterinary laboratory, were in a relationship for three years. He was waiting for an opportune moment to ask Eilidh Fraser (30) to be his wife, but couldn't understand how to go about it. Finally a video clip on the Internet gave him the unique idea and he enlisted the help of Curlytop, Eilidh's favorite cow.
She could see something written in blue, but couldn't understand
After she came back, Eilidh, accompanied by Chris, went to check on the cattle as she usually does in the evening. When they were approaching Curlytop, Eilidh could see something written on the side but couldn't make out. Using livestock marker, Chris wrote 'will you marry me' on Curlytop's side and waited for Eilidh to return home. Then, the star-cow turned, revealing the words.
If allowed, Curlytop will attend their wedding too!
Pleasantly surprised, a joyous Eilidh stood there and Chris went down on his knees. By then, the reply was obvious, but Eilidh blurted out, "what've you done?" before saying the much-awaited 'yes'! The Aberdeenshire farmer said when they would choose a wedding venue, they would see if Curlytop can be featured again. Though "She's still not forgiven me for writing on her," Chris laughs.