Sri Lanka: Major setback to Sirisena; Parliament votes against Rajapaksa
Sri Lanka: Major setback to Sirisena; Parliament votes against Rajapaksa
Nov 14, 2018, 01:03 pm
3 min read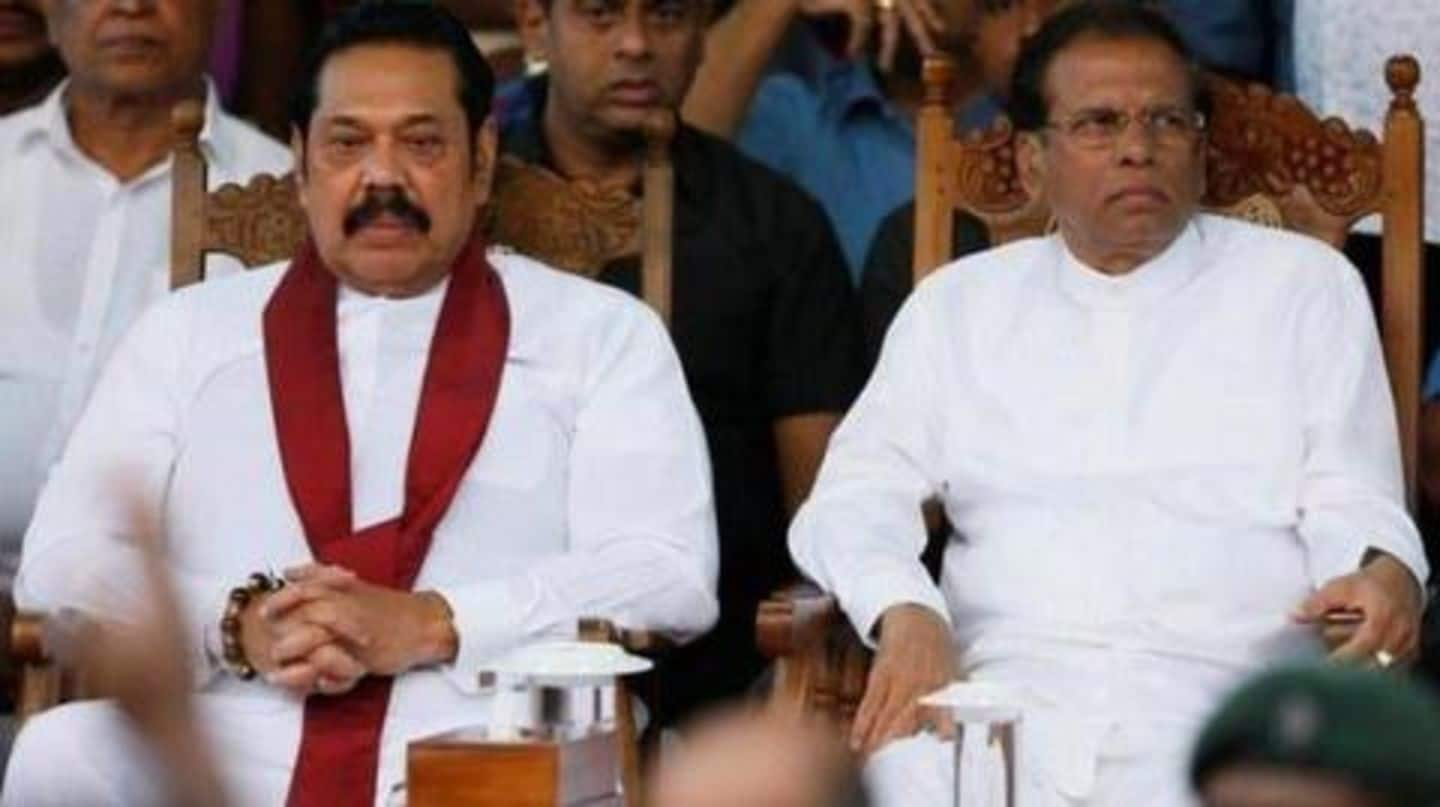 In a major setback to Sri Lanka's President Maithripala Sirisena, the Sri Lankan Parliament today passed a no-confidence motion against the government headed by his controversially-appointed Prime Minister Mahinda Rajapaksa. The Parliament today met for the first time since October 26, when President Sirisena sacked Prime Minister Ranil Wickremesinghe and suspended the Parliament plunging the island nation into a political crisis. Here's more.
Parliament Speaker has adjourned House for tomorrow
Parliament Speaker Karu Jayasuriya announced that a majority of the 225-member Assembly supported the no-confidence motion against Rajapaksa, also an ex-Lankan President. "According to the voice, I recognize that the government has no majority," Jayasuriya announced in the House, who calculated the votes based on the voices he heard, as Rajapaksa supporters disrupted the proceedings. Jayasuriya later adjourned the House until 10 am tomorrow.
Political parties had dragged Sirisena to SC challenging his move
The unexpected session today comes a day after the Supreme Court overturned President Sirisena's controversial decision to dissolve Parliament and halted the preparations for the January 5 snap polls. Major political parties, including Wickremesinghe's United National Party (UNP), had, on Monday, dragged Sirisena to the SC, challenging his decision by filing fundamental rights petitions against the move, which they said violated the Constitution.
Jayasuriya summoned Parliament's session for today after SC verdict
The court had said that Sirisena's dissolution of Parliament will be suspended until December 7 and it will consider all the petitions filed on the President's decision next month before giving a final ruling. After the verdict, Speaker Jayasuriya summoned Parliament's session for today morning.
Wickremesinghe demanded floor test after Sirisena sacked him
After Sirisena sacked Wickremesinghe, the latter maintained that he was still the PM as he enjoys a majority in the Parliament, calling Sirisena's move unconstitutional. Wickremesinghe had demanded a floor test to decide who enjoyed majority support in Parliament to be the Prime Minister. Realizing that he lacked support from lawmakers to install Rajapaksa as the new PM, Sirisena dissolved the Parliament last week.
Sirisena ordered snap election, defended Parliament dissolution move
Sirisena dissolved the Parliament almost 20 months before its term was to end and ordered snap election on January 5, plunging the country into an unprecedented political and constitutional crises. Sirisena, on Sunday, stoutly defended his move to dissolve Parliament, saying it was taken to prevent clashes among rival lawmakers. He added there were reports that politicians would clash during the floor test today.
The start: Sirisena, Wickremesinghe's differences in policy matters
Rajapaksa, 72, who ruled Lanka for nearly a decade from 2005, was defeated by his deputy Sirisena in the presidential election held in January 2015, with support from Wickremesinghe's UNP. However, the power-sharing arrangement between Sirisena and Wickremesinghe became increasingly tenuous on several policy matters, especially on issues like the economy and security. And subsequently, Sirisena abruptly ousted Wickremesinghe and replaced him with Rajapaksa.