Sweden TV says 'Chinese poop in the open'; triggers outrage
Sweden TV says 'Chinese poop in the open'; triggers outrage
Sep 25, 2018, 09:30 pm
3 min read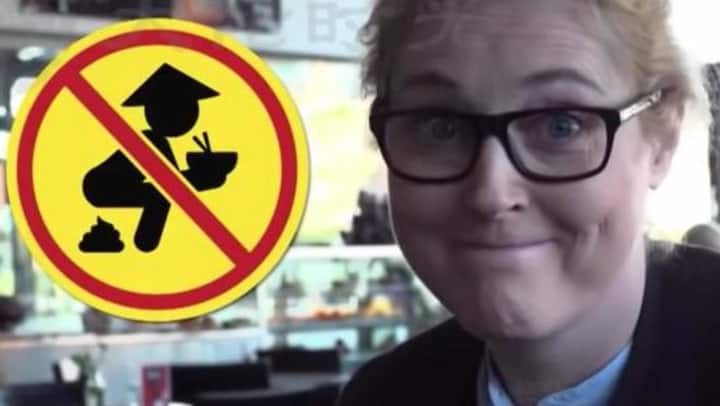 It is an ugly world we live in. It is filled with bigots, racists, and despicable people. They talk, they shout, they kill, and get an unexplanatory pleasure inflicting pain on others. Taking this appalling sentiment to a whole new level, a Swedish TV program, Svenska Nyheter, said, "Chinese tourists poop in the open," giving them satirical guidelines to follow basic etiquettes in Sweden.
Racist comments came with racist sketches
An episode hosted by Swedish comedian Jesper Rönndahl recently highlighted few "tips for Chinese tourists to avoid culture clash". The first being, "We don't shit outside historical buildings." As if the statement wasn't enough, a woman listing "dos-and-don'ts" in the video, also shows a sketch drawn in Mandarin, showing a Chinese figure taking a dump, while eating noodles and wearing an Asian conical hat.
'We use knives and forks to eat in Sweden'
Continuing with the bigotry, the woman, with an absolute repelling smile, says, "If you see a person with their dog on the street, this does not mean they have just bought their lunch." Further, she is seen sitting in a restaurant and then saying, "We use knives and forks to eat in Sweden," adding, "And we don't take a shit when we are eating."
Woman doesn't stop, calls Chinese people 'racist'
Hypocrisy followed when the woman said, "Other cultural difference is... you Chinese people are racist," and added, "But in Sweden, we've black people, Jewish people, Arabs, and even homosexuals." For homosexuals appeared a picture of a teddy bear wearing a lady hat. Adding to the satire, she said Sweden supports the principle of every person's right to equality. Unless of course, you are Chinese.
Episode comes after some Chinese tourists were removed from hotel
The nerve-wracking video was dubbed in Mandarin Chinese and was later removed from social media. This comes after some Chinese tourists were forcibly removed by police from a Stockholm hotel earlier this month. Although, reports say they were removed as they hadn't booked a room.
Social media blows up, people across the world highly pissed
It's a no-brainer that the video crossed all limits of racism and gained more than 34 million views. People all over the world, especially in China, were completely pissed by the video and hateful comments have not stopped coming. "Sweden is making a fool of themselves internationally! This is truly disgusting!" wrote one. The blatant racism is truly abominable and we're sorry, China.