President Trump made some major goof-ups when meeting the Queen
President Trump made some major goof-ups when meeting the Queen
Jul 14, 2018, 12:49 pm
3 min read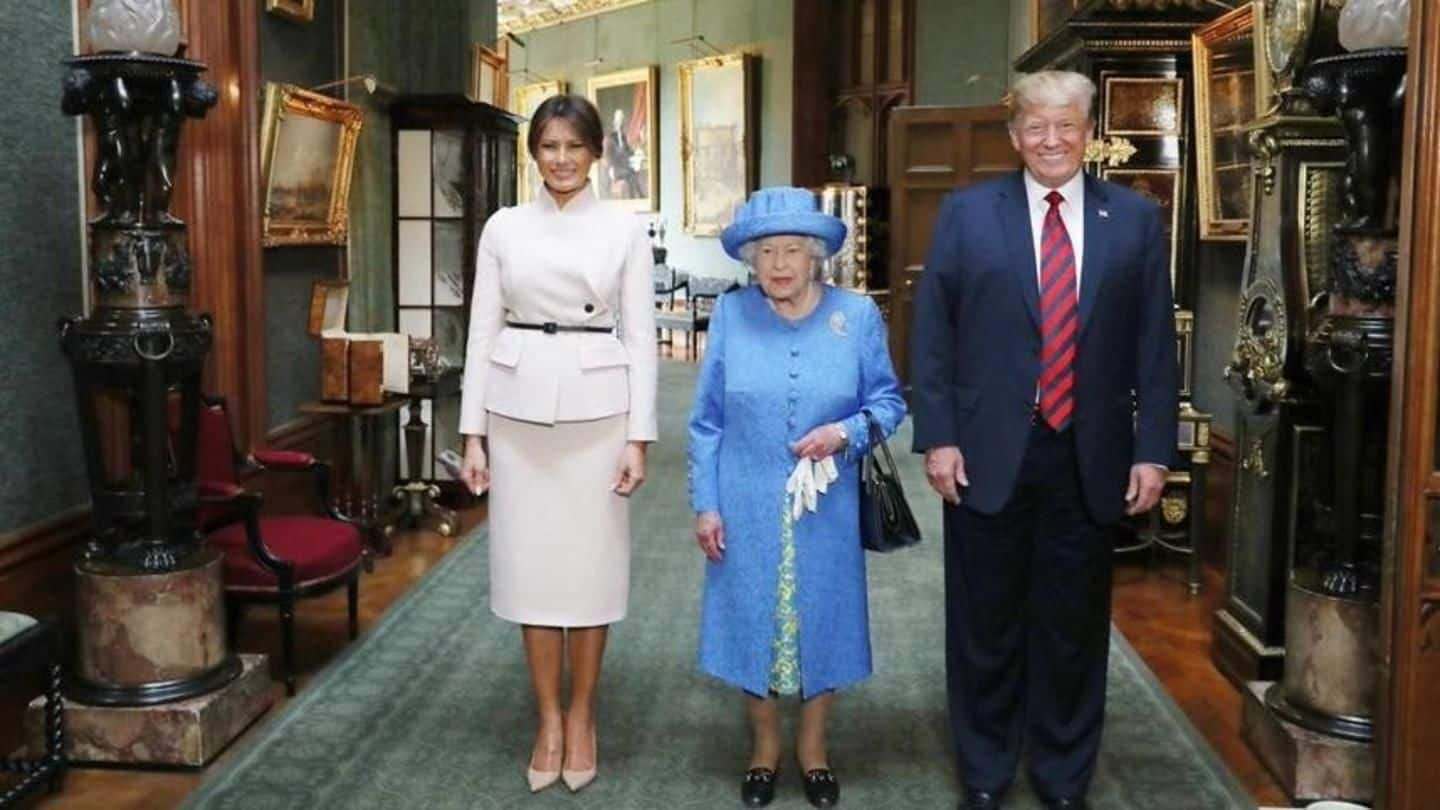 Donald Trump's first visit to the United Kingdom as President of the United States has kept Internet users hooked, much like a lot of things he does. And it's Trump's conduct in front of Queen Elizabeth (unsurprisingly) which has led netizens to give him a lesson on etiquette. While meeting the monarch, Trump didn't bow, kept her waiting and even breached the protocol.
At Windsor Castle, Trump kept Queen Elizabeth waiting for tea
The 92-year-old monarch was seen waiting at the Windsor Castle for Trump and First Lady Melania Trump to come for tea. She kept checking her watch for more than 10 minutes and strolled on stage, after which Trump arrived. While there isn't any hard and fast rule to be on time while meeting Queen Elizabeth, this behavior could have surely been avoided by POTUS.
Then, Trump chose to not bow in front of Queen
Seconds into the meeting, Donald Trump didn't bow to Queen and went directly for a handshake. Again, there is no obligation to bow down but those meeting Queen Elizabeth II are expected to follow some unsaid manners. "Well, #Trump should be ashamed of how he behaved in front of the queen. No respect for protocol or even decent manners" wrote Twitter user @sarahrellyboo.
Next, Trump walked past the Queen as guards stood by
At the castle, Trump chose to march in front of the Queen while inspecting the Guard of Honor. According to royal protocol, it's extremely rude to show your back to the monarch but looks like Trump didn't bother to read them. Trump not letting the Queen walk in front of him, or even giving her path, is being widely criticized on social media.
The exact moment Trump blocked the old Queen's path
It's disgusting: Trump's absurd walk with Queen draws flak
Naturally, Trump's conduct around the Queen didn't go unnoticed and Twitter users slammed him for his indecency. "Forget she's the Queen. She's a 92-year-old woman walking on uneven ground in baking hot weather. Trump set a brisk pace without checking on her welfare. An utter self-obsessed twat," wrote @Redpeter99. "Trump has not one redeeming quality. He's so disgusting," @riotwomennn tweeted.
Queen taught Trump how to walk: Twitter user quips
i know comments on trump's intelligence often veer into hyperbole but today the queen of england literally had to instruct trump on how to walk properlypic.twitter.com/ECRGmXQoQG

— jordan (@JordanUhl) July 13, 2018
Meanwhile, Britain is on streets to protest against Trump
Meanwhile, thousands of people carrying placards took to London streets to protest against Trump's visit. A protester Elizabeth Sharma said she was frustrated with how Trump was manipulating the world to accommodate his views. On Friday, the six-metre-tall 'Trump balloon' flew for over two-hours in Parliament square, next to Westminster. Similar anti-Trump protests were held in Manchester, Belfast and Glasgow.
The visuals from protests are unprecedented