Porn publisher offers $10mn-reward for information that could impeach Trump
Porn publisher offers $10mn-reward for information that could impeach Trump
Oct 15, 2017, 12:41 pm
2 min read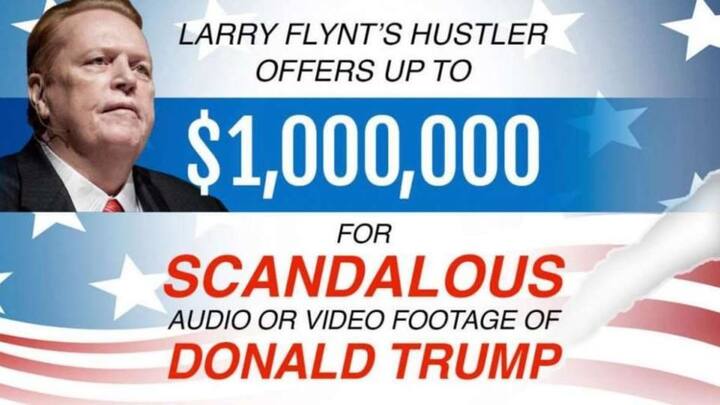 Porn magazine Hustler's founder and publisher, Larry Flynt, is offering a reward of $10mn to anyone who comes forward with "dirt" that could lead to impeachment of President Donald Trump. He ran a full-page ad in The Washington Post's Sunday edition, seeking a "smoking gun" buried in "Trump's to top-secret tax returns or in other records". The White House didn't comment on the matter.
There may be a smoking gun: Flynt's ad
The ad reads: "Did he (President Trump) make some financial quid pro quo with the Russians? Has the business of the United States been compromised to protect the business of the Trump Empire? We need to flush everything out into the open."
Flynt calls Trump most "powerful moron" in history
Flynt wrote he could use the $10mn for his businesses or luxuries, "but what good would that do me in a world devastated by the most powerful moron in history?" Last year, Flynt offered $1mn for audio/video capturing Trump's illegal or sexually demeaning behavior during the presidential campaign. Soon, the 2005 Access Hollywood video showing Trump having an "extremely lewd conversation" about women emerged.
Want information leading to Trump's impeachment, removal from office: Flynt
In his ad, Larry Flynt says: "Impeachment would be a messy, contentious affair, but the alternative - three more years of destabilizing dysfunction - is worse. To succeed, impeachment requires unimpeachable evidence. That's why I am making this offer."