Dizo Watch 2 Review: Basic features, average performance, good value
Dizo Watch 2 Review: Basic features, average performance, good value
Dec 10, 2021, 12:43 am
8 min read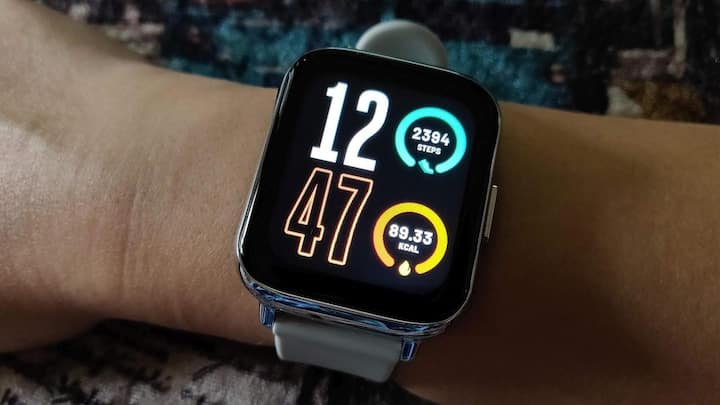 Those with a budget of Rs. 2,500 or less seeking an entry to fitness wearables space generally opt for fitness bands. The decision is mainly dictated by the fact that there are hardly any good fitness watches available in that budget. However, Realme's sub-brand plans to change that with the launch of the Dizo Watch 2 that promises to offer more than a standard set of features and a larger display at a very attractive price. The company plans to go two steps further by offering a metal frame, 50 meters water resistance and 10 days of battery backup in addition to an oximeter and all day heart rate monitoring. It seems too good to be true at its asking price. Time to figure out if the Dizo Watch 2 can deliver on the promises.
Looks a bit more premium than it actually is
The Dizo Watch 2 has a standard rectangular frame and looks like any other budget fitness watch, but there's one difference. Unlike most watches that have a plastic frame, the one here is made of Zinc alloy lending an extra bit of ruggedness. The build quality and finish are pretty good and make the watch look a bit more premium than it actually is. The gray variant that we received for review has a glossy outer ring that attracts a few smudge marks. The silicone straps feel comfortable and do not cause skin irritation even after wearing it for the better part of the day. Even better, the straps have a standard 22 mm width, and can be replaced with any third party straps of the same width. The weight of the watch is slightly on the higher side at 52.5 grams with the bundled straps, but it doesn't feel too heavy. The watch is 5ATM water resistant and you can take it for a swim in up to 50 meters deep water. The SpO2 and heart rate sensors can be found at the back, along with the charging points. You get one physical button on the right side that turns the screen on and off when pressed and also serves as a Home button from all other screens. Beyond that, the touchscreen display lets you browse through the menus and different functions of this watch.
Above average display but just one watch-face slot on watch
Speaking of display, the one on the Dizo Watch 2 measures 1.69 inches diagonally. For some reason, the resolution of the screen hasn't been mentioned in the spec-sheet. That made me a little suspicious, but the screen turned out to be surprisingly good for an entry-level fitness watch. Though it's a normal TFT-LCD display, the color reproduction is good, and it's fairly sharp. The screen is protected against scratches by a 2.5D glass that blends nicely into the outer rim. It has five levels of brightness, and while level three is bright enough when you are away from the sun, you need to push it to level four or five under bright sunlight. As always, you can wake the screen by either flicking your wrist or pressing the physical button. The screen takes a minimum of two seconds to respond after you flick your wrist, and that's slower than usual. Beyond that, there is very little to complain about the screen. You supposedly get over a 100 watch-faces for the Dizo Watch 2 with a mix of digital and analog faces, and some that display fitness information like steps count, heart rate, calories burned etc. I did not find the faces too appealing but it's a subjective matter. What isn't is the fact that you can only store one watch-face of your choosing on the watch. Every time you want to change it, you need to go back to the companion app to do the needful.
Simple user interface, basic and uncomplicated companion app
Unlike Dizo wireless earphones that work with the Realme Link app, you need to download and install the Dizo app to sync this watch with. It is fairly basic for now, which isn't a bad thing as it keeps things simple. Other than certain watch settings and the watch-face collection, you get five cards on the home screen that display the daily activity progress, latest workout data, heart rate, sleep data and SpO2 level. You can tap on the respective cards for some more information, but again, the information is elementary and not too detailed. For instance, sleep data only covers the quantum of deep sleep, light sleep and awake time; no REM sleep information or in-depth sleep quality analysis. Same goes for workout data, but then let's not forget this is an entry-level watch meant for beginners. Keeping that in mind, the user interface is as simple as it gets. If you have used a Realme fitness watch before, it is pretty much the same. You have four basic gestures -- swipe down for notifications, swipe up to access apps library, swipe right for quick settings and left to see a handful of widgets like daily activity progress, sleep info, heart rate, weather updates and music playback. Within a menu, swiping right takes you to the previous screen, and pressing the physical button takes you to the home screen from anywhere. You have a choice between a grid of small icons or a list with the function name for everything present in the app drawer. The UI is smooth and lag free with a handful of basic transition effects. Like every other watch in this price range, you cannot install any additional apps; no surprises there.
Most features work as expected barring the oximeter
The Dizo Watch 2 has a limited feature set. It can monitor up to 15 different fitness activities ranging from the usual walking, running, cycling, swimming, yoga to some sports like cricket, basketball, badminton, football and a few more. The watch has a PPG heart rate sensor that can monitor your heart rate all day. The frequency of monitoring isn't mentioned, nor is there an option to change it. The walks and runs are tracked with reasonable accuracy. I found the margin of error to be around 5%, which is acceptable for a watch without GPS. While I do not expect built-in GPS at this price-point, it doesn't even support A-GPS (assisted GPS) and cannot make use of GPS in the phone it is paired with. The pedometer does register some false steps even if you are stationary and wave your hands, but doesn't impact your workouts as much. Sleep tracking is also available here, and as I mentioned earlier, it is elementary at best. It does get the overall sleep duration right, but due to the lack of REM sleep measurement, it is hard to trust the deep sleep figures which are consistently higher here as compared to what more advanced watches with better tracking suggest. Stress monitoring isn't available but menstrual tracking is. The Dizo Watch 2 is equipped with an SpO2 sensor, however the readings are seldom accurate. I generally found the readings to be a good five to seven points lower than a clinical oximeter. So, if this watch shows you a low blood oxygen concentration number, do not panic. Simply use a good over-the-counter oximeter to get a second opinion. The SpO2 sensors in budget fitness watches aren't meant to be taken too seriously anyway.
Standard set of features beyond fitness, but good battery life
Beyond fitness, you get the usual set of features like music controls, remote camera shutter and call alerts. You can also opt for notifications from various apps on your phone, and the messages are perfectly legible on the watch's decent sized screen, however, you cannot reply back. Similarly, you can silence or reject calls but not answer them. You also get reminders to drink water or get up and move around every hour. The sedentary reminders aren't implemented smartly and they seem to appear every hour even if you are active at that moment. The company claims that the Dizo Watch 2 can last for 10 days on a full charge, and it's not an exaggeration at all. I managed to get exactly 10 days out of it with screen brightness set to three most of the time, notifications limited to SMS and email, half an hour of daily fitness activity, two oximeter readings per day (just for testing purpose) and three nights of sleep tracking during the period. That is a solid battery backup. Your mileage may vary if you use sleep tracking daily or indulge in more activities in a week, but you should still be able to pull eight days out of it.
Viable fitness band alternative for beginners on a tight budget
The Dizo Watch 2 is priced at Rs. 2,499 with a one year warranty. At times, you can even purchase it for as low as Rs. 1,999 in online sales, which was also its introductory price for a limited period at launch. Despite its limited features, the pricing is extremely competitive and just right to threaten fitness bands. It can be a good alternative for fitness bands as you get a bigger screen and better battery life without spending extra. Though not perfect, the Dizo Watch 2 is a good entry-level fitness watch for those looking for basic features like steps counter, heart rate monitor, app notifications and good battery backup. Polished looks and 5ATM water resistance are bonuses in this segment. Some of its shortcomings can be overlooked given its price-tag, and that there isn't much competition under Rs. 3,000 yet. A better option (Amazfit Bip U) is available directly close to Rs. 4,000.
Dizo Watch 2 Review Synopsis
Review:
Dizo Watch 2 is one of the most affordable fitness watches for beginners that offers basic features and generally acceptable performance for the segment barring a couple of issues.
Good Stuff:
5ATM water resistant, swim-proof
Bad Stuff:
Erratic oximeter readings
No A-GPS support, stress monitoring
Only one watch-face of your choice can be stored on the watch
Minor bugs here and there