Noise ColorFit Pro 4 review: Basic fitness watch with calling
Noise ColorFit Pro 4 review: Basic fitness watch with calling
Aug 12, 2022, 01:16 pm
9 min read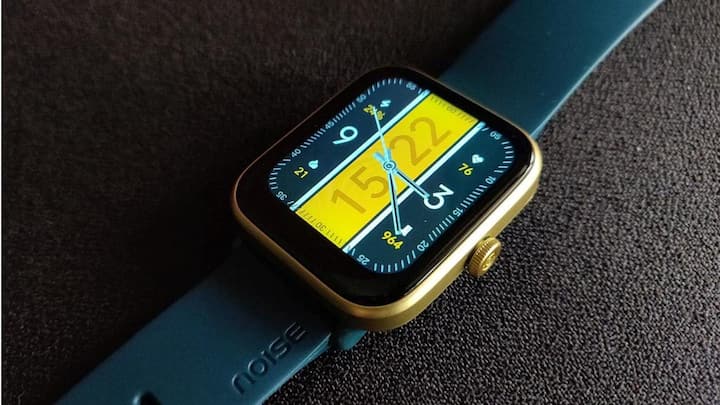 Noise has been active in the budget fitness watch segment for a while, though we haven't had the chance to test one from the brand before. A few days back their newly launched Noise ColorFit Pro 4 came our way and we thought of figuring out what all the noise was about. OK, I will avoid noise puns (as much as possible) in the remainder of this article. Coming back to the product, it doesn't promise the moon and the stars, and given its selling price, it would be foolish to set expectations that high. But the ColorFit Pro 4 listing page does boast of some interesting features like making calls from the watch, a fairly high resolution display, 100 sports modes and over 150 watch faces, among other things. Time to put it through the paces and see if it can silence the competition.
Standard design, but lightweight and comfortable around the wrist
The Noise ColorFit Pro 4 has a standard rectangular frame and looks like any other budget fitness watch. The frame has a matte finish but the back is distinctly plasticky and glossy. The build quality and finish are fine. The Teal Blue variant that we received for review had a golden frame and teal colored straps. It is too funky for my taste but Gen-Z might dig it. And you do have multiple color options to choose from anyway. The silicone straps feel comfortable around the wrist and do not cause skin irritation even after wearing it all day. The straps have a standard 22mm width, and can be replaced with any third party straps of the same width. Due to the polycarbonate shell, the watch is extremely light and weighs under 25 grams. The watch has an IP68 rating for dust and water resistance. While it can easily survive heavy rain and a quick dip in a puddle, it isn't swim-proof. The SpO2 and heart rate sensors can be found at the back, along with the charging points. The key specs of the watch are also listed at the back if you are observant enough. There's one physical button on the right side that serves multiple purposes. It turns the screen on or brings up the apps when pressed and also serves as a Home button from all other screens. Interestingly, the physical button has a crown that also acts as a scroll wheel; more on that later.
The display is sharp and looks good
This Noise watch has a 1.72-inch rectangular TFT-LCD display with a higher than usual resolution of 356x400 pixels. As a result, the screen is quite sharp with lively colors. There is no mention of any scratch resistant glass or oleophobic coating on the screen, but it does seem to have some kind of curved glass on top. There weren't any scratches after using the watch for a dozen days but I had to wipe off the smudge marks from time to time. As always, you get five brightness levels to choose from, of which level 3 is fine indoors, and you need to push it to max under bright sunlight. You can either press the physical button or flick your wrist to wake up the watch. It works well with a single flick, but the screen often takes an extra second to respond, which is a case with several budget watches. This feature can be turned off or scheduled to stay off during your sleep hours. The company flaunts the availability of over 150 watch faces through the NoiseFit app, and there is a decent variety to choose from. I could spot a handful of good ones but you can only store one watch face of your choice on the watch in addition to the pre-installed options that cannot be removed. What a bummer! Also each watch-face takes over a minute to get transferred to the watch, which is slow. The user interface is pretty standard and lag-free. Swipe down for settings, swipe up to check notifications, and swipe left or right to cycle through widgets like daily activity, heart rate, sleep data, music playback etc. Within a menu, swiping right takes you to the previous screen, and pressing the physical button takes you to the home screen from anywhere. The aforementioned crown lets you scroll through menus and cycle through the watch-faces on the home screen, which is cool.
Basic tracking works well, but companion app is a let-down
You need to download and install the NoiseFit app and sync the watch with it. The app is a bit too basic with very limited data analysis. Other than few watch settings and a collection of watch-faces, it shows you daily activity progress, previous workout data, heart rate, sleep data and SpO2 level. Other than workout data, most of the things go away the following day. For instance, I couldn't figure out a way to check the sleep data for previous nights, which is quite strange. The previous night's sleep data can also be seen on the watch screen and it covers the quantum of deep sleep, light sleep and REM sleep info but not in-depth sleep quality analysis. The accuracy of the total sleep duration seemed slightly iffy as it would show a wake up time a little further than when I would actually wake up. Stress monitoring is available here but it doesn't track it automatically. You have to manually take the measurement from time to time, which beats the purpose of having that feature. The Noise ColorFit Pro 4 can monitor various fitness activities ranging from walking, running, cycling, free training and certain sports too. Take the advertised figure of 100 different modes with a pinch of salt as they also include multiple variations of the above activities. The walks and runs are tracked with reasonable accuracy with a 5% margin of error, which is acceptable for a watch without GPS. It also auto-detects certain workouts. The watch can monitor your heart rate all day with frequency ranging from five minutes to an hour. This watch is equipped with an SpO2 sensor that does a reasonable job, but you need to wear the watch tight enough for a near accurate outcome or press it down for half a minute when it takes a reading. The reading is generally a point or two lower than a clinical oximeter.
Decent battery life, can dial calls directly from the watch
Beyond fitness, you get the usual set of features like music controls, call alerts, notifications from various apps on your phone, etc. The messages are legible on the watch's display. One feature that is fast becoming popular on budget fitness watches is available here too - calling functionality. You can make calls directly from this watch without the need of a headset. It has a built-in microphone and speaker. The watch needs to be synced with your phone as the call is routed through that. It also offers you a dialer on the watch screen to dial a number. Similarly, you can accept, silence or reject incoming calls on the watch too. However, the experience was a little buggy. At times, things would work as expected, and on other occasions taping the buttons on screen would do nothing. Another bug for the company to fix in a future update. The call quality is just about passable in a quieter place. The microphone is decent but the watch speaker isn't too loud. I noticed something similar with the Boat Watch Primia that we reviewed recently. You also get a quick reply feature and one can choose from preset messages. Menstrual tracking is also available on this watch. The company claims a battery life of 7 days for the Noise ColorFit Pro 4. In reality it got close and lasted six full days with screen brightness set to level 3 most of the time, notifications limited to SMS and email, an hour of fitness activity on alternate days, two oximeter readings per day and three nights of sleep tracking during the period. That's decent but several fitness watches released over the past year in this price bracket have been breaching the 10 days mark comfortably.
Has potential, but certain shortcomings are hard to ignore
The Noise ColorFit Pro 4 is priced at Rs. 3,499 with a one year warranty. It is a basic fitness watch and the price is reasonable. However, this is a highly crowded segment and there are a lot of watches these days that look like the Pro 4 and deliver similar performance. Yes, it does have a couple of cool features like a higher resolution display and the crown doubling up as a scroll wheel. But beyond that it is pretty much standard fare. And the barebone app probably holds it back further with minimal data crunching. As I said, this is a competitive segment and there are better alternatives under Rs. 4,000. One of the best options is the Amazfit Bip 3 Pro which sells for Rs. 500 more than the Noise watch. But for that small premium you get built-in GPS, double the battery life, 5ATM water resistance making it swim-proof and last but not the least, the Zepp app that is miles ahead of NoiseFit in terms of features and data analysis. The other option is the Boat Watch Primia that we recently reviewed with an excellent round AMOLED display in case you prefer that form factor. Barring the display, its features are quite similar to this Noise watch but looks a lot more stylish. The Noise ColorFit Pro 4 is not a bad watch for basic use, but the presence of better alternatives in the price bracket makes it hard to recommend it.
Noise ColorFit Pro 4 fitness watch review: At a glance
Review:
Noise ColorFit Pro 4 handles basic tracking well, but some of its features don't work as expected, and the companion app is too elementary to realize the watch's full potential.
Good Stuff:
Lightweight and comfortable to wear
IP68 dust and water resistant (not swim-proof)
Direct calling feature from the watch
Can auto-detect certain workouts
Bad Stuff:
Disappointing companion app
Sleep tracking does not store older results
Only one watch-face of your choice can be stored on the watch
Certain features don't work as they should