Toyota Fortuner (facelift) review: Should you buy it?
Toyota Fortuner (facelift) review: Should you buy it?
Written by
Somnath Chatterjee
Mar 11, 2021, 12:06 pm
3 min read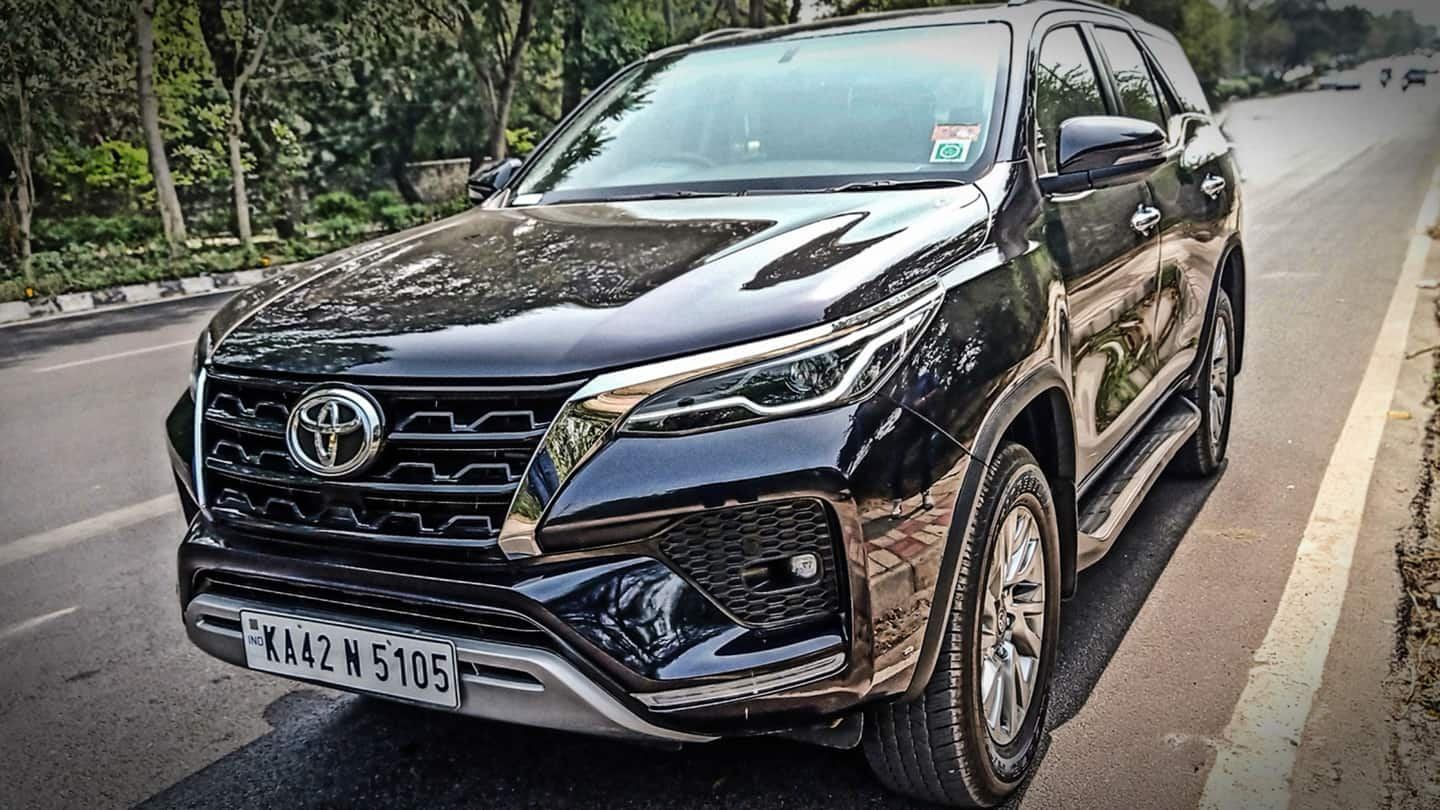 Despite a steady influx of new competition, the Toyota Fortuner has continued to be the most popular choice in its segment owing to its reliability, high resale value, and its rugged nature. However, the popular SUV was clearly lagging behind its rivals in terms of technology and features. With the Fortuner (facelift), Toyota seems to have finally addressed that. Here's our review.
The Toyota Fortuner (facelift) comes with a new front grille
The Fortuner (facelift) is easily identifiable thanks to its new front grille, updated headlamp design, and the heavily tweaked bumper. Toyota has also added a new Legender variant to the range which has a more aggressive design for its front grille and bumper when compared to the standard version that we tested. Additional updates include new 18-inch alloy wheels and reworked taillights.
The interiors of the Fortuner (facelift) are more luxurious now
Inside, the changes are mostly concentrated on improving the luxury quotient of the Fortuner with a new leather upholstery and contrast stitching. Elsewhere, the instrument cluster has been updated with new dials and the touchscreen console is slightly bigger. In terms of space, the second row is comfortable enough for three passengers and the SUV is fairly suited for being chauffeur-driven.
From ventilated seats to wireless charging
The Fortuner (facelift) gets a long list of features including an 8.0-inch touchscreen console with support for Android Auto and Apple CarPlay. It also offers wireless charging, connected car technology, ventilated and cooled front seats, a hands-free tailgate, and a 11-speaker JBL audio system. Among the new features, we particularly liked the ventilated seats as they are useful for our harsh summer climate.
The Fortuner (facelift) packs a more powerful diesel engine
The backbone of the Fortuner range continues to be the 2.8-liter diesel engine which develops 204hp/420Nm in the manual version and 204hp/500Nm with the automatic transmission. A 2.7-liter petrol unit is also on offer which develops 166hp/245Nm. In terms of driving experience, the Fortuner (facelift) diesel is now more refined and has a smoother power delivery.
The Fortuner (facelift) starts at Rs. 29.9 lakh and goes up to Rs. 37.43 lakh for the fully-loaded diesel automatic 4x4 variant. While the pricing may seem steep, the premium SUV does justify that to some extent with the new features and the more powerful diesel engine. Overall, the Fortuner (facelift) continues to be the default choice in its class.