Mysuru: Dasara elephant Arjuna carries 730kg weight in Vijayadashami rehearsals
Mysuru: Dasara elephant Arjuna carries 730kg weight in Vijayadashami rehearsals
Sep 19, 2017, 10:25 pm
1 min read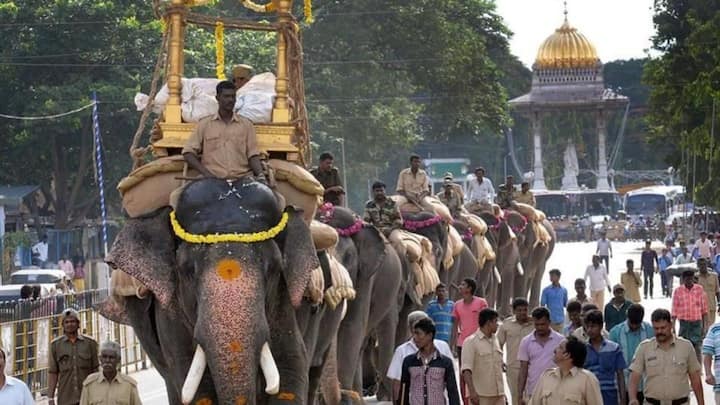 One of the major attractions of Dasara celebrations at Karnataka's Mysuru is the sight of elephant Arjuna majestically walking on Raja Marga, carrying the 750kg Golden Howdah with Goddess Chamundeshwari's idol on Vijayadashami. In the run-up to Vijayadashami processions, Arjuna was made to carry a 730kg weight, comprising 280kg wooden howdah, 300kg sandbags, and a 150kg throne, to test the elephant's preparedness. Know more!
Arjuna reassures authorities of his capacity to carry Golden Howdah
Carrying the weight, Arjuna strolled on the 5km procession route from Mysuru Palace to Bannimantap's torchlight parade ground. More sandbags, weighing over 60kgs, would be added to the weight totaling it to 800kgs. About 15 mahouts (elephant riders) and kavadis, including the expert Akram Pasha, put all the items on the elephant's back in about 90 minutes in the presence forest department officials.