What makes My11Circle unique in Indian fantasy cricket space
What makes My11Circle unique in Indian fantasy cricket space
Written by
Ratnakar Shukla
Nov 13, 2019, 05:17 pm
4 min read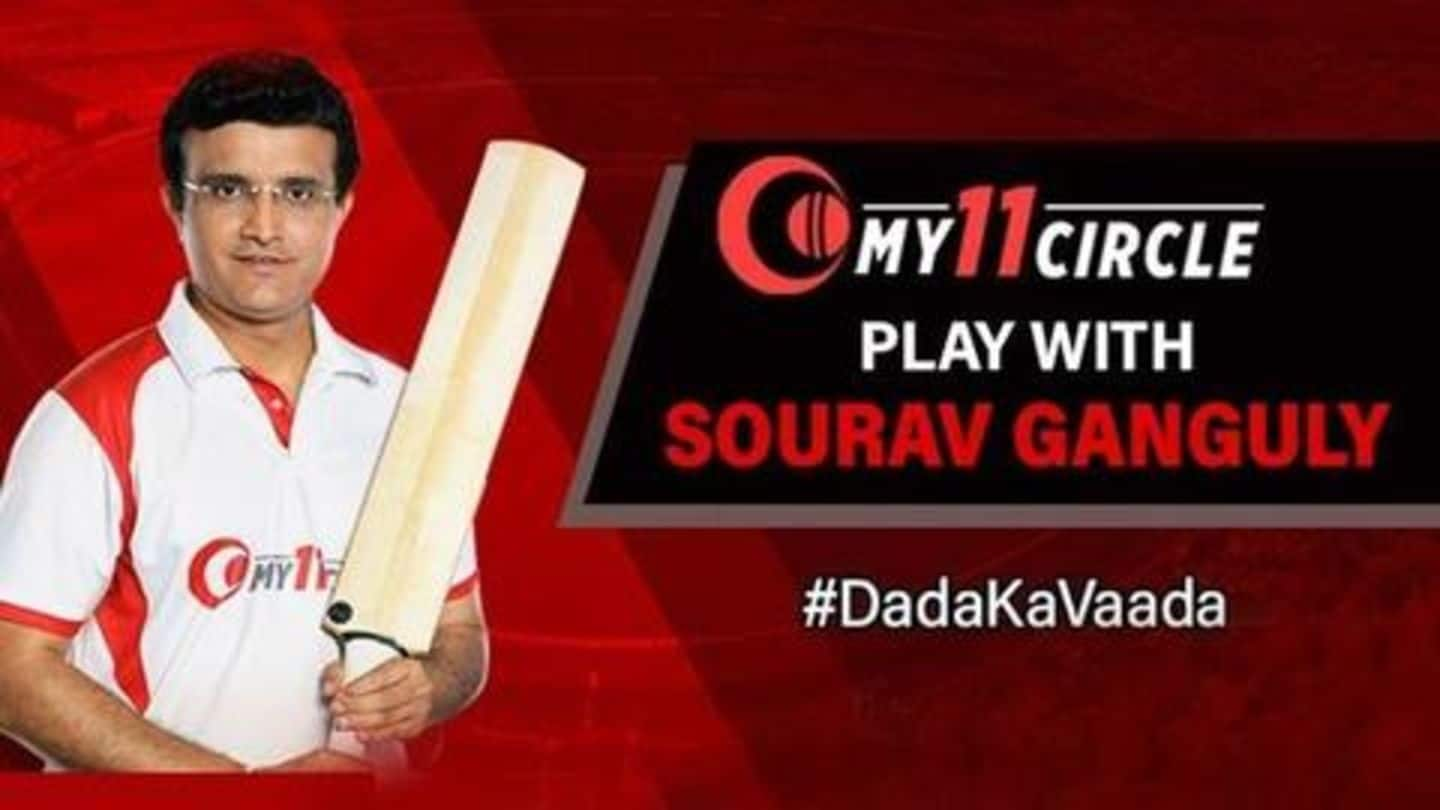 According to a survey by KPMG and Indian Federation of Sports Gaming, India will have approximately 100 million fantasy cricket players by 2020. And, My11Circle, a less than a year old fantasy cricket platform, has already attracted millions of fans. In fact, they have acquired an incredible 13 million users within months of their launch. So, what is driving this growth? Let's find out.
Teamed up with former Indian captain Saurav Ganguly aka 'Dada'
To drive growth, the first step is to get the right people onboard. That's where My11Circle nailed it. Former Indian captain and legendary cricketer Saurav Ganguly aka Dada, who is currently BCCI's chief, is the brand ambassador of My11Circle. The company, in partnership with Dada, started an innovative 'Beat the Expert' contest, which helped them in gaining the initial traction.
All about 'Beat the Expert' contest
As part of 'Beat the Expert' contest, the cricket fans had the opportunity to play with Ganguly. If their score was better than his score, then they would win three times the amount they paid to enter the contest.
The game is designed by the experts
Notably, My11Circle is developed and owned by Play Games 24x7—a Mumbai-based online gaming company. The organization, with 10 years of experience, also owns RummyCircle, which is India's favorite app to play rummy online. They brought this rich learning to the fantasy cricket space, that reportedly caught the attention of a whopping 13 million players in just a few months.
Safe and reliable platform to play fantasy cricket
Besides experience, My11Circle provides a safe, reliable, and trusted platform to play fantasy cricket. This includes protecting the players from a data breach as well as taking measures to improve the security for the player. The company claims it has adopted a comprehensive security program and information security policies that consist of managerial, technical, operational, and physical security control measures.
My11Circle strictly follows Indian laws
Interestingly, some people misconstrue fantasy cricket. They believe that it sways towards some illicit activity. However, My11Circle strictly follows the laws of India, which clearly states that games that require the player to apply skill are deemed legal. That said, cricket fans from Assam, Odisha, Telangana, Sikkim or Nagaland can only participate in the practice contests as of now.
It is a game of skill, and requires knowledge
Evidently, fantasy cricket is a game of skill wherein the player uses their knowledge about the cricketers to form the ideal team. The game requires an understanding of the cricketers' past performances, staying updated about their health, and regularly checking the match line-up. Therefore, it is not a game of chance and you definitely need to have some cricket knowledge to play fantasy cricket.
My11Circle lets you choose from numerous matches
Now, My11Circle is a place where cricket fans can win real cash rewards. All they have to do is pay an entry fee to join a contest that suits their budget. The reward for the contests can vary from thousands to lakhs. Once the player wins the prize, they can safely withdraw it. The platform has taken measures to have a secure payment gateway.
The platform also hosts private contests
My11Circle also gives players an opportunity to test their cricketing knowledge with their friends and family. They can create, invite, and join a private contest and find out the biggest cricket fan among them.
My11Circle features major domestic and international cricket tournaments
Fans would know that fantasy cricket buzzes when there is an interesting ongoing tournament. My11Circle understands that, and it features various domestic matches and international tournaments. There is a cricket tournament every month, so players can test their cricket expertise at any time and enhance their knowledge about cricketers and their performances, which is a whole new experience than just watching sports.
The platform also provides live scores
When you have invested in a contest, you want to stay tuned to the live match as well. My11Circle gives you the live score updates instantly. Apparently, this is the only fantasy cricket platform that understands this particular need of the users. Players can keep a tab on the live performances and check how their fantasy team is faring, all at one place.
My11Circle offers a flawless user experience
Most interestingly, My11Circle is a light-size fantasy cricket app that can be downloaded from the website in a few steps. What is amazing about the app is that you can easily navigate through the gameplay. Unlike other online games that have a lot of updates, this is a one-time download portal with no pop-ups and ads. So, no interruptions, just 100% pure cricket entertainment!