At Rs. 14cr, this gene-therapy is world's most expensive drug
At Rs. 14cr, this gene-therapy is world's most expensive drug
Written by
Siddhant Pandey
May 25, 2019, 07:45 pm
3 min read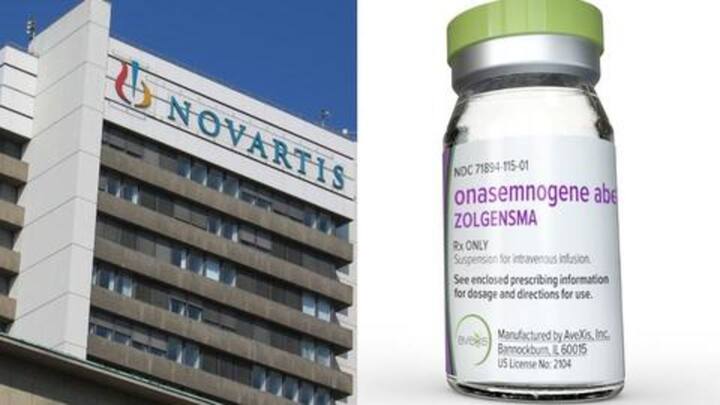 Swiss drugmaker Novartis' new gene therapy, which recently received US approval, may be the world's most expensive drug, priced at an exorbitant $2.125 million (approximately Rs. 14cr). The therapy, called Zolgensma, has been designed to treat spinal muscular atrophy, a lethal spine disease, and was approved by the Food and Drug Administration on Friday. Why is this treatment priced so high? Let's find out.
First of all, what is spinal muscular atrophy?
Spinal muscular atrophy (SMA) is a genetic muscle-wasting disorder which involves the loss of motor neurons in the spinal cord, that control voluntary muscle movement. This leads to impaired mobility, affecting infants through adults. Further, progressive muscle-wasting leads to an early death.
Zolgensma is comparatively cheaper, argues Novartis
Zolgensma is a groundbreaking one-time treatment for spinal muscular atrophy- the most common genetic cause of infant death, affecting one in every 11,000 births. The treatment would be made available to infants below the age of 2, who are confirmed to have either three types of the disease by a genetic test. Zolgensma's cost is half the current 10-year chronic management cost, reasons Novartis.
Our goal is to ensure broad patient access: Novartis CEO
"Zolgensma is a historic advance for the treatment of SMA and a landmark one-time gene therapy," said Novartis CEO Vas Narasimhan on Friday. "Our goal is to ensure broad patient access to this transformational medicine and to share value with the healthcare system."
The treatment is worth $1.5mn, according to ICER
Earlier, Novartis had said Zolgensma could cost between $1.5-5mn. The Institute for Clinical and Economic Review (ICER), which evaluates drug prices, states Zolgensma is worth $1.5mn (Rs. 10cr). ICER President Steven Pearson said, "It's a positive outcome for patients and the health system that Novartis chose to price Zolgensma at a level that more fairly aligns with benefits for these children and their families."
Novartis in discussion with insurers over payments options
The amount payable for Zolgensma could also vary based on insurance coverage. Novartis is also "working closely with insurers to create 5-year agreements based on the success of the treatment as well as other novel pay-over-time options," CNBC reports. Over five years, the drug would cost $425,000/year. The report added that the company is in "advanced discussions" with over 15 insurers on payment options.
There is an alternative treatment to Novartis' Zolgensma
Biogen's Spinraza is another treatment option for the disease that is currently available in the market. Spinraza has a list price of $750,000 for the first year and thereafter, $375,000/year. Interestingly, Biogen's stock was down over 1% while Novartis' rose by 4% by Friday.
Zolgensma sparks debate whether even lifesaving drugs should cost millions
As Zolgensma paves the way for a new era where lethal diseases can be treated with just a single, one-time treatment, it has also sparked a debate on whether drugs should be priced that high, no matter how miraculous. Eventually, governments and insurers would have to work out a way to pay for such treatments to make them accessible to people.