11 business personalities who won Padma awards this year
11 business personalities who won Padma awards this year
Written by
Siddhant Pandey
Jan 26, 2020, 06:55 pm
2 min read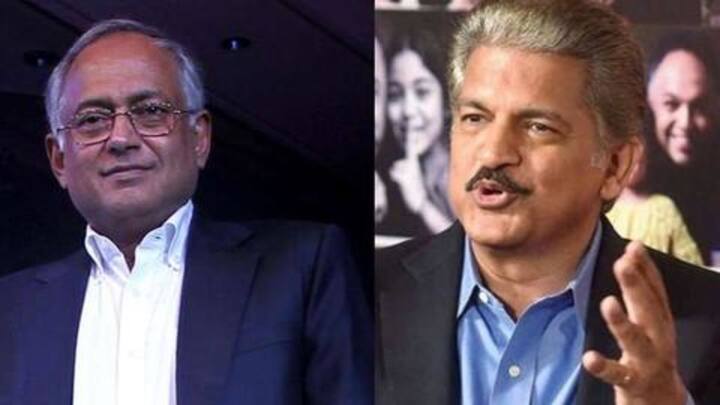 The Indian government on Saturday announced the names of this year's recipients of the Padma awards. Seven personalities were conferred with the Padma Vibhushan, India's second-highest civilian honor after the Bharat Ratna. The government also announced 16 Padma Bhushan winners and 118 Padma Shri winners. Among the total 141 Padma awardees were 11 business personalities. Here's who they are.
Padma Bhushan for Anand Mahindra, Venu Srinivasan
Although the government did not confer the Padma Vibhushan for trade and industry this year, it named two entrepreneurs for the Padma Bhushan award. They include Anand Mahindra of the Mahindra Group, which spans 20 industries such as auto, hospitality, etc. The second awardee is Venu Srinivasan: Chairman of the automotive giant TVS Group, which is also the parent of the TVS Motor Company.
Sanjeev Bikhchandani among 9 named for Padma Shri
The government also announced nine Padma Shri awardees. These include Chairperson of Surya Roshni, Jai Prakash Agarwal. The company manufactures electrical appliances, PVC Pipes, etc. Info Edge founder Sanjeev Bikhchandani—who also runs several internet businesses such as Naukri.com, Jeevansathi.com, Shiksha.com, and 99acres.com—was also conferred with the Padma Shri honor. Chairperson of Bilakhia Holdings Private Limited, Gafurbhai M. Bilakhia, also made it to the list.
Here are the other Padma Shri awardees
The other Padma Shri awardees include founder of Rimo Expeditions, Chewang Motup Goba, Prestige Group Chairperson Nemnath Jain, Tally Solutions Managing Director Bharat Goenka, VRL Group Chairperson Vijay Sankeshwar, Symphony Technology Group Founder and Chairperson Romesh T. Wadhwani, and Fairfax Financial Holdings Founder and Chairperson Prem Watsa. To check the full list of 141 Padma award winners, you can click the following link: https://bit.ly/2Gr7k3e